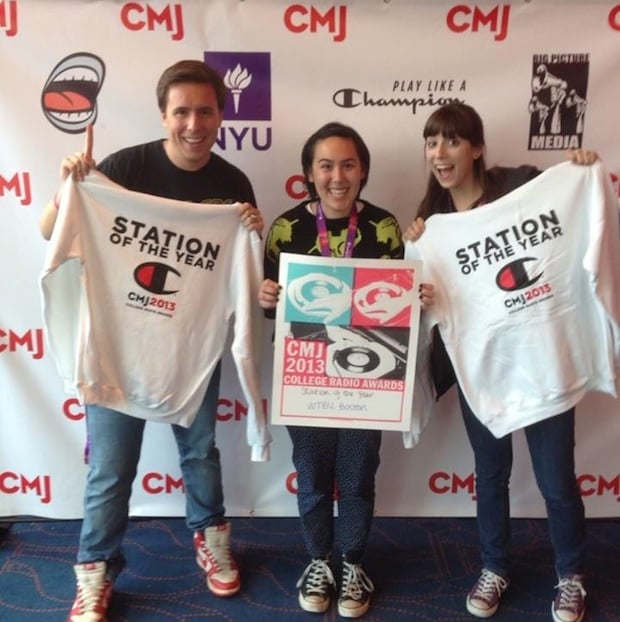 WTBU is named Station of the Year at the 2013 CMJ College Radio Awards. From left to right: John-Michael Sedor (BU '15), Madeline Walsh (BU '14) and Deanna Archetto (BU '14). Photo by Murad Erzinclioglu.
Guest post by John-Michael Sedor. John-Michael is a senior at Boston University studying broadcast journalism. He is currently the General Manager of WTBU, Boston University's award-winning college radio station, and he is interning this summer at SiriusXM in New York City.
Getting asked, "What are you studying?" is not uncommon for a college student. My answer is simple: "I'm studying broadcast journalism, and one day I want to be on the radio!" And you know what response I get most often? "Oh, really? I hear the whole radio thing is sort of dying out."
I hate hearing that, especially since I'm a senior about to graduate from Boston University hoping to make it in the radio industry. I got into radio the first day I stepped onto campus working on a hip-hop show at WTBU, BU's college radio station. From there I worked my way up from hosting my own show at 6 in the morning (brutal for a college student) to general manager.
I would let the naysayers get to me, and I started to doubt my career path. But after WTBU was nominated for five different categories in the CMJ College Radio Awards last year, we reached into our cheap college budget to make a trip to CMJ Music Marathon in New York City – and I quickly learned that radio was far from dead.