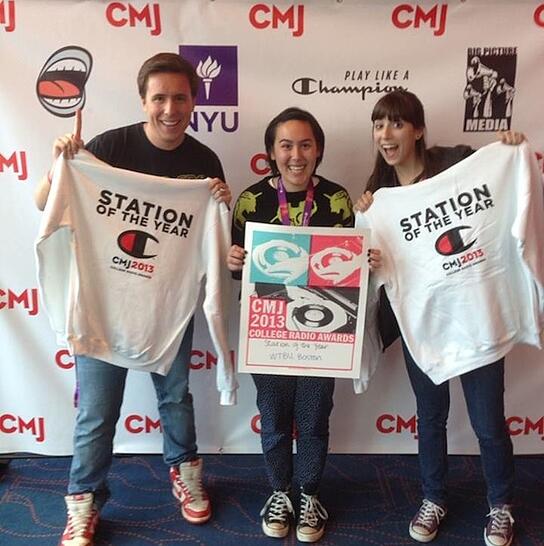 WTBU is named Station of the Year at the 2013 CMJ College Radio Awards. From left to right: John-Michael Sedor (BU '15), Madeline Walsh (BU '14) and Deanna Archetto (BU '14). Photo by Murad Erzinclioglu.
Guest post by John-Michael Sedor. John-Michael is a senior at Boston University studying broadcast journalism. He is currently the General Manager of WTBU, Boston University's award-winning college radio station, and he is interning this summer at SiriusXM in New York City.
Getting asked, "What are you studying?" is not uncommon for a college student. My answer is simple: "I'm studying broadcast journalism, and one day I want to be on the radio!" And you know what response I get most often? "Oh, really? I hear the whole radio thing is sort of dying out."
I hate hearing that, especially since I'm a senior about to graduate from Boston University hoping to make it in the radio industry. I got into radio the first day I stepped onto campus working on a hip-hop show at WTBU, BU's college radio station. From there I worked my way up from hosting my own show at 6 in the morning (brutal for a college student) to general manager.
I would let the naysayers get to me, and I started to doubt my career path. But after WTBU was nominated for five different categories in the CMJ College Radio Awards last year, we reached into our cheap college budget to make a trip to CMJ Music Marathon in New York City – and I quickly learned that radio was far from dead.
The Music Marathon was an unreal experience from the minute we picked up our badges. The city becomes a mecca for artists all over the world to come and perform. Right in the lobby there was a whole set of bands playing throughout the day. Everyone going to the shows was passionate about the music. It was an incredible atmosphere, and every show was filled with great energy. The best part of it all is that the Marathon makes it so easy for everyone to interact with the bands.
WTBU came away with Station of the Year, which made the day even better – but honestly, it was the connections I made that were most beneficial to my station and myself. For example, we met an Australian band called Alpine, talked with them for a long time after their show, and ended up having them on our station a few months later.
CMJ Music Marathon restored my faith in radio, and made my passion for it even stronger. The college radio community is a tight group of devoted students and faculty all trying to promote up-and-coming music. I was able to interact with other stations and bands and learned so much, which I later took back with me to Boston.
As a DJ, music is a huge part of my life, and WTBU would not be what it is without local artists fueling us to help us succeed. That is why I love college radio. Talented bands help us by giving us music, and we help them by promoting and spinning their records. It's a win-win all around, and this awesome connection is clearly evident at the Music Marathon.
Sonicbids band Rah Rah already gave some great CMJ survival tips for artists, so for any DJs attending this fall, I'll leave you with my top four tips to help you get the most out of it, too:
1. Sleep is overrated. There are bands playing all night at a ton of different venues. Try to take it all in and enjoy the music. Besides, you can catch up on sleep after the Marathon's over!
2. Talk to the artists. They're all so nice, and they want to interact with their fans – especially college DJs. Who knows, you might even be able to book a few guests!
3. Go to the awards. If you work at a college radio station, this is a must! Even if you're not nominated, it's a great way to get ideas and interact with other DJs from around the world. Plus, they have a lot of cool speakers!
4. Have fun! I know that's cliché, but think about it: You're in NYC and surrounded by some amazing music. Take advantage of it and enjoy the whole weekend.
Bands – last chance to play CMJ Music Marathon 2014! Apply by June 25, 2014.