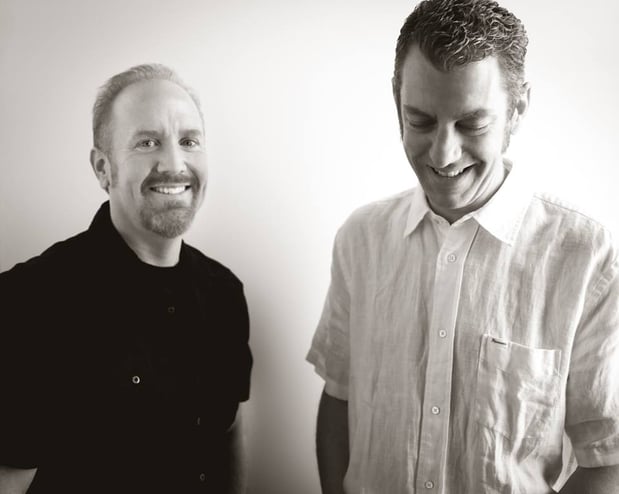 Mike Massé and Jeff Hall. (Image via Facebook)
On August 30, 2010, Mike Massé's life changed forever. He uploaded his live performance of Toto's hit song "Africa," and it soon amassed over eight million views. Today, it has over 11 million views.
The video itself isn't anything special. It's just Massé and his friend, bassist, and backup singer Jeff Hall, playing the song in a pizzeria, sitting in chairs. But there are reasons why this video blew up. And every musician can learn from Massé's success.
Here are few key takeaways you can apply to your own videos and covers.
1. Hone your chops
The real reason this video went viral is because of Massé's voice. It sounds nearly identical to Toto's lead singer at the time, Joseph Williams. Even Williams himself loves the cover.
Simply put, Massé has the chops.
How do you hone your chops? Practice. A lot. Talent gets people's attention, and talent flourishes because of practice.
Clearly, this cover of "Africa" was not Massé's first time singing. The former attorney was in a choir in college. He's a music lover and musician. And he definitely practiced a bunch over the decades that he's been playing music.
2. Consistently put out content
"Africa" was not the first video Massé posted on YouTube. When he uploaded this cover, he had been sharing videos for two years. Consistently. From the looks of it, he posted one to two videos per month. (And he's still uploading about two to three videos per month.)
Not only is this good to do as a YouTuber (you know, with their algorithm and all), but fans like to see new music on a regular basis. Not too much that it becomes spammy, but enough that they don't forget about you.
Your name should stay in front of people and your music should keep ringing in their ears.
3. Be patient
Massé's performance of "Africa" was at a place called Pie Pizzeria in Utah. And he says he had had a monthly standing gig at that place since 1993.

Think about that for a second. He had been playing at that little pizzeria one night a month, every month, for 17 years before one of his videos launched him into fame.

Now, I'm not saying that if you play at your average local venue for 17 years, you'll eventually reach the stardom that Massé has. But the point still stands that if you stay patient, keep chugging along, strive to improve, and work hard, you can reach your version of success.

Patience, young padawan. Patience and perseverance.
4. Play with talented band members
In the video of Massé's cover song, he wasn't alone. I mean, you kind of need a harmony on that song.
Those harmonies come from Jeff Hall, who would often play with Massé at his pizzeria gig and now tours the world with his longtime bandmate. When you watch the video and hear the harmonies, you can tell right away that they're so on point. It almost sounds like they have autotune on their voices.
Massé also plays with other musicians, making sure to surround himself with only the best he can find. He's enlisted the help of an electric guitarist as well as another musician who sings harmonies, joins him on acoustic guitar, and plays bass when Hall is not available or in the area.
The point is, Massé didn't just get sub-par musicians and singers to support him. He partnered with the best ones he knew.
And this is a lesson for the rest of us: Don't work with musicians unless they meet your standards. Will they improve upon what you're doing, or just make it more difficult to make the music you want to make?
Massé's Lessons
Whether or not Massé meant to be our teacher, every musician can learn from his accomplishments. So, to recap, here's what he has taught us musicians as we strive for success:
Practice a lot so that you have what it takes when opportunities appear
Consistently release music
Work hard and be patient
Only work with musicians who are good enough to meet your standards
Now that's a list of lessons worth staking your music career on.
Next up: How to Visually Spice Up Your Cover Videos
Caleb J. Murphy is a songwriter and producer based in Austin, TX., and the founder of Musician With A Day Job, a blog that helps part-time musicians succeed.