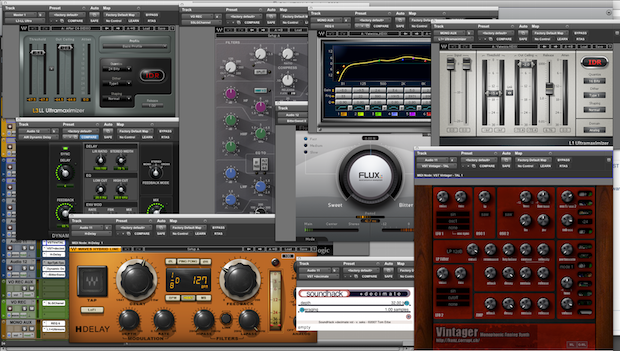 Photo via ryanontheradio.com
A great mix requires great tools, but great tools aren't always cheap. Luckily for us, there are some quality mixing plugins that are free and do a great job. Here's a list that you can try out for yourself that range from compression to EQ to effects.
This EQ boasts four different styles: American, German, British, and Soviet. It emulates classic hardware well, and it has a cool saturation feature that is designed to add that little magic of classy audio gear.
This guy is a parallel parametric equalizer plugin combined with a compressor. Sounds fancy, and it is. It's an amazing freebie that includes five bands parallel equalizer with auto-gain, high-pass and low-pass filters, compression, and side-chain filtering.
The Bittersweet is a transient shaper, essential for any rhythmic elements in your mix. It helps to reshape the envelope of percussive sounds, which can go both ways. You can add impact and take away over-punchiness with just one knob.
To get a clean and tight mix, you'll have to get rid of any unwanted high- and low-end, and the Cleansweep will do the job for you quite nicely. It's a simple but powerful filter.
This is just about a simple as compression gets: input and output. Sometimes the best things are the simplest, and the DC1A is a dynamics processor that proves that point. But despite its simplicity, it also has several features such as negative ratio and stereo unlink which gives you more flexibility.
If you want to widen your spacial image, this unique chorus effects plugin can help. It has a cool feature that simulates up to six voices that are individually processed with random comb filtering to get rid of any unpleasant phasing. It also integrates an EQ and filter to give you more versatility.
Saturation Knob is a modeled output distortion that sounds amazing. If you want to add some bite to pretty much anything, this will do the trick. It has three modes: Keep High, Neutral, and Keep Low that will give you three kinds of characters of distortion.
This is a stereo-imaging plugin that either expands or limits the stereo width of individual tracks, grouped tracks, or the whole mix. One of the most powerful features of this plugin is called Safe Bass, which centers all frequencies below an adjustable value into mono to ensure a tight low end.
So have at it and try these out to expand your mixing arsenal! After all, they won't cost you a penny. If you have a favorite free plugin that we missed, tell us about it in the comments below!
Next up:
Belinda Huang is a contributing writer for Sonicbids. She is a music production & engineering major at Berklee College of Music and is a staff writer for their online newspaper, The Berklee Groove.