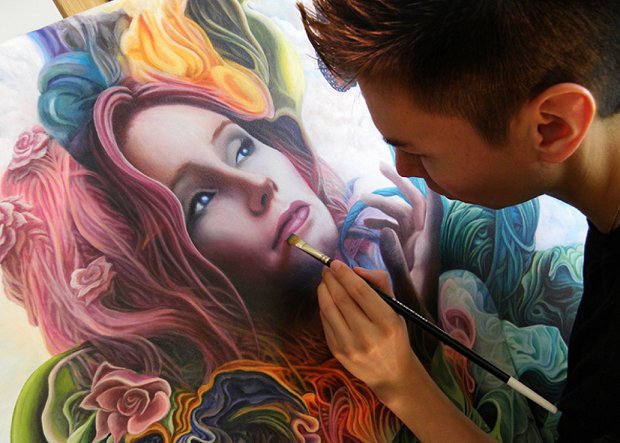 Rod Sanchez painting "Winged Painter." (Image via rodsanchez.com)
The music industry is oversaturated with artists trying to make their mark. One interesting way to refine your artistry and expand your reach is to collaborate with a visual artist. Anyone can design an album cover or create a music video with a visual artist, but that's already been done. With a little creativity, you can combine music and art in ways that add a whole new dimension to your live performances.
Why is it important to meld mediums? There are many reasons, of course, but just a few benefits are:
Merging audiences and gaining new fans
Developing an audiovisual series that fits a niche market
Stretching creatively and building your live performance skills
Creating a new experience and connecting more intimately with fans
Whether you're just starting out or expanding your live show, here are three creative ways to collaborate with a visual artist during your musical performances.
1. Display artwork onstage that complements your sound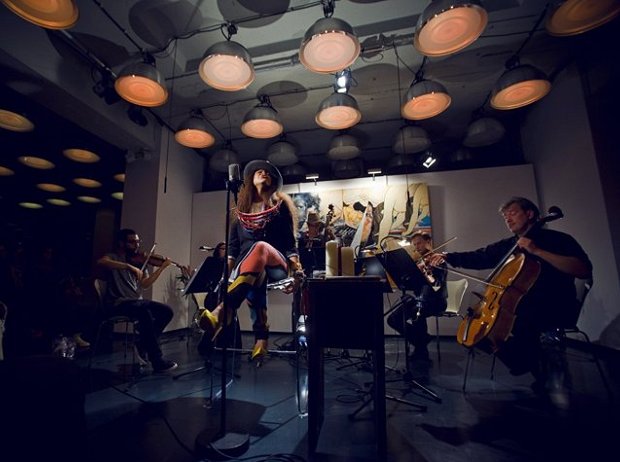 Erykah Badu and Jaybo Monk's artwork. (Image via graffuturism.com)
Displaying artwork while you perform is the easiest way to fuse visual art and music. From Erykah Badu to Iggy Pop, musicians have a long tradition of sharing the stage with artwork created by visual artists they respect. "There are so many faces to art. I just like creating and especially connecting and collaborating with other artists. It brings out in me things I did not even know were in me," says Badu.
Whether your music provided the inspiration behind the piece, or you selected it because it perfectly reflects the mood of your music, displaying artwork onstage can add another layer to your live performance. To offer your audience a unique experience, start by approaching a visual artist you've worked with in the past or one you admire. Offer to send them your music, and inquire whether they have existing pieces that would work well for your upcoming show.
2. Paint the music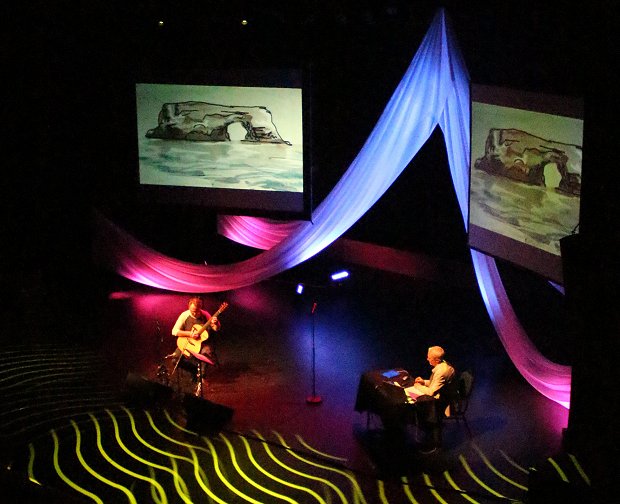 Photo courtesy of Brian Gore
Guitar poet Brian Gore joined forces with his longtime friend and illustrator, Bill Russell, to create The Wine Country, a live audiovisual performance about the California coast and wine country. Russell's animated stories are projected, while Gore plays coordinated compositions on guitar. During the finale, Russell paints an image using his iPad as the audience watches. Fans determine what will be painted by voting online before the show. While Gore admits The Wine Country required a lot of work to develop, he believes it improved his musicianship by building his improvisational skills. Their fully funded Indiegogo campaign was also used to pay for the production of the Wine Country Tales CD and DVD.
With the success of the original fine arts series, the duo is now developing one for a different region. Gore believes this audiovisual format has the potential to foster viral success for any independent artist regardless of genre. "My advice to musicians exploring this option is to offer quality music, develop a good relationship with your collaborator, and be able to explain your concept in simple terms," says Gore.
3. Create one-of-a-kind audiovisual experiences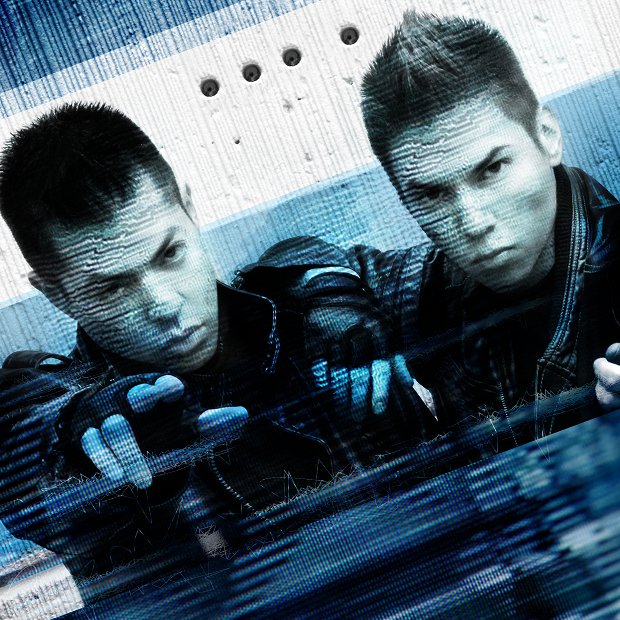 Photo courtesy of the Sánchez 2winz
The Sánchez 2winz are a New York City-based artist duo consisting of twin brothers Raúl Sánchez and Rod Sánchez. They create live cinema audiovisual pieces, combining electro-acoustic music, painting, animation, video, poetry, and live visual performance art. The Sanchez 2winz was started after Raúl displayed one of Rod's paintings during his piano performance."We noticed that the audience was thoughtful, and the music combined with the art created a more emotional experience," says Raúl. They eventually progressed to offering an "exploration of live cinema," where they project a short film while playing original electronic compositions.
"Each performance is unique to the audience and unique to us," says Rod. "The audience has the opportunity to experience art as it is happening, and be part of the process, as opposed to just being a voyeur." Though it averages two months to complete a new project, the major challenge cited by the twins is explaining the concept. Overall, they describe the experience as rewarding. "Fusing music and visual art allows you to discover new possibilities with your craft that you may not have previously envisioned when working with one medium in a traditional way," says Raúl.
There are no rules to being creative, and the sky is the limit when it comes to inspiration. If collaborating with a visual artist is something you want to explore, go for it!
Shanon Lee is a professional writer and independent recording artist. Her bylines include The Huffington Post, MariaShriver.com, xoJane.com, and many other digital publications. While recording her second EP, Shanon also provides consultation to aspiring singers and music recording studio owners that wish to expand their business.