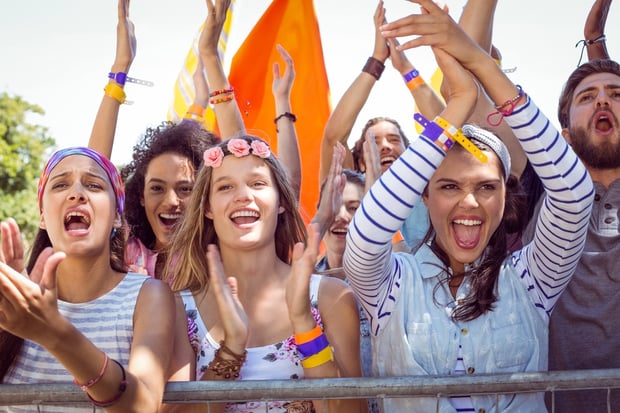 Image via Shutterstock
You can have a million social media followers, but only a handful of true fans. There's no easy formula or standard social media metric to figure out what percentage of fans are real or fake. There is, however, a trio of ways to figure out which fans are legit, real, and diehard, as opposed to those who are casual or passive.
Like they say about the truth in The X-Files, the real fans are out there. Here's how to tell who those fans are. That way, you can recognize what to look for and then superserve those people once you find them.
1. Your organic and interactive social media followers
The likes or followers that you may pay for or grab via a service? Those aren't real fans. It's about quality, not quantity. It's not how many followers you have, but the ones who interact, respond, reply, reach out, and tag you. The actual engaged activity is what's most important.
Views on videos isn't really the yardstick by which to measure true fandom. It's easy to click a button, watch a video, and move on. But sharing it with other music fans on their own social media page or tweeting about it, exposing it to other potential fans? That is an active, impactful fan of the truest sort.
2. Those who will part with their cash for you
If you have music that fans will pay for – be it a set price or a sliding scale – rather than legally or illegally downloading it for free, that's a sign of legit fans. If they'll part with their hard-earned money in order to support you, even if there are widely available ways to get it for free, that's dedication and that's real.
If fans support you via crowdfunding and direct-to-fan sites such as Kickstarter, Indiegogo, Pledge Music, or Patreon, that's the most obvious example of real and true fans.
[The Ultimate Guide to Patreon for Musicians]
3. Ambassadors
A fan who blogs about or creates a Tumblr related to your music is effectively an ambassador for you. It takes time, effort, and creativity to create this content, and he or she is doing it to support you. That's super impressive and indicative of real, diehard devotion!
Next up: 3 Surefire Ways to Turn Fans Into Superfans
Amy Sciarretto has 20 years of print and online bylines, from Kerrang to Spin.com to Revolver to Bustle, covering music, beauty, and fashion. After 12 years doing radio and publicity at Roadrunner Records, she now fronts Atom Splitter PR, her own boutique PR firm, which has over 30 clients. She also is active in animal charity and rescue.