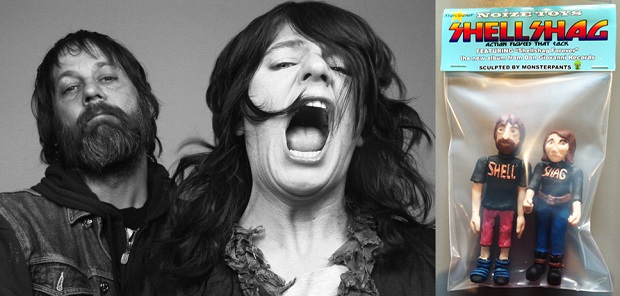 Shellshag as people and plastic. (Image via starcleaner.com)
There seems to be a divide between physical merchandise: from CDs, tapes, and records to T-shirts, other branded items, and digital downloads. The latter is criticized by record collectors and other purists for not existing physically, robbing some of mementos from their fandom. But what if bands paired digital music access with tangible merchandise, other than records or tapes? That is happening already on a small scale, as some DIY bands and labels have started including download codes with unique band merchandise, from the familiar promotional can koozie to never-before-seen works of magnetized art.
1. Koozie and download code or CD combos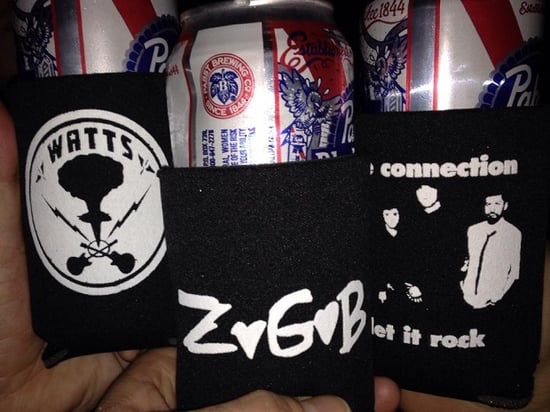 Image via kingyumrecords.bandcamp.com
Drink koozies are a means for bands to sell affordable merchandise to willing supporters who already own the group's back catalog, or to those who perhaps don't have a record player. And by slipping customers a download code with their purchase, fans can get access to rare or new tracks not in their collection or add the band's music to their digital library for the first time. Koozie bundles can also include CDs, which are often a harder sell for bands in an age of digital downloads and renewed interest in record collecting. A good example of the simple, fun koozie paired with free or cheap tunes is glam and bubblegum pop-crazed Boston label Rum Bar Records, which pairs CDs by bands like Los Breakdowns and the Connection with branded koozies.
2. Action figures
Brooklyn-based punk duo Shellshag may not have, or necessarily want, the superhero-like status of rock gods of yore. Still, Jennifer Shagawat and John "Shellhead" Driver have been immortalized in plastic, like true spandex-clad titans. Their Noize Toys (unrelated to the similarly-named hair metal band) action figure two-pack isn't cheap – $40, to be exact – but is definitely a unique take on band marketing. And as a kicker, the figures come with a download code for the band's 2013 album Shellshag Forever from Don Giovanni Records.
3. Magnet and download combo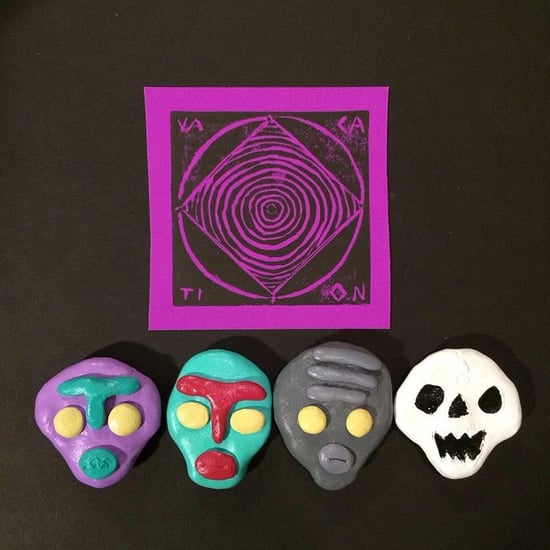 Image via facebook.com
Perhaps the most clever and personalized item on this short list comes from Cincinnati punks Vacation. For their latest set of songs, the group made 100 sculpted and painted magnets, 25 each of the four designs pictured above, and put them in sealed bags with a relief print and a download code. Unlike the previous examples, which share music available through other means, these tracks are digital exclusives, only available if you or a mixtape-making friend own one of these handmade works of art.
Try these other great merch ideas for your band:
Bobby Moore is a freelance writer and historian with an MA in public history (University of West Georgia, 2011). He's got a Dead Milkmen tattoo on his chest, and his three-year-old calico is named after the band Tacocat, so he's pretty shameless about his music fandom.