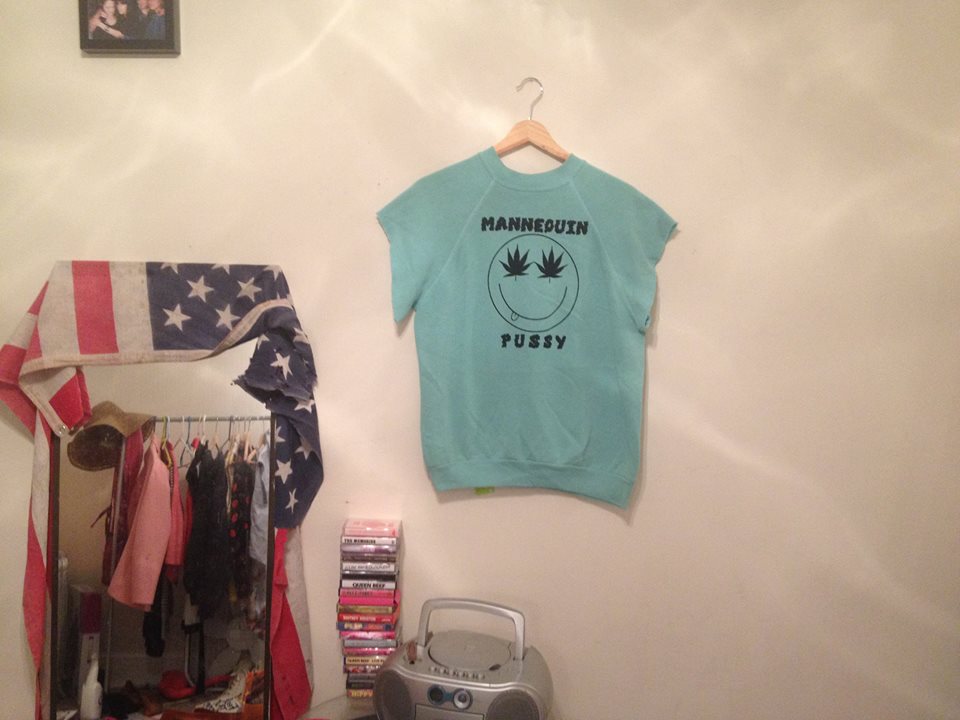 Photo courtesy of Mannequin Pussy
One artistically rewarding task new bands face is designing T-shirts. But with all of the options online and the abundance of printing companies in many cities, picking a printer can be a stressful decision. A simple place to start is estimating your audience's willingness to buy and wear your shirts. For example, if you're in a metal or hardcore band, and you often peer from stage at a sea of band shirts, then you have potential consumers. An indie, garage, or folk group with an audience filled with cowboy shirts and flannel might face a harder sell outside of their core audience. Having shirts made would be no less rewarding for the latter, but perhaps those groups should consider ordering or making just a few shirts, freeing up money for recording or transportation. Once you've assessed your needs and double-checked how much you can spend, consider these three cost-effective routes for adding new threads to your merch repertoire.
1. The DIY approach
Estimated cost of 25 DIY shirts: less than $50
If perceived demand is low, DIY shirts can be a fun, cost-effective way to have a few shirts to sell at shows or take on your first regional tour. All that's needed is either a pile of thrift store clothing or packs of plain white undershirts paired with spray paint and stencils. A good example of this can be seen on the website for Atlanta-based label Die Slaughterhaus, which over the past decade released the first seven-inches by the Black Lips, Deerhunter, and the Coathangers. Considering how long Die Slaughterhaus has existed, there's no shame in sticking with DIY shirts, even as a band's number of social media followers grows.
Philadelphia garage punks Mannequin Pussy take an interesting approach to handmade shirts, painting their name and logo on a wide array of apparel. No two garments are likely to be identical when stencils and paint are involved anyway, but the band makes sure all of its merchandise is unique by personalizing everything from sports coats to a Boy Scout uniform shirt. By going the Mannequin Pussy route, a relatively cheap process could lead to fans wearing a one-of-a-kind treasure.
2. Shop local
Estimated cost for 100 shirts with single-color image and text: $400-700
If DIY doesn't suit your quantity or quality needs, then consider local options. Musicians tend to gravitate toward other creative people, so someone in your circle of friends may already know someone with access to a professional printing press. Depending on your contact's role with the company, he or she might even get you a small discount. Even without a discount, the likely option of picking up the shirts instead of having them shipped could save your band some cash (though many national options do offer free or discounted shipping if you order a large enough quantity). Also, like-minded bands may have had shirts made by the same company, so ask peers about their experiences when having shirts printed locally.
3. Scour the web for deals
Estimated cost for 100 shirts with single color image and text: $500-800
If local options are lacking, national companies willing to turn your artwork into high-quality shirts are an internet search away. Picking between a local company and having shirts designed outside of driving distance won't necessarily lead to a price increase. Bulk discounts available through large companies like DiscountMugs or CustomInk, which both offer free shipping, may offset the benefits of shopping local. Remember – money saved in this process could be spent on gear upgrades or keeping gas in the tour van.
There's a T-shirt option for nearly every budget, ranging from thrift store art projects where you set the overhead, to local and national companies that will sell your design back to you at wholesale prices. You could even pursue multi-color designs or better quality fabrics for a higher fee than the above estimates. Regardless of cost or quality, T-shirts give supporters a fun way to financially support and advertise your band, making any reasonable investment a wise one.
Bobby Moore is a freelance writer and historian with an M.A. in public history (University of West Georgia, 2011). He's got a Dead Milkmen tattoo on his chest, and his three-year-old calico is named after the band Tacocat, so he's pretty shameless about his music fandom.