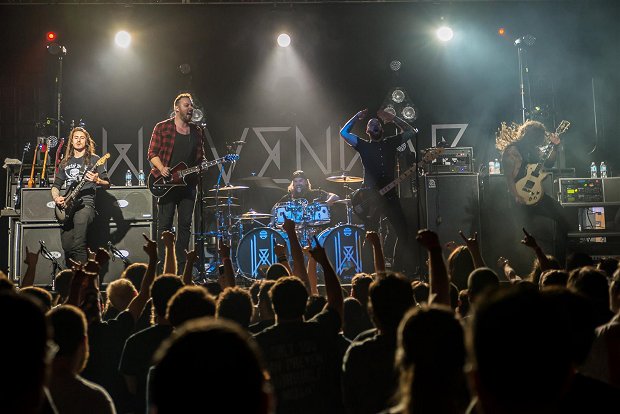 Phil Sgrosso, rhythm guitarist for Wovenwar (far left), emphasizes the importance of preparation when playing festivals. (Photo by Scott Nathanson)
Scoring a slot at a music festival is a big deal. You'll likely be seen by a mass of folks who've never heard your band before, and if it's a recurring event, you're already in the running for next year's lineup. What can you do to ensure a successful set?
While we've already provided tips for playing a mindblowing show, performing during a fest is a bit of a different beast. That's why we've enlisted a seasoned pro for tips: Phil Sgrosso, former rhythm guitarist of As I Lay Dying and founding member of its scion, Wovenwar. We've added a few notes of our own in the mix for a succinct but surefire guide to a smooth set – well, almost. There's no guarantee your experience will be free from chaos. Not everyone will abide by these rules, the weather might defy organizers, and the sound guy might be in long line for a hot dog when showtime comes – you never know. Still, these three points will better position you for festival perfection.
1. Be as prepared as you can possibly be
"I'd say that after playing some big festivals back in the day, we quickly learned that you need to be prepared as much as possible," Sgrosso says. "Most of the time, your changeover is very quick and gear is thrown into place, plugged in, and you gotta start your show. Any little error could jeopardize your set, so be ready ahead of time."
Planning should begin the moment you're called upon to play. Ask the organizers to put you in touch with the sound engineer, stage manager, and anybody else who'll be on deck that day. Here's what you should ask them:
What time is load-in? Where are you expected to drop off your gear? Festivals can be quite hectic, so knowing exactly when and where to take your equipment will help you avoid a last-minute panic.
What's the backline/house gear? Are you expected to bring your own drum kit or just cymbals and snare? What about bass and guitar amps? Find out what will be available to you and what you'll need to provide yourself.
What's the set time and where? When will you play? Is there just one stage, or are there many?
Who's slated to perform before and after you? Acquiring the whole lineup ahead of time is a good idea because, while the organizers likely placed you purposefully, there's always a chance you're not in the right spot. And even if you are, it's helpful to know if the group before you has a complicated setup that'll take longer to break down than usual.
Sgrosso adds, "Having your input list sorted and communicated with the stage monitor guy is very helpful so that running lines and mic'ing up instruments is done properly. If something is mis-patched, it could cost you time and sound quality."
2. Never be "that band" that played too long and messed up the whole schedule
"Never go over your set time. The day is run on a very tight schedule and going over shows a lack of respect to the other bands and coordinators ensuring things run smoothly," Sgrosso points out. "You'll be 'that band' that pushed things back and come off as unprofessional."
This is essential if you want to remain in the good graces of the organizers, crew, fellow performers, and attendees.
3. Act like a professional, and it could lead to other opportunities
Yes, festivals are fun. You'll likely be hanging out all day, watching other bands and mingling with them, friends, or attendees. But that's all the more reason to stay focused – read: not drunk – until your mission is accomplished. Even after, try to keep things tame. We repeat: festivals are a big opportunity to gain new fans and make connections with organizers and other bands. Don't blow it!
Check out previous installments of Lesson Learned, a new series where we share bands' tales of bummers, bad luck, and other types of setbacks in hopes that other artists can better avoid similar situations.
Want to play the Billboard Hot 100 Festival alongside today's biggest stars, including The Weeknd, Justin Bieber, Skrillex, and Jason Derulo – and get paid $500? Apply for free by August 5, 2015!

Jhoni Jackson is an Atlanta-bred music journalist currently based in San Juan, Puerto Rico, where she juggles owning a venue called Club 77, freelance writing and, of course, going to the beach as often as possible.