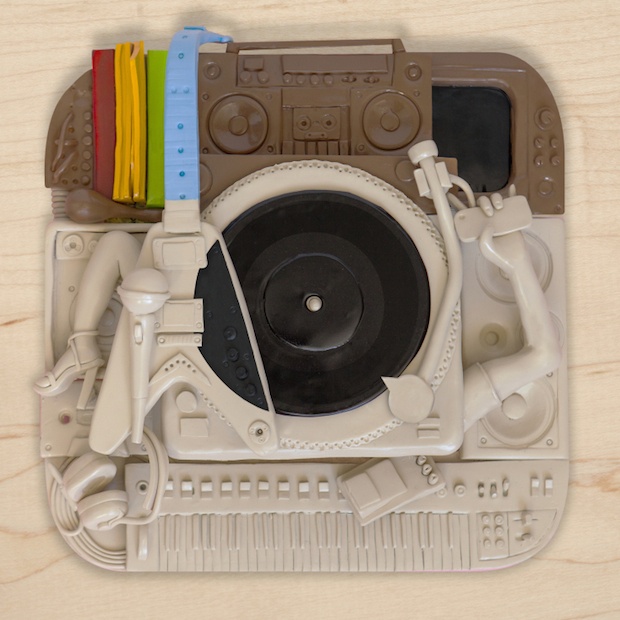 Photo by Jared Eberhardt
A picture is worth a thousand words, and these days, a thousand fans and comments. Instagram recently launched @Music, an official account dedicated to "capturing and sharing the world's musical moments." Each week Instagram features a selected photo that shows "a different side of artists you know and love."
Highlighting the value of storytelling, Instagram goes beyond your average 140 characters to share moments that are personal and inspiring. These snapshots give followers a glimpse inside the minds of some of their favorite artists and a taste for what drives them – all with just one photo.
Considering musicians comprise one-quarter of the most popular accounts on Instagram today, it makes sense that the photo-sharing app wants to highlight this dynamic sector of its user base, and there's a lot musicians can learn from the account, the featured artists, and the stories being shared.
1. Get personal
If Instagram @Music can capture compelling anecdotes with one photo, consider the potential to create a continuous narrative that fans can follow from one photo to the next. Not only documenting day-to-day activities, but sharing personal stories, experiences, and discoveries along the way.
Israeli singer-songwriter Asaf Avidan likes using his Instagram account to show the quiet, mundane moments that are as much a part of a rock star's life as late nights and parties. From ironing and mending his clothes, to working on his laptop, to documenting his favorite snack (banana and peanut butter), Avidan balances out the stadium photos with unfiltered acts.
"I find these little moments so ironically pathetic and beautiful because they are so real," he says. Revealing these intimate snapshots amid the star's whirlwind lifestyle lets fans feel connected to the man behind the music.
2. Think outside the "square"
Dawes frontman Taylor Goldsmith connects with his fans literally through his music. The singer started recording original 15-second songs especially for Instagram using the hashtag #songsjustforinstagram. He enjoys the challenge of creating something specifically for this medium, while followers enjoy a peek at his creative bursts. The venture gained so much traction among fans that Dawes even released a special-edition vinyl of the Instagram songs in conjunction with their LP, All Your Favorite Bands.
Don't forget that Instagram's video feature is just as valuable as the photo feature, especially for musicians. Goldsmith came up with a creative way to share his art within the medium in a fun and creative way that really resonated with his fanbase.
3. Focus on the details
Everyone loves a good selfie or concert photo, but what makes yours different from the next band's?
When sharing these images, think about what's truly being captured. What type of story does the photo tell? What kind of energy is conveyed? Is this a sweaty, head-banging live show or an emotional, intimate show? What happened that night that made this concert different from the others? Were there any close calls with gear or traffic, was the green room amazing, or were the sound guys awesome?
Think about the photos that make you stop, read, and respond with a like or comment. Then think about whether your shots achieve the same impact. By personalizing photos with framing and context, artists can communicate their persona and temperament to fans, creating engagement that lasts beyond a quick scroll through their photo stream.
Soul singer Leon Bridges posed for his friend and photographer, Erin Margaret Alison Rambo, to capture their close relationship, and yet the photo achieves much more. Black and white filters all of Bridges' Instagram photos, alluding to the vintage influences present in his music. The singer's downward gaze reflects Bridges' introspective nature as he rarely posts photos looking directly at the camera, opting for contemplative profile shots. Lastly, the personal portrait also parallels the intimacy present in his music.
Bridges' consistency in every photo he shares has helped him carve out his image and identity and garner a fast-growing, devoted following.
4. Make your fans feel connected to you
While she hasn't been featured on Instagram @Music (yet), Taylor Swift is a great example of an artist who uses the platform to reveal her life behind the scenes. Through Swift's photos and videos, we've learned about her comical relationship with her cats, with her female peers (Lorde, Haim, Karlie Kloss), her family, and even her childhood best friend.
Swift doesn't take herself too seriously, which makes her relatable to fans despite being one of the biggest pop stars on the planet. Coversely, this relationship with her fans has played a significant role in Swift's rise to superstardom. Fans feel connected to her, making them interested and excited to see what she shares next.
Even on a small scale, creating content that resonates with followers can lead to a strong community of engaged fans. Instagram affords lots of tools for musicians to capture their experiences, while @Music offers insight into effective ways of achieving this through showing and telling.
Take advantage of captions, filters, framing, and most importantly, your thoughts and experiences, to share moments that leave an indelible impression.
Get more tips to make your band's Instagram stand out:
Gillian Driscoll is founder of the music blog Sound Dessert, featuring emerging artists that deserve to be heard. When she's not writing about bands, she's working with them via her artist development company, Sound Dessert Consulting. Gillian's cravings for music, sunshine, and guacamole get met in spades in Austin, TX, where she settled by way of NYC in early 2013.