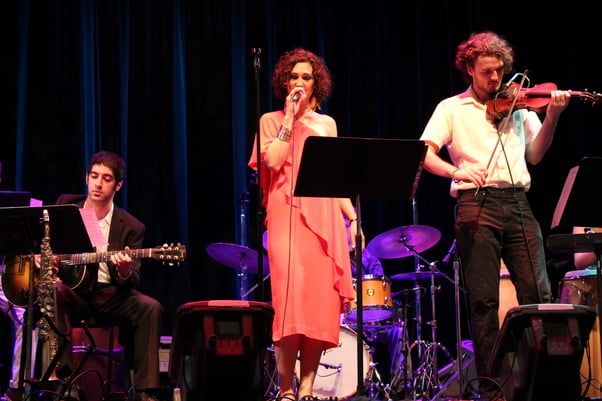 The beginning of the fall season is always an exciting time of year. The nice weather left over from summer becomes more bearable, football makes its almighty return, and students are back in school. In the life of an indie artist, the latter of this list proves to be the most important because it creates new performing opportunities.
The college/music relationship has had a close bond for quite some time, yet many musicians still don't take advantage of the educational platform as a means of strengthening their artistic backbone. When September hits the calendar, it's an ideal time for indie artists to put their networking skills on display and contact every college in their area in an effort to connect with an audience that's eager to hear to new music and be tastemakers within their friend circles.
Need a little more convincing that booking college shows is worth your time and trouble? Here are five reasons why they work so well for indie artists.
1. Colleges have young and supportive demographics
As an indie artist, performing in front of the same people over and over again is a situation you want to avoid. It can be easy to fall into this trap if you're from an area with limited opportunities, but colleges can be an extremely effective means of reaching a new and youthful audience that considers music to be one of their top priorities.
This is the type of demographic you should consistently be looking to entertain, because even though today's generation of fans may stream music rather than buy it, they're quite supportive when it comes to purchasing show tickets and merchandise. If you put on a great show at a college, you'll immediately be greeted with praise on social media, and students will spread your music through word of mouth. This isn't always the case when performing at a standard venue, and all of these avenues of support are a main reason why college performances are so vital to independent artists.
2. Colleges have large budgets
Living off of album purchases is just not realistic for indie artists these days. Income from live shows is crucial to your livelihood, and colleges tend to have very large wallets in comparison to your average local venue. Universities are typically granted with huge budgets, and all of the money is meant to be spent every semester. This gives student activity groups lucrative opportunities to bring in well-known artists as well as more under-the-radar indie talent. With a proper amount of planning and professional communication, it's quite possible to bring your music to a campus and be handsomely rewarded for your time.
And if the stars are aligned, you may be able to build an entire tour around a set of college shows and come out of it with a friendly profit. Even smaller schools usually have decent budgets to work with, so don't let such a promising opportunity go to waste!
3. Playing colleges gives you access to new venues
Many indie artists are faced with the problem of limited access to new venues. Performing at colleges provides a unique chance to correct this issue because, more likely than not, you'll be performing somewhere you've never been before. This adds an exciting dynamic to your live set, especially if you're an artist who's used to performing at the same location.
You can take advantage of these platforms by keeping a consistent level of communication with representatives of the university. Be sure to make it clear that you are interested in bringing your music to as many different places as possible, and that the prospect of hitting college stages is an exciting one. University facilities tend to be top tier, so make sure you're on top of your game throughout the entire booking process.
4. College shows can lead to larger festivals
People who are responsible for booking festivals have ears everywhere. But no matter how devoted they are to scouring the internet for buzzing artists, you can't develop a plan of action based on the assumption that you're going to be discovered. As an indie artist, college shows can be quite helpful in building up your name to a larger audience, which includes both fans and promoters. If you gain a strong resume for yourself and a positive reputation among local colleges, bigger opportunities will come your way. The music world is smaller than you may think – you never know who has a certain connection and who may be able to help you down the line.
Colleges are an ideal platform to strengthen your base and ultimately get mentioned in those festival conversations. Online buzz is important, but putting on a great live performance at a college can have a greater direct effect on your music career trajectory.
Canadian artists: Apply to perform at the COCA Central Regional Conference at Brock University by October 6, 2015!
Learn more about getting college gigs:
Eric Bernsen is a marketing/public relations professional and music journalist who specializes in the genre of hip-hop. You can find more of his work at HITPmusic.com (where he is an editor/writer) as well as HipHop-N-More.com, where he contributes album reviews. Follow Eric on Twitter @ebernsen.