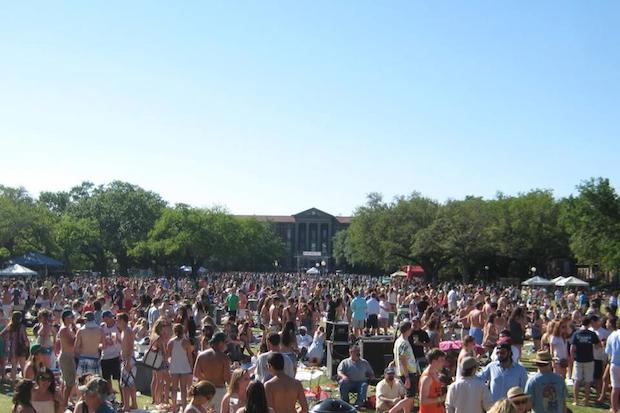 Image via facebook.com
Whether you're long removed from the college scene, or you're still a high-schooler, connecting with students on college campuses is the perfect way to grow your group. While it might seem like a struggle to be perceived as cool by college kids, there's no doubt they spend copious amounts of time sharing their interests via social media. Once one student knows about you, he or she will basically be helping you with PR for free with an endless number of tweets, Facebook posts, and perfectly filtered Instagram pictures from your last show.
So what's the best way to grab all this amazing attention from college students? Here are four ways to grow your audience, social media following, and online presence in one fell swoop.
1. Reach out to college booking organizations
Just because it seems archaic to post flyers in the dining hall doesn't mean there aren't tons of interesting, new ways to reach students when you're touring and heading to college towns. Even if you're not playing on campus, if your show's within walking distance to the university, you can expect a crowd from the school. Search online to find booking organizations at different schools, and email them to find out their schedules. Maybe they have shows on the quad every Friday or a big event coming up before a football game. Regardless, once you're on their radar, they'll be far more likely to reach out to you for shows in the future, especially if you're based nearby.
Even better? If you have a show at night, a daytime show at a university is the perfect way to make some extra money when you'd regularly just be killing time.
2. Start following students on social media
It might be time-consuming, but if you're on the tour bus with nothing to do, start following college students either in the area you're going to or that have already followed bands similar to yours. They'll feel cool because a band is following them, and you'll get the chance to promote your shows to more people.
And let's be honest: if you're playing an on-campus social event, whether it's homecoming or a spring festival, it's unfortunate but likely that the students will be highly intoxicated by the time you come on. By reaching out to them online beforehand or after the show, they'll be more likely to remember you and your band.
3. Create a street team
Sure, street teams might seem like something from the Myspace era. But just because Tom isn't in your top eight anymore doesn't mean you shouldn't utilize an enthusiastic band of students to promote you. Whether you give them shout-outs on social media or free band T-shirts when they sell a certain number of concert tickets, it's a way to make your fans feel like mini-celebrities.
In the social media age, everyone wants to think that people care about what they're posting. So, by rewarding your fans with swag after signing a certain number of people up for your newsletter or getting them to RSVP to your Facebook event, your team will feel like people are listening, and you'll have people sharing your band's information for free.
4. Connect with college websites
There are tons of college sites that will promote your band. Whether it's a site specific to a university or even a college's online newspaper, it's just another way to reach out to an audience that might never have heard of you. Look out for popular personal blogs or hot Twitter accounts with thousands of followers and throw a few free tickets their way in exchange for a tweet or a blog post. It's an easy way to grab some promotion with limited effort, and it means you'll guarantee serious a turnout at your next show, whether it's at a college or just nearby.
Before you head out on the road, make sure you're covering all of your bases. Look at what colleges are in the area you're going to, connect with the students beforehand, and find opportunities to make them part of your band's community. Building a college fanbase and making connections with universities won't happen overnight, but the work it takes is well worth your time. All of the extra exposure via social media will make it seem like you suddenly hired a PR person – only even better, because you don't have to pay for it.
Margaret Abrams is a Brooklyn-based writer and the senior editor of College Candy. She's done social media for AEG Live, Live Nation, and Interscope Records. Follow her pop culture musings on Twitter @margaretabrams.