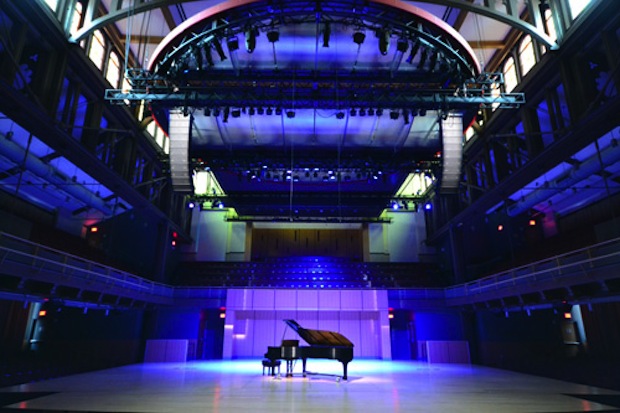 Image via meyersound.com
Most of the time, musicians seek a gig out, or if you're lucky, the gig finds you. But sometimes a big event like a showcase, debut, or album release will require a musician or band to rent out a performance venue on their own. This can be a daunting task with a lot of "had I only known" moments. Here are four things I wish someone would've told me about renting a performance venue.
1. Nitty-gritty logistics are a bitch
The most "WTF" moments definitely happen regarding the technical aspects of booking a venue. It's important to get all requirements from the rental office before signing on the dotted line.
For example, one of the most important things you'll probably need is... insurance! Now, how would one obtain a policy for $2 million in liability coverage, you might ask? Well, that's a whole separate article, but in a nutshell, your band should really be a legal entity (i.e., LLC) so that you can get the coverage that you need to protect yourself and gain access to bigger and better opportunities as a result. Then you also must consider things like:
city permits
checking on noise ordinances depending on the venue neighborhood
what kind of event you're hosting
what type of day it is
obtaining a license for food and drink (as many venues don't just allow that without prior permission, and city-run venues often have legal limitations on what can be sold to patrons)
getting required minimum police detail (depending on the scale of your event)
knowing whether or not you need to inform the fire marshal of your plans
These are all of the last things most musicians I know would think of, and all of the first things that would get them in big trouble – or worse, shut down during their big night! (And there are no refunds from a venue for your poor planning!)
2. Advance preparation is everything
Unfortunately, it's not just as easy as show up, play a great performance, and count your cash as you pack up your gear. Preparing for a venue rental is everything to your success that night. Even simple things like evaluating the parking situation or double-checking if you'll have internet access or cell phone reception could make or break how smoothly the night goes. For example, internet or cell reception would be required to accept credit card payments for merch or ticket admission, check people in, stream music if needed, contact helpers for the show, etc. You definitely don't want to figure out that something like that was never thought of once people start arriving!
3. Overstaffing is better than understaffing
The only real guarantee you should count on is that things will not go exactly as planned. People suck, people flake, people get sick, people have conflicts... it happens and is unfortunately out of your control more often than not. But what is in control is your ability to plan ahead to have more people on deck if needed. Overstaffing is always better than understaffing, so plan to assign a couple of people to each post, and then have some extras around for the inevitable last-minute problems that will arise. You'll be glad you did!
4. Budget like you've never budgeted before
As a general rule of thumb, you should plan things to cost at least 1/3 more than you've projected. Things always go differently than planned when there are a lot of moving parts involved. Did you create smart pricing tiers? Did you choose an efficient and wise ticketing service? What are you going to do if you have inclement weather and lots of people don't show? What will you do if the place is a mess afterward and you didn't anticipate the extensive janitorial overtime fees? Is it worth it to just hire an event coordinator to tackle everything? Did you prep enough marketing materials in time for the show? Do you have any idea how much police detail cost after hours? Did you even know that they had a minimum?
Budgeting is key if your goal is to have a night of epic promotion that won't deplete your life savings – and especially if you'd actually like to make a profit from the event! Though accounting is historically not always a musician's best friend, you'd better get real comfortable with those numbers if you want to find the success you deserve after all of your hard work.
Next up:
Christine Occhino is the Founder and Artistic Director of The Pop Music Academy and has experience working at Columbia Records/Sony Music Entertainment, in addition to working as a performing artist for over a decade. She has a Bachelors Degree in Music Business & Management with a concentration in Entrepreneurship and Vocal Performance from Berklee College of Music, where she was a vocal scholarship recipient and former Editor-in-Chief of The Berklee Groove. She is also the proud founder and CEO of Hope In Harmony, a 501(c)(3) non-profit organization that brings music to those in need.