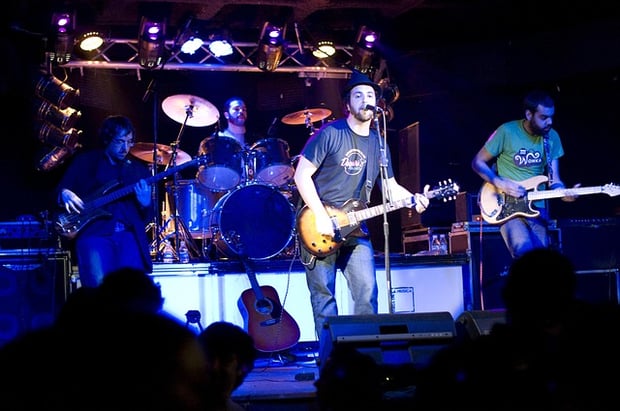 Image via thetab.com
We recently discussed the numerous benefits artists can experience by mustering up the courage to host their own live showcases. From cross-fanbase building to building up your personal brand, the advantages of taking on this role of self-booking tend to have a successful, long-term impact on your career. However, all of these delightful indie assets mean nothing without a proper level of execution. So before one is able to reap the rewards of hosting his or her own showcase, artists need to be aware of all the pre-event details that are necessary to master in order to throw a great and profitable show. With that mind, here's a guide that highlights the top things you need to know in order to successfully run your own showcase.
1. Drum up local support with a music blog partnership
While confidence should be an attribute of every indie musician, it's not wise to be cocky enough to think that you can organize a highly attended showcase without a little outside help and support. Developing partnerships is key in ensuring your show is given the proper amount of exposure and, ultimately, gives you a better shot at a packed house. Do your research and team with a reputable local music blog that has a quality readership. Once you gauge their interest and create a plan that includes a substantial amount of both pre- and post-show coverage, a lot of the heavy promotional lifting is taken off your shoulders. These blogs have the ability to create valuable press for any out-of-town artists that may be traveling to your city for the first time. Between blog/artist teamwork and choosing a few other sponsors to help stir up some buzz, a large, diverse audience (expanding beyond your particular fanbase) will become aware of your exciting showcase, increasing the likelihood of your event having a sold-out audience. Local support can go a long way, and is an essential step to take when venturing into this DIY side of the live showcase world.
[How to Strike a Sponsorship Deal]
2. Curate a smart lineup
You're probably used to promoters putting together the lineup, but the tables are turned in this situation – the show curation responsibility lies with you. Selecting talented artists who are proven crowd-pleasers and easy to do business with is not as easy as it may seem. If you're choosing out-of-state musicians, be sure not too venture too far out of your territory in the beginning stages of your showcase. The farther away artists reside, the more money they're likely to cost in bringing them out to your city, so try to locate respected acts that are a manageable drive/bus ride away. And if you're selecting local acts, do your creative due diligence and select an artist who people haven't already seen multiple times.
It takes a good amount of research and preparation, but there's more than enough talent out there that will be grateful for the opportunity while also being cost-effective. Set price points, scour the internet for high-quality live performance videos, and select recognizable artists (who will do their fair share of social media promo) that have new material to perform.
If you're able to check all these items off your list, you'll be setting your showcase up for success, and the possibilities of musical collaboration will be as natural and organic as ever.
3. Do your venue research
One of the most important factors in ensuring that your showcase becomes a hit is selecting the proper venue. As an artist who's just starting out in this unique position, don't choose a venue that's your dream location to perform, because chances are, you won't be able to afford it. Find a venue that's realistic with your goals and has a room capacity that's on the smaller side. Since it inevitably takes time for showcases to develop a positive reputation (and for people like you to prove themselves), you don't want to be too ambitious early on. Selling out a smaller location is much more ideal than hosting your showcase at a bigger, luxurious venue and having it feel empty.
Whichever location you have in mind, be sure to attend a show there and evaluate it from the perspective of a fan. If you have an enjoyable experience and could see your showcase having a similar level of success, reach out to the appropriate people and inquire about details such as pricing on weeknights/weekdays, start/closing times, and soundcheck procedures. Don't be afraid to select a venue that's outside of the box in terms of your local genre expectations. If your showcase is marketed with a purposeful mission statement and is being held at a unique music space, the overall interest around the event will lead to positive results.
4. Put everything in writing
It's extremely rare for no bumps in the road to pop up when organizing a showcase. The little things such as order of performers, number of plus-ones an artist is given, and length of time for soundcheck are just a few examples of issues that can arise as the date of the event draws near. Therefore, the safest precaution you can take is to write up artist contracts for each individual act, since their needs may differ depending on their prominence. There may be a level of compromise you have to make depending on certain needs, but if all potential areas of controversy are handled from the get go, it creates more time for focusing on the more significant initiatives that will draw a large, engaged crowd.
In an industry where egos will forever be present, it's important to be welcoming and fair to work with while also being stern with your terms and conditions. Think back to a time where you had a great experience with a promoter or booking agent, and implement those tactics into your own showcase game plan. And when you apply all of your learnings into a professionally written document, miscommunication and conflict can be easily avoided.
[4 Important Details That Should Never Be Left Out of Your Performance Contract]
Eric Bernsen is a marketing/public relations professional and music journalist who specializes in the genre of hip-hop. You can find more of his work at HITPmusic.com (where he is an editor/writer) as well as HipHop-N-More.com, where he contributes album reviews. Follow Eric on Twitter @ebernsen.