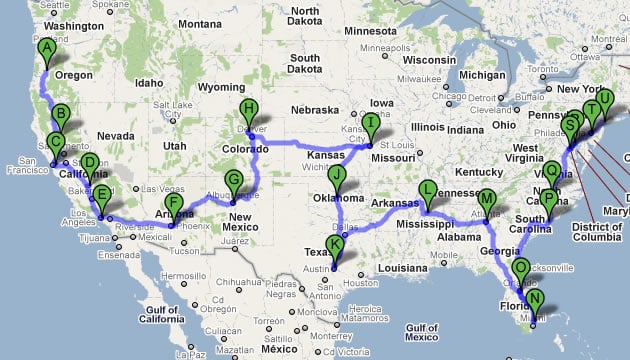 It's no secret that in today's industry, musicians are much more than musicians. Often we have to be our own booking agents, publicists, marketing teams, merch coordinators, and a myriad of other tasks that are often overlooked: chef, accountant, driver, babysitter, and much more.
So, when an artist decides to go tour, juggling all of these roles can be incredibly daunting.
During the early stages of touring with my band Sky Eats Airplane, I often served as a de facto tour manager and booking agent. That being said, I've had my own fair share of touring experiences that range from smooth sailing to shady venues (and even shadier promoters).
Simply put: While touring, you can't rule anything out and you have to expect the unexpected. We spent many nights crashing at random people's houses, dealing with breakdowns and break-ins, and taking last-minute gigs to stash more money for the road. However, at the end of it all, we also made lots of amazing friends, met fans, and honed our craft as artists.
I'm often asked to share my advice on how an artist can plan their own tour, so I figured I would put pen to paper and share some of the things that I've learned on the road. These tips will allow you to maintain a tour that's not only in your complete creative control, but also one that maintains the same professionalism that you would find from any major artist on the road.
1. Get your EPK ready
Before you embark on your tour, you're going to need to make sure everything is pretty and shiny. Make sure you have your electronic press kit (EPK) polished to submit to venues, and that you have all of your social channels consistent and your website up-to-date. I'd recommend Sonicbids' EPK for building your kit, and I'd also recommend using a social media scheduler such as HootSuite that will allow you to schedule your band's social media posts in advance so you don't have to worry about posting while you're on the road.
If you have yet to make an EPK, get to forming one. Your EPK can house your music, videos, bio, photos, press, performance history, and more – basically anything you want promoters and booking staff to see. You may want to tweak it on occasion depending on whom you're sending it to, but ensure you have everything formatted in a way that's easy for promoters and venue staff to access. Check out this article to find out exactly what promoters look for in your EPK.
2. Map out your tour
It's a given, but it's a big one. You should plan your tour at least six months (even a year) in advance. Not only will this give you wiggle room logistically for any issues, but it will give you time to catch venue booking calendars well in advance. It will also allow you to start planning your marketing calendar in advance – scheduling social media posts, getting on community calendars, and so forth. (More on this later in the article.)
In "industry speak," folks often divide markets up in A, B, and C markets. A markets are the big music markets such as Houston, Chicago, and New York. B markets tend to be less dense areas, but still with decent art scenes, such as college towns. C markets are typically in less populated areas. While A markets are obviously great for exposure, B and C markets are generally itching for entertainment. Some of our best shows were in the hands of eager promoters in a B or C market. They may be hot, sweaty, and not have the best PA systems, but if you work on these markets you will have yourself a dedicated fanbase.
3. Do your research
While developing your itinerary, be sure to hone in on your research skills to allow you to make informed decisions. Before hitting the road on your tour, it's never a bad idea to poll your fans! You can do this through your social media outlets, website, and email blasts. Ask fans where they want you to perform, what some key venues in certain markets are, and so forth.
Once you map out which cities you're going to hit, begin researching popular venues in those areas. A simple search on Google can help you out a lot. Is their website up and running? Does it have a calendar? Which acts have played there in the past? How are their Yelp reviews? You can also check out their Facebook page to get some insight as to how active they are at marketing their shows, and how engaged fans of the venue are. With a little research, you'll be able to judge venues pretty accurately to ensure that you're ending up in the right places.
Also, whenever possible, find out what you may be up against on the dates you're looking to land. If you find out there will be huge mainstream act or a local favorite playing the same weekend that you want to play (or even a sporting event, finals week for a college town, etc.), you'll be able to act accordingly and look into other dates.
Once you get a list of venues in the markets you want to hit, begin contacting them with your EPK and start solidifying your route. Again, 6-12 months in advance is the best time to start doing this.
4. Plan out all of your itinerary
Don't just plan the venues! Where will you crash? Eat? How will you get from city to city? Map it all out to stay on track. One big bonus of planning things out this way is that you can schedule in free time throughout your tour to make sure you don't burn out. One of the best things about touring is that you can explore what different cities have to offer, so go check out the best museums, restaurants, entertainment, and parks in your downtime – all in between playing the music you love! The better prepared you are, the more you'll be able to explore and truly make the most of the time you spend on tour.
5. Raise funds and budget
Another good reason to start planning your tour far in advance is that you can allow yourself time to raise the money you'll need for your tour. You need to calculate mileage, hotel stays, food, emergency cash, and enough cushion to get you across your markets comfortably. Start saving up from local gigs, or even launch a crowdfunding campaign to try to raise the appropriate funds.
6. Reach out to local artists
One effective way to gain exposure and add a bit of a safety net to your gigs is by reaching out to locally known artists and have them serve as an opening act (or even main act) for your performance. This way you'll get that local draw for fans that may not know you, while also giving them a bit of familiarity.
7. Stay consistent online
Before and during your tour, ensure that you're keeping fans up to speed through your social media outlets. Be sure to reach out to local newspapers, entertainment websites, and blogs to let them know you're coming to town. You should even consider giving out a few press passes to influential writers and bloggers in the area for maximum press reach.
8. Advance the shows
Make sure to follow up with the show coordinator sometime between a month and a week before your performance date. Not only will this reflect professionalism with the venue and promoter, but it will help the show run smoothly for both your fans and your bandmates. When are the set times? What time do doors open? What time can we load in? Is there a sound guy? Are there monitors? Is there a catering budget? Is there a runner for the show? If your fans are younger, is there a curfew to worry about? Finding out all of these things will end up saving you time and money, and will allow you to focus on the most important part: your performance.
9. Build solid cred
After tours, be sure to keep in touch with the venue managers and booking agents. Send thank you letters and check in on occasion. These relationships will matter majorly throughout your career. You would be surprised as to how much a genuine "thank you" can do.
Touring can be a monster to tackle, but the feeling of planning a successful tour on your own is one of the best feelings a musician can get. By following these pointers, you'll be prepared, organized, and ready to rock!
Lee Duck is a professional musician, producer, and lighting designer. In 2004, Lee founded Sky Eats Airplane, a heavy electronica band that performed using a computer. Lee currently designs automated light shows for bands and DJs that perform with backing tracks. You can learn more about his services at www.ducklights.com.