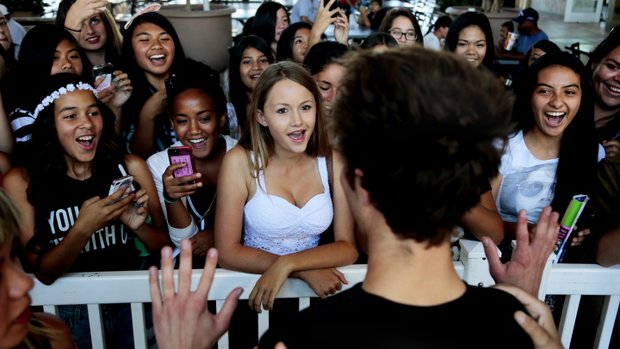 Photo by James Gregg
As a musician, it's important to stay visible to your fans and constantly engage them. Your fans want to stay connected with you. Contests are a great way to engage your fans, build awareness of your music, and reward them for their loyalty. Here are five contest ideas to give your fans unforgettable experiences.
1. Scavenger hunt
Send your fans on a scavenger hunt for a special prize such as exclusive access to your concerts and events. You could also offer a VIP experience that includes backstage passes or a chance to hang out with your band.
Why your fans will love it: Scavengers hunts are a fun way to give your fans a last-minute surprise. Giving a lucky fan exclusive access to your events makes them feel special. They will love the ability to personally connect with you.
How to execute it: Hide your prize at a site in your city. Take a picture of the location and post it to your social media pages as a hint. Ask your fans to go find the prize. The winner must post a picture finding the prize and tag you in their post on social media. Give your fans no more than 24 hours to find the prize. You can give away one prize or several prizes and hide them in different locations.
2. Star in your new music video
Let your fans be the star of the show by giving them a chance to be featured in your music video.
Why your fans will love it: They'll love the chance to get their few minutes of fame! Plus, for a fan, being in one of your favorite artist's video is a once-in-a-lifetime, unforgettable experience.
How to execute it: There are two ways you could execute this contest.
Ask your fans to upload a video singing or dancing to your song to YouTube. You can let your fans vote on the best submissions, use a panel of judges, or a combination of both methods to pick the winners. Keep in mind the location of your video shoot. You may have to provide transportation and lodging for your winner or restrict entries to a certain geographic area.
Ask your fans to upload a video of them singing or dancing to your single to YouTube. Use a panel of judges to pick the winners. Integrate and edit the best footage into your video. Let your fans know when you will premiere the new video and to look for themselves in the video. For both methods, it's best to use an app like Wishpond or Woobox to help manage your submissions and streamline the process.
3. Design your cover art
Allow one of your fans to design the cover art for your next single or album.
Why your fans will love it: Chances are that many of your fans are artistically talented, and would love an opportunity to share their gifts with you. If any of your fans happen to be graphic designers, this is a great platform for them to showcase their work.
How to execute it: Ask your fans via social media and email to submit their proposed cover art in your contest. Give them no more than two weeks to submit their entries. Use a third-party app such as Wishpond, Shortstack, or Woobox to set up and run this contest.
4. Create the concept for your next music video
Let your fans create the concept and storyline for your next video.
Why your fans will love it: It gives them the opportunity to give their interpretation of your song. Fans love giving feedback, and this gives them a chance to influence your decisions. You may also find the next budding video director!
How to execute it: Ask your fans to submit their ideas for your video concept by using a Google form. Host the form on your website and provide a link to the form on your social media pages as well. Give your fans no more than two weeks to submit their ideas.
5. Pick the cities on your tour
Allow your fans to help you pick the locations on your next tour.
Why your fans will love it: This gives a voice to pockets of fans who might live in smaller cities and towns and want the chance to see you perform live.
How to execute it: Use a poll app such as Poll Daddy to ask your fans where you should stop on your tour. The locations and regions with the highest votes can become your tour stops. This also helps you to get an idea of where your fans are located. As an added bonus, give back to the community of those selected locations in some way to show your fans there that you really care about them.
Get more ideas for great contests:
Lauren Gill is the founder and chief power specialist at Power Publicity, a marketing, branding, and public relations firm that empowers entertainment, nonprofit, and lifestyle brands. She has executed several successful marketing and PR campaigns for major and indie recording artists. You can follow her on Twitter @IamLaurenGill and @_powerpublicity.