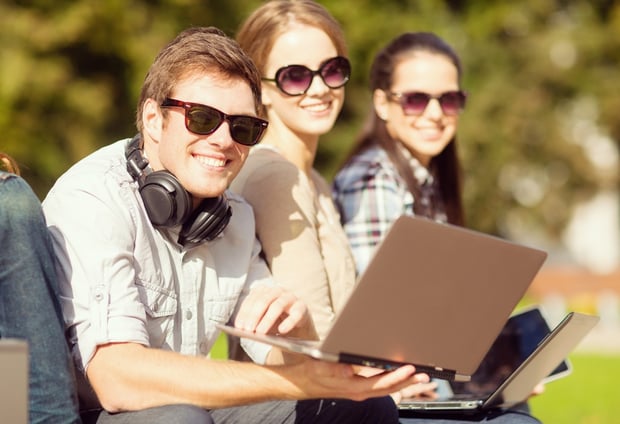 Impress these people. (Image via Shutterstock)
The act of getting featured on music blogs is not a perfect science. There's no set formula, either. It can be a strategy of pitching being done by publicist, a network of favors, and a matter of editors and their personal taste. It can be any combo of those elements and more. Yet, there are some bands and artists that just seem to get a lot of press, all over the place, in print, online, on TV, in the news, and in regional papers. What do these artists have? What's the X factor?
It's actually more like an alphabet factor, consisting of A through Z. But there are some key qualities they all have in common. You don't necessarily need all of these things to get press, but you need at least one or some combination.
1. They get clicks
Established bands with a long and extensive history in the press have large fanbases that are clamoring for information, interviews, or reviews supplied by the media. Those fans will click on anything and everything that pertains or relates to said band. Therefore, sites will intentionally feature said bands so that fans will come read about them, leading to clicks and traffic. That's just simple digital economics and a matter of "What have you done for me lately?" Translation: It benefits the media outlet to cover a band with fans that leave a digital footprint on their analytics.
[Why Small Media Outlets Will Do More for Your Music Career Than Big Ones]
2. They're press darlings
Some bands or artists are simply press darlings. The media adores them and likes covering them. That coverage also tends to be infectious. Blog writers and editors are aware of what their peers are doing and they pay attention to who the other cool kids in their field are covering. When a band generates buzz on one cool publication, the buzz tends to spread to other outlets. Sometimes, that one "cool" hit has a media snowball effect and others pick up on it.
3. They appeal to writers' personal preferences (or the trends they cover)
Blog editors and writers are tastemakers and influencers, and they will tend to cover what they personally like or what they think has potential to become huge. Also, publications are the ones who report on and document a scene, so they have their finger on the pulse and their ears to the underground. So on the flip, they will cover what is happening, even if they don't necessarily like it. That's their job.
4. They have a solid EPK
This is where you come in. You have to have good music, professional and interesting photos, and the right assets to share with a media outlet in order to get coverage. It's also rather imperative when you have a publicist who has relationships with blogs and will broker coverage and place those assets with the outlet.
[5 Spring Cleaning Tips for Your EPK]
5. They have personal relationships with writers
Sometimes it comes down to a relationship. If you've worked with a media outlet since the day you formed your band, the outlet will likely stick with you and the relationship with be rock solid for, like, ever.
Amy Sciarretto has 20 years of print and online bylines, from Kerrang to Spin.com to Revolver to Bustle, covering music, beauty, and fashion. After 12 years doing radio and publicity at Roadrunner Records, she now fronts Atom Splitter PR, her own boutique PR firm, which has over 30 clients. She also is active in animal charity and rescue.