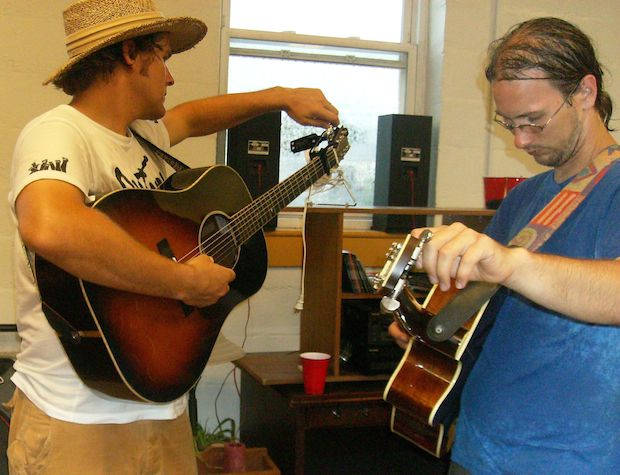 Image via Wikipedia
While you already know that there's tons of work to be done between the day you get confirmed for a gig and showtime, the day right before the gig is an especially critical time; it's likely the last chance you'll get to do some real promotion and take care of any last-minute business. Here's a checklist of five things that should always be done the day before your gig. Make sure you've got 'em all taken care of!
1. Make one final promo push
This is a bit of a given, but worth mentioning. If you're a day away from your gig, it's time for one last big promotional push. Put a blast out on social media, throw up the last few posters you have, and remember to remind your friends and colleagues as you run into them throughout the day.
Though you'll want to be promoting long before the day of the gig, there are plenty of spontaneous folks who don't make decisions regarding their free time until the last minute. By really pushing your gig right before it happens, you'll remind people like this and hopefully attract them before their buddies grab them to do something way less cool.
[5 Smart Ways to Promote Your Shows (Besides Posters and Facebook)]
2. Run through your set
It doesn't matter how many hundreds of times you've played through the set with the band, it's always a good idea to run over the songs the day before the gig.
Even if you know a song backwards and forwards, you never know what can happen on a gig. There are plenty of situations that can cause you to totally blank out when you're onstage. What if you can't hear yourself well? What if there's a distracting heckler in the crowd? What if your drummer doesn't give you the cue he always has? All of these bumps can be circumnavigated by knowing the songs extra well, and an extra run-through of that tough lead part or vocal harmony is only going to improve your situation.
3. Get every detail confirmed
One of my absolute least favorite scenarios is when I get to the gig and have no clue where to park, where to enter the club, who to talk to when I get there, who else is playing, and (perhaps most frustratingly) how I'm getting paid. Any details you don't have sorted out by now should get sorted out!
[5 Small But Important Show Details You're Probably Forgetting]
If your venue contact isn't getting back to your emails, then do whatever you can to get in touch with him or her. Call and leave messages, hit him or her up on Facebook, whatever it takes to get the details you need. Sometimes, they're just busy trying to respond to other inquiries. However, if you're trying to ask about things like payment and are getting the cold shoulder, I'd definitely call that a big red flag that you should feel a little sketchy about.
The day before the gig should also be when you send out a reminder to your band. Make extra sure that they have all of the details and that everybody is clear about where they need to be, what time they need to be there, and what they need to bring along.
4. Individually reach out to people about coming to your show
Blanket marketing is often inefficient. Chances are, if you just spam your entire friend list with a status announcing, "Come out to my gig tomorrow!" you aren't going to get a ton of response from people who weren't already planning on attending. I've found that reaching out to people individually makes them feel much more valued, and makes it much more likely that the person who clicked "maybe" will end up showing up.
While targeting the "maybes" is important, also send out messages to some of your friends who have already said they were planning to attend. Just because they clicked "going" on Facebook doesn't mean they'll actually show up. Just message them and find out if they're still coming so they don't end up forgetting about the performance.
[4 Ways to Get People to Your Shows That Actually Work]
5. Double-check all the gear you'll be using
Gear malfunctions are the worst, especially when they happen onstage in the middle of your sweet solo. Save some time before the gig to check up on your gear and make sure it's fully functioning and ready to roll. This is a good time, if not a little earlier, to change out old strings or heads, check that all your screws and gears are tight, and make sure that you've got enough picks and sticks.
Hopefully, everything is in good working shape. However, if you catch any issues with your gear, fix it immediately. If the fix is too difficult or complicated to do yourself, many instrument/amp repair technicians will take a rush order (for an appropriate extra fee). Just be sure to call the shop ahead of time and explain your situation to them, so they can confirm whether or not they can help in you time to save your gig.
Dylan Welsh is a freelance musician and music journalist based in Seattle, WA. He currently plays in multiple Seattle bands, interns at Mirror Sound Studio, and writes for the Sonicbids blog. Visit his website for more information.