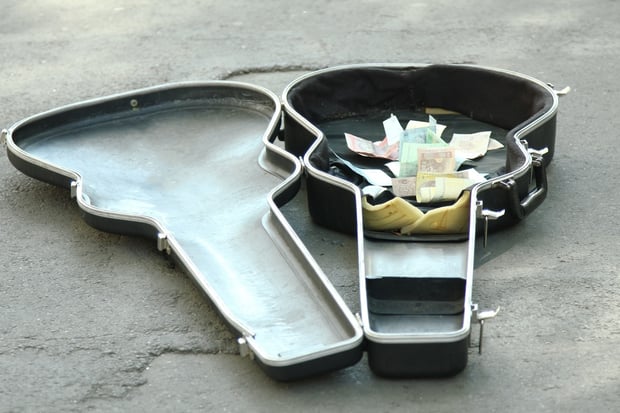 Image via Shutterstock
Beefing up your band fund should be a multi-faceted effort, not a single-strategy one. When you include a variety of sources – door money at shows, merch profits, crowdfunding – you're sure to reach your goals faster. One path of opportunity often overlooked, however, is grant funding.
Competition for many of these awards is incredibly stiff, of course, but the rewards can be undeniably game-changing. Learn more about five current grant opportunities for independent musicians below. Do the research, send a compelling application, and continue honing your craft. Whether you snatch the grant or not, the process of applying is, at the very least, fortifying. Good luck!
Free of deadlines and eligibility or genre requirements, this new opportunity from Pabst Blue Ribbon's Music Foundation is maybe the most laid-back grant around. (It's PBR, so of course it's chill.) Sums vary – we've confirmed $5,000 and $7,000 are among the amounts doled out since the foundation kicked off last year – but are awarded every single month.
The Milwaukee brand has deepened its commitment to independent and underground music of late, from its BandAidRx partnership and new Music Benefits program for health care help and more, to its Project Pabst festival series, where up-and-coming acts are regularly featured on bills supporting prominent indie staples. But this grant, intended as a "financial safety net" for artists and bands to help sustain and surpass their goals, is no doubt PBR's biggest contribution yet.
How to apply: Submit a compelling video about why you need the funding – plus a few other tidbits about your band – via this page.
Deadline: Rolling all year long
Supporting women, trans, and gender-queer artists based in the Delaware Valley who impact social change through art is the focus of the Leeway Foundation's funding opportunities, of which there are two:
The Art and Change Grant: grants up to $2,500 to artists of all mediums with limited funding whose projects impact particular groups and communities, and those who are associated with organizations and business with missions of social change.
The Leeway Transformation Award: seeks to uplift seasoned artists – again, of all mediums, musicians included—with demonstrated commitments (five years minimum) to social change work.
A third, newly added grant is the Window of Opportunity, which boasts a faster turnaround for extra-timely endeavors.
How to apply: Click here for info and applications for all Leeway Foundation grants.
Deadlines: March, May, and August annually; monthly for Window of Opportunity
Central to the founding of this Austin-centric charity is that local music is fully deserving of public support. Funds are culled from Black Fret "members," local music fans who get special access to more than 30 intimate concerts featuring nominated artists in exchange for their membership fee.
Those supporters also take part in the process of voting for which of those artists receive grants and how much. At the 2016 award ceremony, just two years after the organization's founding, Black Fret granted a total of $220,000 in grant tiers of $17,000 and $5,000. Funds awarded are then doled out in installments based on specific milestones and contributions to the community.
Unfortunately, though, this one's not open to just anyone. Black Fret limits eligibility to bands that claim at least 50 percent of members as legal Austin residents and consideration is mostly invitation only. Winners in the Austin Chronicle's annual reader-driven Austin Music Awards are automatically nominated, plus members at a specific level add more to the running.
How to apply: You can submit for consideration here, but your best bet in piquing Black Fret's interest is cultivating your credibility and following in the Austin music scene.
Deadline: The application for consideration is open year-round.
There are several categories of grants, scholarship competitions, awards, and other types of funding programs within the BMI Foundation. This one's particular to the next generation of Latin music greats, so it's eligible specifically to songwriters aged 17 to 24 who are currently enrolled in US or Puerto Rican colleges or universities. Each year, a best original song or instrumental composition is selected by a panel of Latin music industry pros; its creator snags the prestigious title as well as $5,000.
How to apply: Applications are closed at the moment, but you can add your name to the wait list to be notified when the window reopens.
Deadline: TBA, can join wait list
Although the name suggests eligibility is limited to country-music-capitol denizens, the Nashville Songwriting Scholarship is actually a nationwide competition. The genres are more flexible than you'd think, too: Blues, bluegrass, contemporary Christian, Americana, folk, and roots artists are also welcome to apply. Otherwise, it's modeled much like the other BMI Foundation program we mentioned: Of the 17-to-24-year-old students who qualify to enter, just one will be awarded the $5,000 scholarship for best original song.
How to apply: Applications are currently closed, but you can add your name to the wait list for next year's program here.
Deadline: TBA, can join wait list
Next up:
Jhoni Jackson is an Atlanta-bred music journalist currently based in San Juan, Puerto Rico, where she juggles owning a venue called Club 77, freelance writing and, of course, going to the beach as often as possible.