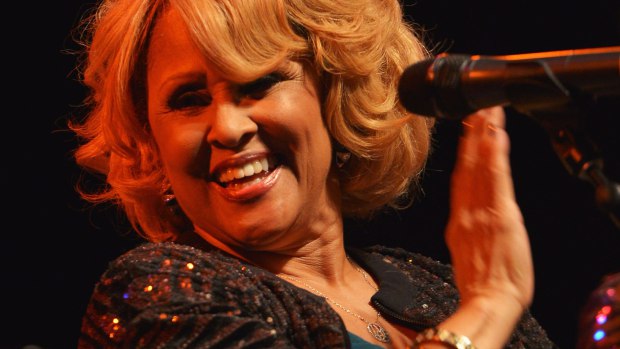 Darlene Love started making her living as a background singer in the 1960s and was featured in the Oscar-winning documentary 50 Feet From Stardom. (Photo by Charley Gallay)
Earning a living as a singer isn't always easy. Turning your passion for singing into a viable source of income requires getting creative with different ways in which you can use your talent. But, frustratingly, sometimes your ability to earn a living as a singer has little or nothing to do with your actual talent. Most of it has to do with finding the right opportunity at the right time and marketing yourself well. It's also knowing that even if you start out on the very bottom singing rung, there's always room to grow and improve – and there will always be gigs to get you there. In the meantime, here are nine ways to earn money using that golden voice of yours.
1. Be an independent recording artist
You don't have to be signed to a record label to make money as an independent recording artist – you just have to have a product to sell. Once you've professionally recorded a single, demo, mixtape, EP, or an album, release it to the public for residual income. Your music can be sold after your performances, at local record stores, on your website, and through online vendors such as iTunes.
Estimated income: Ranges widely
2. Work as a session singer
Composers, songwriters, and producers worldwide utilize the talent of session singers for their recording projects. As a session singer, you may be asked to sing lead or background vocals for demos, backing tracks, commercials, jingles, and reference tracks. To find opportunities, contact local recording studios, network with local musicians, and join online music collaboration forums.
Estimated income: $40,000 (on average)
3. Be a karaoke performer
Karaoke performers are hired by DJs, venues, and individuals to entertain during events and keep the crowd energized. They sing songs, announce singers, facilitate contests, and cheer on karaoke participants. To find a job as a karaoke performer, answer online ads that indicate you'll be partnered with a karaoke DJ, and create a profile on online business directories.
Estimated income: $10 to $15 hourly
4. Perform at private parties
Earn money by booking private gigs that range from intimate gatherings to large parties. Prepare by developing a solid repertoire and forming a setlist. Land gigs by listing your services on your website, responding to ads on Craigslist, and creating ads on online business directories.
Estimated income: $42,000 annually (on average)
5. Offer singing lessons
Teach what you know to aspiring singers. You can teach the basics, such as vocal warm-ups, stage presence, and technique. Or you can focus on a skill that you specialize in, such as scatting or operatic singing. Secure clients by listing your services on your website and free online business directories, or try approaching a local music school for employment.
Estimated income: $30-$120+ an hour, depending on level of experience
6. Fill in as a lead or backup singer
Bands sometimes have a temporary need for a lead or backup singer when they're contracted for a gig and their singer cannot make the scheduled performance. Score a chance to fill in by networking within the local music scene, supporting local bands, and acquiring a solid reputation as a great performer.
Estimated income: $40,000 annually (on average)
7. Join a corporate events band
If you want to earn more consistent pay as a singer, join a corporate events band. These bands perform at high-paying special events and are typically under contract with an entertainment agency. To join a corporate events band, contact entertainment agencies to request an audition, and search local casting notices online.
Estimated income: Ranges widely based on type of event or band, number of events annually, etc.
8. Work as a professional chorus singer
Professional chorus singers are employed by symphonies, orchestras, and theatrical production companies. The rate of pay is determined by experience, level of skill and geographic area. To find audition information, conduct a web search for local opera, symphony, and theater companies and national choral associations.
Estimated income: $36,000 annually (on average)
9. Take a position singing in a church
Churches often recruit professional singers for their choir and to perform at special events. Some churches offer compensation. To uncover opportunities, network in your local community, inquire within your church, and search local ads online.
Estimated income: $25 to $100 per service
The key to earning more as a singer is staying open to possibility. Pursue creative ways to do more of what you love, and the money will follow!
Shanon Lee is a professional writer and independent recording artist. Her bylines include The Huffington Post, MariaShriver.com, xoJane.com, and many other digital publications. While recording her second EP, Shanon also provides consultation to aspiring singers and music recording studio owners that wish to expand their business.