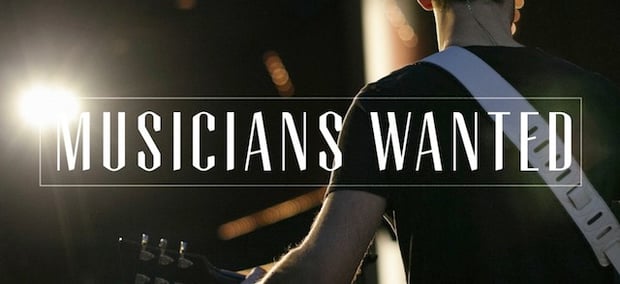 Image via suggestkeyword.com
When you need a player for your band, whether it be somebody to fill out the lineup of a new project or a replacement for a player you've lost, recruiting a new person is tedious work. Finding that perfect match in terms of skill, style, ambition, and personality can be daunting, especially if you haven't been active in the scene long enough to develop a strong network.
Your network, no matter how small, is going to be essential in narrowing down your search for the right bandmate. Here are some tactics that I've used in the past to fill a vacancy.
1. Reach out to your network
If you've been playing locally for a while, you've likely got a decent-sized network of local players. Whether that be session musicians, guys in bands you've played with, music store owners, or other industry pros, all of these contacts should be where you start looking for a new bandmate.
Start by thinking about the players you know directly and whether or not they fit your needs. This includes your friends, but also people in bands you've played with. Likely, if they're serious about music, they would be happy to hop on board with a second band. It can't hurt to ask!
[6 Things I Wish I Knew Before Joining a Second Band]
If you don't know anybody personally who would be a good fit, then you should start asking around. Reach out to musicians you know and trust, and ask them if they know anybody who would be a good fit. You can cast a much wider net if you combine your network with the networks of all the musicians and local industry pros that you know; plus, the players they recommend will usually be solid and reliable (otherwise, they wouldn't have recommended them!).
2. Go see live music
The next best thing you can do is simply get out and see who's playing. Look up some interesting shows that are happening in your area and get out to them. Chances are, you'll find plenty of good players standing onstage, and might even meet a few in the audience!
Additionally, local bars and cafes often host jams and open mics that bring out tons of local players. You may have to listen to some amateurs and has-beens, but you're also likely to run into some decent players if you're patient.
Of course, there are a lot of added benefits to taking this approach. Going out to shows is one of the best ways to expand your network, and you're certain to meet all sorts of new bands that you can reach out to and set up gigs with. It's also a lot of fun!
3. Ask a music teacher
Do you know any local music teachers in your area? They're great resources that you should take advantage of!
For one, great music teachers are likely great players as well, and you could always ask them if they're looking for a new project to join up with. However, teachers generally keep a full schedule, and will likely be too busy to rehearse frequently and tour. Great teachers often attract great students, though, so they can likely introduce you to some musicians you might not find at local gigs.
If you've got any good teachers in your network who know your sound, ask them if they have any talented students who would be a good fit. The better and busier the teacher is, the more likely it will be that he or she has a few great players to recommend to you.
4. Put up flyers
Just as you might advertise for a business with a few strategically placed flyers, you can do the same when looking to recruit a member for your band.
Where do the musicians in your town hang out? Venues and music stores are great targets, as are any bars or cafes that host jams/open mics. There are plenty of other viable options as well. Try putting some up at local music lesson studios, college music departments, record stores, or any other restaurants or businesses that local musicians in your area tend to frequent.
5. Hustle the classifieds
If nobody in your network is a good fit or can help you find a good fit, you can always put out some ads in the local classifieds. Craigslist is the most common these days; there are plenty of musicians who post there looking for bands to join, and plenty of bands that put up ads looking for players. If you decided to post an ad, try to put up some demos of your music so that people who click on the post can get a general idea of what they're getting into.
Bonus tip: put the word "established" in your post title if you want quick and plentiful responses!
Dylan Welsh is a freelance musician and music journalist based in Seattle, WA. He currently plays in multiple Seattle bands, interns at Mirror Sound Studio, and writes for the Sonicbids blog. Visit his website for more information.