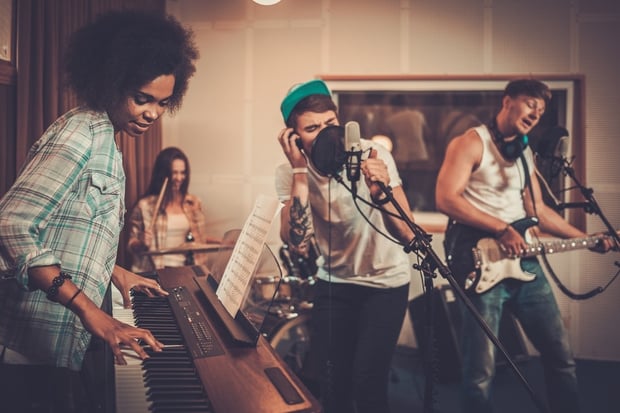 Image via shutterstock.com
Most musicians like to travel, but picking up and moving to a different city can be difficult. Music, for the most part, is a collective endeavor, and finding a whole new group of people to make music with can be difficult. I moved from Toronto to Mexico City five months ago, and finding like-minded musicians was one of the most important things for me. It also turned out to be rather difficult. Now I have a regular crew of guys I play with, and I've started my own band. Here are a couple options available in most places to help you find collaborators.
1. Open mics
The open mic has been a staple in local music scenes maybe since coffee was first invented. Young musicians with grand ambitions take equal footing with old, world-weary veterans who know a thing or two but never managed to find success. They definitely have a reputation for being a showcase for unremarkable amateurs, but they're also a great place to test out new material for professionals, so if you can wade through the mediocrity, there's often some really talented diamonds in the rough. At the very least, you can make new acquaintances who are interested in performing and start a social network that could yield some great contacts in the future. If you're ever in Mexico City, I highly recommend the open mic at the Black Horse in Condessa every Wednesday night.
[How to Leave an Open Mic With New Fans]
2. Musician meetups
In many cities and towns, you can find groups of musicians who get together to play music. These can range from once a week to once a month and are often targeted at specific genres. So, for example, if you're a folk musician, there are many opportunities to sit in with local musicians and turn out a few standard tunes. A quick search online will yield many results for these types of events. Meetup.com is a popular destination for things like this, and in some of the bigger cities, there are a lot of networking and educational workshops or seminars where you can find people to discuss music with and possibly folks interested in jamming.
3. "Musicians wanted" ads
Some of the world's greatest musicians met through the "musicians wanted" ads posted in the back of music magazines. Most markets have a music magazine of some sort, and a lot of those have a place to post ads. So take a trip to the local record shop, and check out the free magazines near the door. This, again, can be a crapshoot when it comes to finding someone like-minded, so it's best to be precise with what you're looking for, what music you're interested in, and how serious you expect the applicant to be.
If you can't manage to find a decent magazine, you can always take a page from every teenage babysitter ever and post flyers around town. Again, be specific with what you're looking for. It might be best to grab a special email address for this process, since posting your phone number can make you a mark for all the aspiring Bart Simpsons of the world.
There are also a ton of websites that specialize in this kind of thing. Or you can try posting an ad on Craigslist to find someone to play with. (Editor's note: Sonicbids is also working on a way to make this easier — shoot us a note if you're interested in helping us test it!)
[6 Tips for Musicians in New Cities]
4. Social media
If you can't find a local magazine or a decent photocopy shop, or if you just have a general disdain for anything printed on real paper, it could be time to take to social media. Facebook has tons of groups that allow for newcomers to a city to ask questions and make connections. Take a look around your preferred social network and see if anyone else is out there. Don't be afraid to ask questions.
You may also be able to find folks to play with by using Sonicbids' band search function, which lets you find both local and touring bands according to the criteria you set. Additionally, Sonicbids is currently beta testing a new way to connect musicians. You can check out the current beta and send us any feedback you have.
5. Concerts
Go out and find some local music! In really big cities, I've found that it can be hard to figure out where the good shows are, but take some chances and be willing to have a beer while a crappy band plays. Talk to strangers, strike up conversations with the bartender, and eavesdrop on the next table. Just meet people, and eventually you'll find someone else who's at least looking to jam.
You need to put yourself out there. That's the secret to finding musicians in a new city. Don't be afraid of embarrassing yourself or looking too cool. There are people out there who want to make music and have similar tastes to you. You just need to be diligent and keep looking until you find them.
Ty Trumbull is a Canadian musician and writer living in Mexico City. He's played banjo and guitar with a bunch of bands you've probably never heard of.