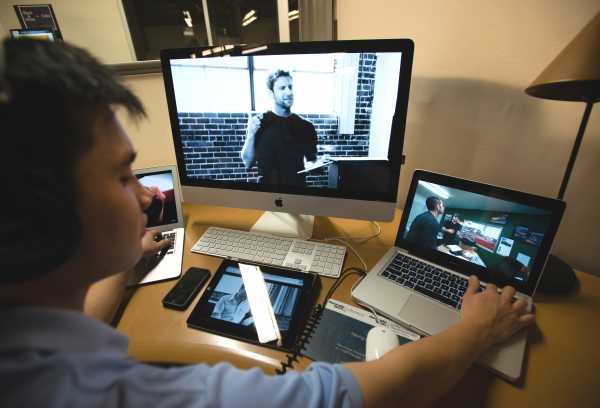 Image via nique.net
If you have a music video, it's on YouTube, isn't it? It should be, as the site is by far the most popular website for such content, and everybody in the world knows it and uses it by now. Like it or not, the Google-owned company is here to stay, and there's nothing we can do about it.
Now, I would encourage you to put your clips on YouTube, but if you're going to go another route, I'd at least like you to know what else is out there. Several other options exist for uploading and sharing video content, and each one comes with its pros and cons (as does everything). If you're looking elsewhere, here are a few websites you might want to consider.
The good: Blip is a huge site, even if you've never heard of it. According to a media tracking company that surveyed Blip.tv a few years ago, the site was bringing in tens of millions of unique views per month, so even if the current numbers aren't quite as strong, it's likely that Blip is highly trafficked, and the more eyeballs where your content is, the better.
The bad: Not too long ago, Blip stopped accepting new material, but that might only be for now. Since being acquired by Maker Studios (which itself is owned by Disney, so you know there's real money being put into this one), the site has insisted on only allowing high-quality series onto the platform. So, while this might not be a good fit for a random, fun video you made, perhaps your band has an idea for some sort of series you could start producing in the near future?
The good: The site comes in second place amongst the most popular video platforms online, though don't be fooled – it's a distant second. As of a little while ago (2013), Dailymotion receives over 100 million visits per month. That's a massive number, and it's only continuing to grow. Also, if you're the type to get artsy and risque in your videos, don't worry about being censored – DM isn't worried about it if you're not.
The bad: Sure, there are millions of people heading there every month, but are they going to watch your videos? One of the problems with YouTube is that with so much content, anything that's not a Taylor Swift clip can get buried. Dailymotion is now big enough to be experiencing such a problem, so keep that in mind before you choose it exclusively.
The good: Yes, one of the world's most popular photo-storing and sharing sites has also gotten into the video world, which isn't much of a stretch if you really think about it. The site has a dedicated following, and it offers an enormous amount of space to host all your treatments, live clips, and behind-the-scenes content, even if you don't want to pay for a membership.
The bad: While millions of people may already be using Flickr, not many are there for the videos. In fact, the more I mention to people that the company has options for videos, the more they're surprised. Also, you better have some editing software if you want to make your videos a bit more interesting, as apparently Flickr doesn't come with a bevy of options.
The good: The site was the first video platform on the web, even before YouTube, so there's a lot of history there. And that's pretty much it. It's free to upload and your videos can be any length, so if you have a 24-hour music video like Pharrell, you might need to consider this. Traffic still exists, but unless you want your video to be mistaken for something from long, long ago...
The bad: Well, a lot. Sure, Metacafe is responsible for the changing the way we use the internet, but the site looks outdated and there doesn't seem to be much music-related content there. One search on the popular songs channel showed a "Locked Out Of Heaven" cover, and... not a whole lot else.
The good: Like YouTube, Vimeo's streams have exploded and are now well into the billions per year. Like a few other options on this list, sometimes being where everybody else is can be a good thing. Also, there are no annoying ads like on YouTube. This may sound like a small perk, but you'd be surprised how much better life is without them. The site is also now promoting VOD content, so you can add a price tag to your videos if you think your fans will rent them.
The bad: You won't be able to upload an unlimited number of videos on Vimeo, even if you pay for a profile. This might not be a problem unless yours is the type of group to share everything you do (are all those vlogs really necessary?), but it is something to keep in mind for the long term.
Before you start sharing, make sure that video is up to par:
Hugh McIntyre is a freelance pop music journalist in NYC by way of Boston. He has written for Billboard, The Hollywood Reporter, and MTV, as well as various magazines and blogs around the world. He is also the founder and editor-in-chief of the blog Pop! Bang! Boom! which is dedicated to the genre of pop in all of its glory.