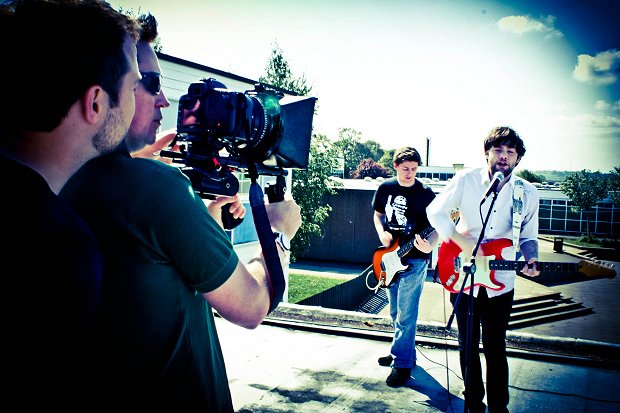 Photo by Kitty Crawford
Ever since the demise of MTV's TRL, we've heard people from all walks of life claim that the music video is dead. But even though MTV may not play 'em, with social media becoming such a norm in the past 10 years, a music video is still a must-have tool for artists. If a song's a great success but you want to ensure its longevity, throw a music video behind it and upload it to YouTube for it to be viewed in perpetuity. Or, if you simply want to put a visual element to your music – just make a lyric video.
Regardless of why you choose to make a video, what exactly do you do after your band finishes its first visual masterpiece? Check these to-dos off your list first.
Don't release it – yet
You might be tempted to immediately unleash your first music video onto the world, but you likely need to kick back and calmly plan your attack strategy. Set a release date, maybe two to three weeks ahead of time, and find fun ways to build some buzz around your video. This could be by sharing on-set shots from your video shoot on your social media channels, or even some graphics that give your fans details and a release date.
The point here is not to throw it all out at once. Let your fans wait a little bit. Sure, you might not be dropping a blockbuster like Taylor Swift's "Bad Blood" with cameos from all of Hollywood, but your fans will still enjoy fun pieces of content: behind-the-scenes videos, photos from the shoot, and even teaser clips. Stretch out your content and wait for the perfect time to release.
Get your press right
Just as you would with any release, make a media list of where you want to pitch or submit your video. There are a few ways of going about this. One route could be waiting until you have a good number of views before you pitch to media, but another could be asking a particular outlet to premiere your video exclusively. This may be a better fit for a band with a large following, but it's a great tactic for press coverage.
[4 Simple Steps to Creating a Killer Press List]
Weigh your ad options
You likely just spent a pretty penny on shooting a video, but don't forget to weigh your advertising options. If you want to go the YouTube route and buy advertising there, go ahead and budget out some money for YouTube ads. Even $10 can get your video in front of around 1,000 people. You may want to make a teaser and run that as your YouTube ad, or even use the first minute or so as an advertisement.
Facebook also has a video feature which is great for overall exposure – also with very affordable rates. Artists tend to shy away from social media ads because they think it has to be this huge investment, but they're actually very affordable. Generally for less than $100 a month, you can make a pretty good dent in your reach.
Ensure longevity
Content is king across all social media channels – and that's true for any brand or band. Think about it like this: there are only so many ways to share a video link, right? Let's say you want to push this video hard for six weeks. How are you going to keep that fresh and fun throughout?
Make sure you have a roll-out plan. Try posting screencaps and bonus footage or looking for media pickups you can use as further leverage to keep it relevant.
[How to Make Sure Your Fans See Your New Content (Without Being Annoying)]
As a music marketing strategist, Tyler Allen works with an extensive array of artists, labels, music tech, and music retail entities. Tyler began his music industry career with Sony Music Entertainment and RED Distribution, as well as the advertising industry. He is dedicated to giving veteran artists the tools to preserve their legacy, and new artists the tools to begin theirs (as well as everything in between). Learn more at wtylerconsulting.com. He also offers strategy and artist packages for DIY and indie artists on a budget, here.