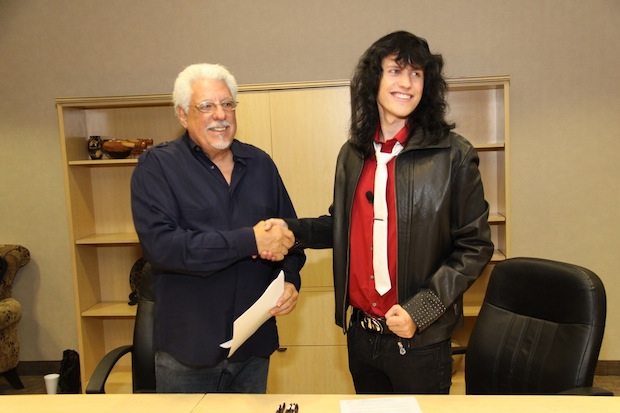 (image source)
Picture this: You've just finished recording a song with your co-writing partner. You've discussed how splits would work in the past. Let's say you've agreed, "How does a 60/40 split sound to you for this song?" Your co-writer responds, "That sounds great!" Then, your friend at an advertising agency calls you the next day with a synchronization opportunity to have your music in a commercial for a large brand. They want to give you and your cowriter $100,000 for the complete use, and they need to know within 24 hours. You and your co-writer are both so excited, and she wants to know if she still gets 60% of the money... but you assumed that it was agreed that you get 60% of it. The delay from renegotiation causes the deal to fall through, and no one gets anything.
Throughout my career working as a musician, artist manager, for a major label, for my own label, and in advertising at The Orchard, I have found very few axioms. The most important one is that getting everyone on the same page is such hard work, it would be a shame to not have it codified in a contract, thusly negating everyone's compromise.

There are contract templates available online, but if you're serious, it's worth working something out with a music attorney to look over your standard contracts. I find that if you're willing to do the upfront work, many attorneys will cut you a break. I always have an app called Shake handy to create quick and binding agreements, which allows the flexibility you need to get agreements done without interrupting the creativity or discussion's flow in the moment.
Let it be known that I am not a lawyer and nothing here should be construed as legal advice. Needs will of course vary depending on your situation, but below are some contracts to consider having handy. Even if another party is responsible for crafting the contract, you should have something with which to cross-reference it. (Note: The links to the templates provided below are merely examples and are not necessarily endorsed by the author or Sonicbids.)
Making sure everything is clear upfront in the songwriting process makes for a much more fruitful and comfortable experience.
Parties involved:

The publishing rights to your works should also be elucidated in the beginning. This is commonly overlooked and should serve as a companion piece to your songwriting agreements.
Parties involved:
You
Your publisher(s), if you have one
Your songwriting partners
You songwriting partners' publisher(s), if they have one
You may find that you've reached the maximum of what you can accomplish on your own. The problem, more often, is one of diminishing returns. This means that the more time you spend negotiating, organizing and creating strategies around your career, the quality of your work (and money) goes down. The decision to have a manager is a very serious one that should be well-considered.
Parties involved:
You
Your bandmates
The manager or management company
Much like deciding that your career needs help managing, you might decide that handling all the duties of a tour that are not performing, selling merch and meeting fans are limiting your financial opportunity.
Parties involved:
You
Your bandmates
The manager or management company
The tour manager
Live performance agreements are often provided by venues, but if you're playing a nontraditional venue, you still need to be protected.

Parties involved:
You
Your bandmates
The manager or management company
The venue
You may be seeing a trend. At some point, it may become unwieldy and limiting your time for revenue production to handle payments to all parties that may require them. Sometimes, it's even unmanageable for your third party partners to find time to properly pay each other. You definitely don't need to deal with drama on that scale, and this is where a business manager comes in. Notices must be sent to all people and entities whose payments will be affected by this change.
Parties involved:
You
Your bandmates
The manager or management company
The business manager
Every situation will be different, so don't leave your innate ability to protect yourself and your art at the door just because you have a contract. Never feel awkward broaching the idea of a formal agreement with someone with whom you are creating. If they resist, then you should possibly reconsider what kind of partner the person will be. A career in music is hard enough – even when everyone is agreeing – so don't let unclarity get in the way of your passions and goals. Music is too important.