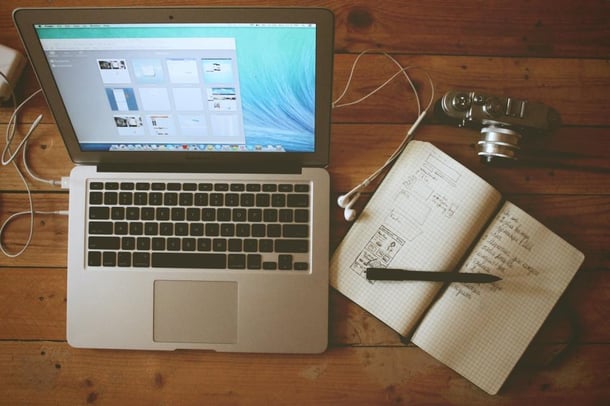 Photo by Galymzhan Abdugalimov
About once a month, a friend approaches me with the same question: "Will you help me with my website? I keep tinkering with it, but nothing I do looks good enough." As a web designer by day, it breaks my heart when I hear that my friends are struggling with indie budgets and WISYWIG editors, trying to fit everything they possibly can into the predefined templates of create-your-own-website services.
Over and over again, the overwhelming complaint is always, "Nothing I do looks good enough." Sound familiar? So many DIY bands run into this issue, and that's because "nothing looks good enough" is actually a symptom of a bigger problem: looking good does not equal working well for you. If you have the budget for it, hiring a professional designer or marketing firm will always give you the best results. But usually, indie bands don't have that kind of savings account.
Luckily, there are a few traditional web design principles that anyone can use to clean up their website. Best part? No code required.
1. Define a clear goal by asking yourself, "What am I focusing on right now?"
Before we go any further, ask yourself this question: "What is my current focus with my music?" For example, if you're going on tour, then you'll want to tell people where you're playing. If you're releasing an album in six months, then you want people to know about it. You can absolutely expect this answer to change over time. That's perfectly okay. Right now, you simply need a starting point to give your site direction.
2. Give your homepage some hierarchy
When visitors first come to your website, most of the time their starting point is your homepage. All the information on your homepage should be organized in a hierarchical fashion. That means, put the important stuff first, then the less important stuff after. Look at your answer from number one. If your current focus is a presale of your latest album, then a headline announcing your presale needs to be at the very top of your homepage along with a link to purchase it.
Give text visual hierarchy; use bigger font sizes for headlines, and a smaller size for paragraphs. Make it easy to read, and undeniably simple where a user needs to click to preorder. Pro-tip: this is called a call to action, or CTA. CTAs are actions you want your user to take. After your CTA, you can start adding other info below it. List your next show. Embed a music player. Order of importance is up to you, but just make sure there's an order to it.
[Top 4 Budget-Friendly Ways to Build a Band Website if You Don't Know How to Code]
3. Simplify your navigation
Your main navigation menu serves as a compass for visitors who are looking for specific information. You want to make sure it's super easy for anyone to find exactly what he or she is looking for. The main menu of your website doesn't have to include every single page, blog post, or link to an offsite interview. In fact, the simpler you can make it, the better. Include only the essentials. Top links to include are typically:
Home
Bio
Music
Photos
Videos
Store
Contact
Keep all links to pages on your actual website as opposed to sending users offsite to read something about you.
4. Make it super easy to buy your music
If you have music available for purchase, give visitors a super easy way to make that purchase. You can include a "store" link in your main nav that brings a visitor directly to your onsite store or your distributor of choice. On your "music" page, embed a player that allows you to have purchase links next to each of your songs. If you have a slider, you can use your first or second slide to advertise your album and link it to a store.
5. Show off your email signup form
Your email list is the most tried-and-true, reliable way to reach your fans. These are people who already dig your music and are interested in getting updates on where you're playing, what you're recording, etc. You already know how important it is to keep that list growing. To gain new signups, place your email signup form in one of these high-converting locations: in a pop-up, the top of the sidebar, the footer, or just under your main nav.
6. Get high-quality photos
One of the biggest things a band can do for their image is to invest in professional photography. It's absolutely true that a picture is worth a thousand words. People make assumptions about your music without even hearing it completely based on your photographs alone. Get yourself some great photography and use those photos in the layout of your site. Awesome photos make an awesome first impression.
[Photo Shoot Essentials for Musicians]
7. Always remember this rule of thumb: less is more
You've probably noticed that the word "simple" shows up a lot in this article. That's because simplicity is a key component of effective design. Great design communicates exactly what you need it to. Good communication happens when the material is simple. Keep text to a minimum. People read books, but they skim on the internet. If you have a lot to say, instead of putting it all on your homepage, add a blog to your website. Whenever you have a news update to write about or a late-night existential monologue, write up a new blog post. That way, the main incentive (CTA) on your homepage stays sacred and simple. Organize all your other internal pages with the same mindset.
Simplicity is key. Keep clutter to a minimum, and your website will instantly become a more enjoyable place to visit.
Sarah Spencer is a singer/songwriter and blogger, working, living, and playing in Nashville, TN. By day, she's the creative director at boutique creative agency for the music industry. When she's not on the web, she's writing songs, playing shows, and singing as a session vocalist.