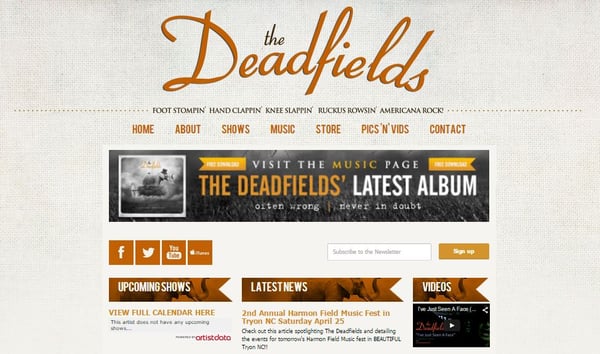 The Bandzoogle-powered website for Atlanta Americana band The Deadfields.
There are so many platforms that musicians can use for an online presence: Facebook, SoundCloud, Bandcamp, Twitter, Tumblr, Sonicbids, and so forth. Independent musicians especially rarely use just one. So why bother with a website? Well, at this point, your stuff's all over the place, right? Consolidating your media and info on a single website makes it significantly simpler for fans to find everything – plus, you have full control over your content and how it's presented.
Think about it: anyone looking into your band online could end up searching several different times if they want the whole shebang. A website where they can find your music, tour dates, merch, videos, and everything else about your band is a nice way of saying, "Hey, fans and press, we totally value your time." It also ensures they'll actually see all of your content, and it gives your professionalism a boost in the eyes of industry people and potential fans alike.
It's a bit of an investment, of course, if you want a truly well-designed, useful website that includes everything you need. But there are plenty of DIY budget-friendly options for building a website without sacrificing style or features, yet are still super easy for beginners to maneuver. Check out what these four offer – and for how much – below.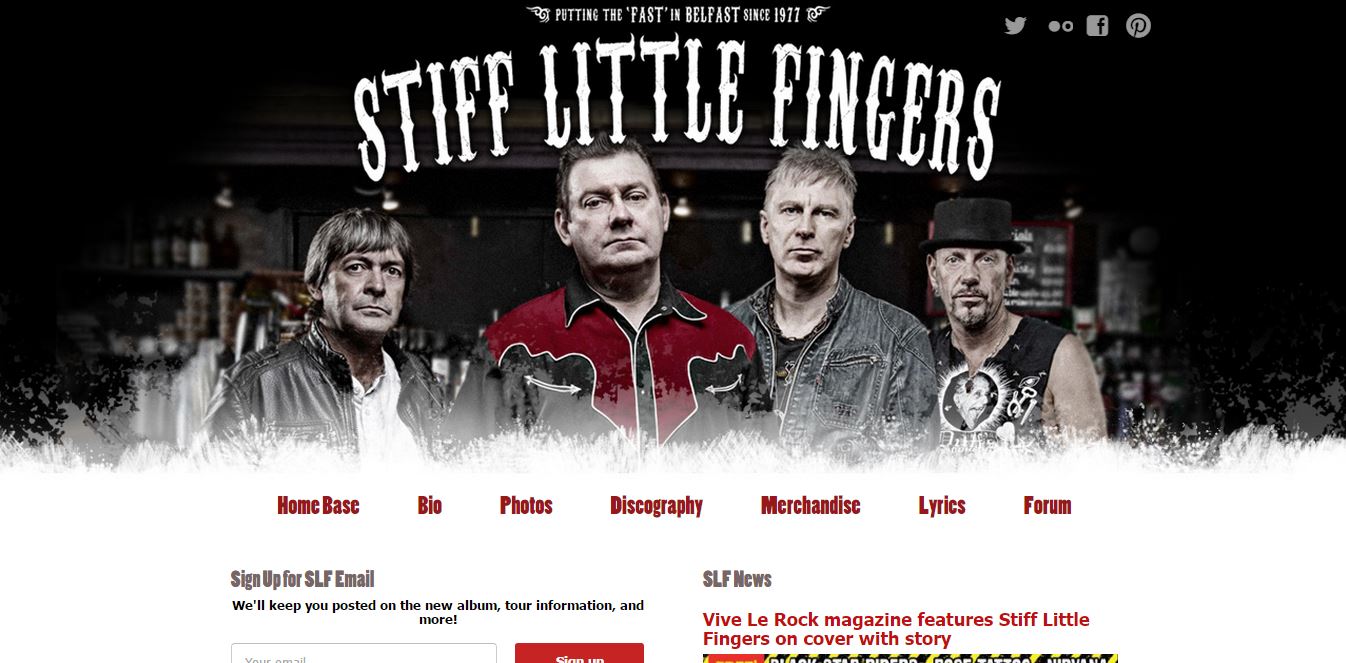 Legendary Belfast punk act Stiff Little Fingers are fans of Bandzoogle.
Best for: All levels – easy for beginners, and advanced designers can edit CSS directly.
Rundown: Their staff is reportedly comprised of web geeks who are also music nerds, musicians, and producers – and I believe them! More than 100 stylish templates are available for users to customize with features that go beyond just integrating Bandcamp, SoundCloud, and social media pages. (All of that is possible and requires no HTML.) Options like an events calendar, a "tip jar" for donations, mailing list management, and a merch store with no sales fees make it an exceptionally ideal builder for both budding and established musicians. All levels of plans include a domain name, and every website is automatically mobile-ready and optimized for search engines.
Pros: They've pretty much thought of everything a musician might want in a website.
Cons: My only complaint is the name. Its silliness belies the service's awesomeness.
Cost: For most musicians, I'd recommend the mid-level $12.49/month plan because it includes full customization, the merch store option, and up to 1,000 mailing list subscribers. A pro plan with totally unlimited use is only a few bucks more, though, and includes inventory tracking in the store and SoundScan reporting.
Even Beyoncé uses Bandpage.
Best for: Beginners to mid-level experience. Not much room for advanced customization.
Rundown: You've probably already seen a BandPage on Facebook – reportedly more than 500,000 musicians, including high-profile artists like Rihanna and Maroon 5, use the service. It's a Facebook app that doubles as a website and can instantly sync content added to either for a uniform web presence.
It might seem a little complicated initially, but it's actually pretty straightforward once you get started. You have to create your BandPage – what you'll see on Facebook – before you can get a website. BandPage will pull info from your Facebook page for you to edit and approve. You can then add songs already uploaded to SoundCloud or YouTube, and also a bio, videos, tour dates and photos. Customizing and adding other social tools (mailing list, banner links, etc.) are the last steps before publishing.
After you've set that up, then you can make a website. And you've practically done that already, because BandPage will duplicate everything with its Website Widget. All you have to do is click the BandPage Everywhere tab, customize the appearance, and voila! You're done! If you're not into using their URL, you can rent a domain for a low price from a service like GoDaddy and have it redirect to your BandPage. The option to add a BandPage store is open to users connected to Facebook pages with more than 100 likes. You can also link to external stores, though.
Pros: You can connect to Twitter, Pandora, and a slew of other platforms, and in the past few years, it's come to be regarded as a standard to a certain degree. All that earns them points for potential visibility. Plus, it's totally free.
Cons: Using the service might make you feel like you've submitted to a sort of monopoly over musician websites. Additionally, the design is very plain and hardly customizable.
Cost: Free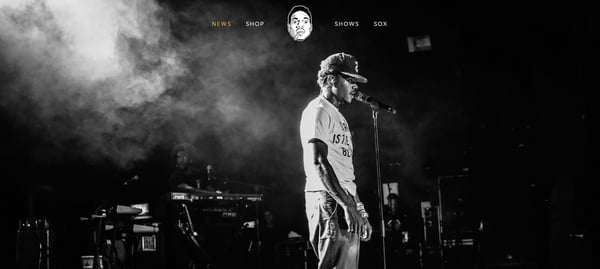 Chicago's Chance the Rapper makes great use of one of the stylish templates on Squarespace.
Best for: All levels of experience.
Rundown: This service doesn't cater specifically to musicians, but all the features you'll need are there. You can easily integrate SoundCloud or Spotify and other media players to your page or use their audio collections tool to upload directly to Squarespace. Including a calendar (Bandsintown Block or other) is possible, and there's an option to manage your Facebook page via Squarespace. Incorporating your feed from there or Twitter or Tumblr is also simple. Plus, Squarespace is steadily increasing their involvement in music by participating in CMJ events, and has partnered for events and projects with outlets like The Outlaw Roadshow and The Wild Honey Pie.
But probably the biggest selling point for Squarespace is its top-notch design options. No run-of-the-mill templates here – instead they offer a carefully selected group of super sleek and creative layouts that could pass for personalized, one-of-a-kind designs. (Hint: Don't only check the setups targeted at musicians. You can add music-related features to any of the layouts.)
The process of adding a store isn't difficult for first-time website builders, but it'll cost you 2.9 percent plus 30 cents per transaction. It's a small price to pay, though, considering even the shops are automatically optimized for search engines. Additionally, all pages are mobile-ready, and every plan includes a custom domain and round-the-clock customer support.
Pros: The options for making your page look incredible are vast.
Cons: The effectiveness of a lot of their templates relies heavily on great images, so you might want to have new band photos taken before you start building.
Cost: The basic $8-per-month plan includes up to 20 pages and unlimited storage, but you can only sell one product in your store. For $16 a month you can sell up to 20 items, and for $24 you can sell unlimited items, plus get label printing via ShipStation and accounting by Xero.
Xzibit's website runs on WordPress.
Best for: All levels – beginners to mid-level users can use WordPress.com for code-free building, and experienced web designers can use WordPress.org for start-to-finish custom building and hosting.
Rundown: First of all, to clear up any confusion, here are the differences between Wordpress.com and Wordpress.org. Here, we'll be talking about WordPress.com since it's the more accessible option for non-coders.
WordPress is more than just a place to host a blog. Users can easily embed tracks or music players (Bandcamp, Soundcloud, Spotify, etc.), as well as videos from Vimeo or YouTube and a Google Calendar to display tour dates. Social media can be integrated, too. You won't need to use HTML, and all websites are automatically optimized for search engines.
The only hangup is that a lot of the free themes look like they're designed for blogs, regardless of whether they're used for that purpose or not. Be sure to choose one that doesn't have that feel, and also avoid complicated color schemes and styles that are accented by graphics in the header, sidebar or anywhere else. Go for a sleek and minimalistic design – there are plenty like that in the mix, they're just a bit overshadowed by the showy, less stylish options.
Pros: It's one of the most popular website building platforms out there (WordPress powers 23 percent of all websites on the internet), so you can safely assume it's also very reliable.
Cons: Your URL will look like bandname.wordpress.com, so you'll have to buy a domain and redirect to your WordPress website to get the full professional effect.
Cost: Free
After you figure out where to build your website, check out these tips to make it awesome:
Jhoni Jackson is an Atlanta-bred music journalist currently based in San Juan, Puerto Rico, where she juggles owning a venue called Club 77, freelance writing and, of course, going to the beach as often as possible.