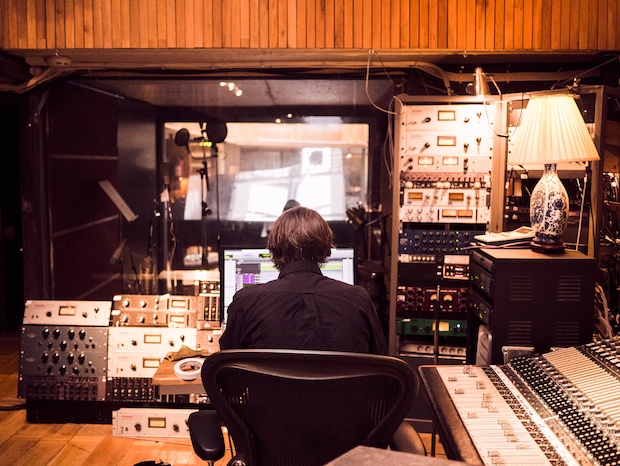 Photo via unsplash.com
We all need a little inspiration sometimes, especially after a long day in the studio when your energy is running low. Thankfully, we can always turn to the pros to give us a shot of inspiration. These legendary producers know a thing or two about getting great sounds in the studio, so take a moment to sit back and let their wisdom sink in.
1. "If you had a sign above every studio door saying, 'This Studio is a Musical Instrument,' it would make such a different approach to recording." – Brian Eno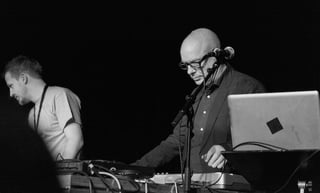 Photo by Jørund Føreland Pedersen via Wikimedia Commons / CC BY-SA 3.0
Brian Eno, who has produced albums for the likes of U2, Devo, and Talking Heads, was one of the first to see the real musical potential of the equipment used in recording studios. "Most studio units – traditionally regarded as simple devices for altering or modifying a set sound – can be employed as instruments in their own right," he says, and anyone who has listened to his productions or solo recordings has heard the profound effect that this approach can have.
2. "It's that element of surprise. When you lose control, you discover new things." – Daniel Lanois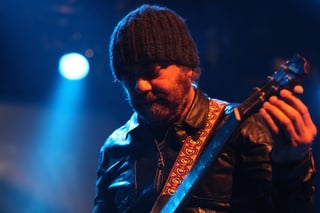 Image via Wikimedia Commons / CC BY-SA 3.0
It's tempting to try to control every single detail in the studio, but Daniel Lanois reminds us that sometimes losing control is a good thing. This element of surprise is evident throughout Lanois' body of work, from his own albums to his production work for artists like Bob Dylan, Neil Young, Willie Nelson, and U2.
3. "When the ideas are coming, I don't stop until the ideas stop because that train doesn't come along all the time." – Dr. Dre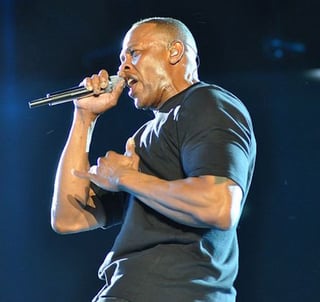 Photo by Jason Persse via Flickr / CC BY-SA 2.0
Sometimes studio work can feel all-consuming, and that's not a bad thing according to Dr. Dre, who has worked with hip-hop artists like 50 Cent, Eminem, and Kendrick Lamar. In fact, Dre says that some of his best ideas have come about due to lack of sleep: "I've gone 79 hours without sleep, creating. When that flow is going, it's almost like a high. You don't want it to stop. You don't want to go to sleep for fear of missing something."
4. "You make your mistakes to learn how to get to the good stuff." – Quincy Jones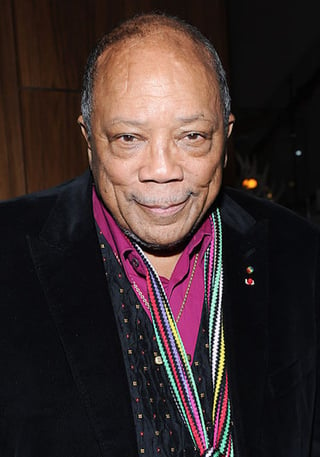 Image via Flickr / CC BY 2.0
It's easy to think that the greats never make mistakes, but what's more accurate is that most of the time, they just don't let us hear their mistakes. Quincy Jones, who has produced for legends like Michael Jackson and Frank Sinatra, has probably made plenty of mistakes, and will continue to make many more in his quest to get to the "good stuff."
5. "If you haven't got a good sense of humor, life's not worth living." – George Martin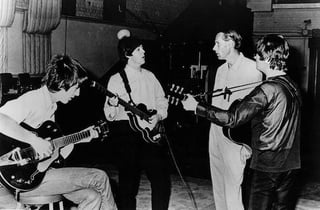 Image via Wikimedia Commons
In addition to making life more fun, a good sense of humor can even help guide your decisions in the studio – at least that's what happened when George Martin first started working with the Beatles. Of his first meeting with the now-legendary mop-tops, Martin said, "I didn't know [the Beatles] from Adam, they didn't mean anything to me. So it was a bit one-sided when we first met, but they had that idiotic sense of humor that I love too, and that made me want to be with them."
6. "I think the hardest thing to overcome is judging yourself and being your own worst critic." – Nile Rodgers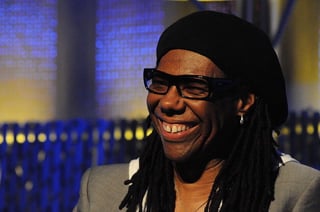 Photo by Joe Mabel via Wikimedia Commons / CC BY-SA 3.0
We're all our own worst critics, but sometimes it can be helpful to remind ourselves that even the most successful artists can be just as self-critical as we are. If Nile Rodgers can produce Daft Punk's Random Access Memories and still be self-critical, we all have permission to give our inner critic a break sometimes.
7. "It's a big theme in my life, learning about myself and being a better person. I'm a work in progress; I have revelations every day." – Rick Rubin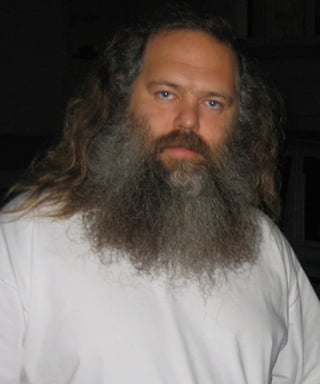 Photo by Jason Mogavero via Wikimedia Commons / CC BY 3.0
Studio life isn't always just about making music sound better. Sometimes practicing personal development is even more important than getting the perfect snare sound. At least that's a strategy that seems to work for Rick Rubin, who is known for his work with artists like Public Enemy, Run-D.M.C., Johnny Cash, and the Red Hot Chili Peppers, among many, many others.
Sometimes we all need to take a few steps back in order to get some perspective, and this is especially helpful in the studio, where one can easily spend hours EQing a kick drum or deciding between different microphone options. These producers remind us that there's more to making great-sounding music than fussing over the details. Sometimes what we really need to help us achieve great sounds is a new approach, a good reality check, or simply a good laugh.
Casey van Wensem is a freelance composer, musician, and writer living in Kelowna, B.C., Canada. You can hear his musical work at birdscompanionmusic.com and read his written work at caseyvanwensemwriting.com.