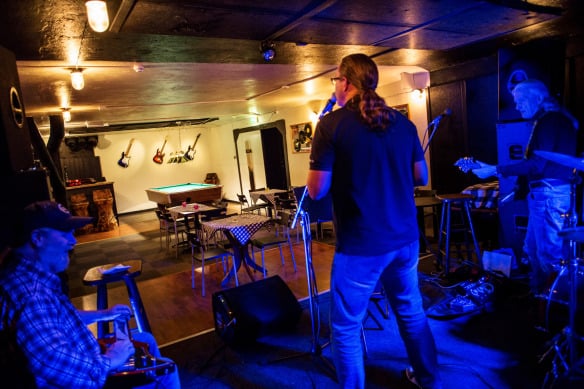 (image source)
"If you build it, they will come," sure has a nice ring to it, but anyone who's ever played a show to a virtually empty room knows it's not true. While there is no exact science to packing a venue, there are some things you can do to improve your batting average. Here are seven things to consider when planning your shows:

1. Are there any local bands on your bill?
When planning a tour, even when you're traveling with another band and sharing bills with them as you go, having a local opener can really help your draw. At the very least, a handful of their friends and significant others are bound to come out and support them, and the endorsement of a known local entity is an implicit recommendation of your band. Take Toronto's Odonis Odonis, for instance. When publicist extraordinaire Alyssa DeHayes saw them at South by Southwest this spring, she loved them and helped them book a show in her hometown of Athens, GA. Together, they built a bill with reputable local acts: beloved punk/hardcore group Muuy Biien and heavy rockers Vincas, both bands with a considerable draw. The show was far and away more well-attended than it would have been without those local partnerships, and Odonis Odonis left town with new fans.
2. Does your bill make sense?
While booking outside your normal circles is always a good thing to keep in mind, you have to balance the desire to step outside the familiar with an awareness of how compatible your the sounds on the bill may be. Maybe you're good friends with a particular band, but while you may be close on a personal level, it doesn't necessarily mean the same for your sound. Remember to consider what the audience's experience will be at your show. I recently saw a show by melodic art-rock group, Kids, followed by a psyched-out experimental electronic act with an elaborate stage show. While their sounds seemed complimentary in their description, in practice they were not. Kids' set was straightforward, but the experimental act, Lord Fascinator, involved wacky costumes, a stage full of dancers and masks on the performers. Kids' set started with a good-sized crowd, and by the end of the second band's performance, the room was nearly empty. Both bands are great, but they ended up alienating their respective audiences by not considering the overlap to their appeal (or if there was any).
3. Have you done any promotion for your show?
Sure, a passive Facebook post and a Tweet are better than nothing, but ain't no shame in pounding the pavement to get the word out. If you're already in the town where your show is happening, hang flyers and give a stack for local record stores to pass out. Whether it's your hometown or a tour stop, contact local publications and make sure you're listed in their events calendar, and try to get listed as a "calendar pick" if possible. Talk to the venue about ways they may be able to help promote the show. Create a Facebook event that the venue can share and regularly post updates and reminders to get invitees excited. Ask the local bands on your bill if they can help get the word out "on the ground" – hanging flyers, talking to community or college radio stations, etc – and make sure you offer to help with the cost or find another way to contribute from afar.
4. Don't wear out your welcome.
It's unlikely that all your fans are going to come to all your shows every time. If you swing through town once a month for a gig, it becomes less special, and the urgency your fans feel to catch you this time is diminished. After a certain point, you're competing with yourself. You need to give people time to miss you.
5. Consider the venue.
Some venues are better than others depending on your sound, fan base and aesthetic – whether it's a harder rock club, "listening room," warehouse, even someone's kitchen. Remember that scene in The Blues Brothers where the guys play a raucous country western bar? Sure, for most bands, playing the wrong venue is more likely to end with an uncomfortable set rather than a car chase, but the concept is still valid. The idea is to show you at your best, and that means playing a room with the right kind of acoustics to folks likely respond well to your music. So when booking shows, give a cursory look at the venue's past bills to see if you'd be a good fit for your sound and performance style.
6. Consider the community.
Thinking of stopping on a weeknight for a show in a city without a much of a music scene? Maybe not the best idea. Or perhaps you're a loud beer-swilling party-anthem rock band – then a matinee show in an ultra-conservative dry county probably isn't going to vibe. If folks in town aren't used to going out and seeing music as part of their regular routine, it's unlikely that very many people are going to come check out your band for the heck of it. Then again, if you already have a solid following in the region or if your brand of music appeals to an already existing scene in town, your presence might be enough to bring people out on an off-night. In most cases, having a college nearby bodes well for show attendance. But also consider the local culture – a relatively unknown bluegrass band that gigs in, say, rural North Carolina may leave town with a dozen or so new and committed fans. An industrial noise band who does the same may be lucky to leave with a free venue beer in their belly and little else.
7. Do you know what else is going on?
Find out what's happening in the city on the date you're looking to play. Check local listings, alternative weeklies or show aggregators like Songkick or Pollstar and see what you can find out. If a big national act is playing in the area on the same night, or a festival that looks like it will entice a lot of the people you're counting on coming to your show, you might want to think about choosing a different date.

This may all seem like a no-brainer, but I'd venture to guess we all have a few stories about playing to empty rooms or cringing through a disastrous lineup. So take a little extra time to set yourself up for success, and then get out there and melt some faces!