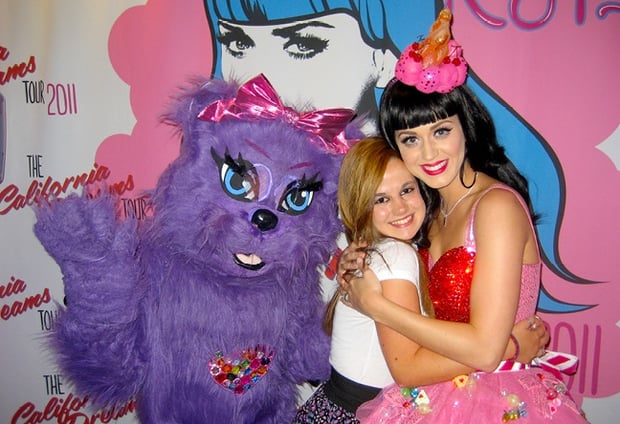 Image via wish.org
Sure, it's all about the art, but don't forget that being a professional musician is a business, and money must be made. The profits from album sales are becoming slimmer, and there's only so much touring one group can do before both they and the fans are exhausted, so what's a musician to do?
Whether it be in a Kickstarter-type situation, an online auction, or just something you can add to whatever online store application you're currently using, offering special, one-of-a-kind products is a great way to bring in some extra revenue. Demanding money from those who love your music might be rude, but giving them the option of supporting your art even more with merch and experiences that they would really be into is good for everybody. Tapping into superfans is always acceptable if you're doing so fairly and in a way that respects them. Here are a few ideas for those special items and once-in-a-lifetime opportunities.
1. Handwritten lyrics
This is a pretty easy one as long as you don't mind parting with a piece of your art. Real fans are going to be excited by something like this, and it's fairly simple to just drop an envelope in the mail and send it away, isn't it? If you're going to go this route, you might want to consider selecting a few songs as options and allowing those fans that pay to choose which they'd like. Promising to send a random piece of paper isn't as valuable to somebody as receiving the first-ever written lyrics of a track they love.
2. Demos
For the most part, these become useless to you and your band once the final album or song has been released, so this might be a good option. Also, it's likely that any band has plenty of demos sitting around just taking up space on a hard drive somewhere, right? For every song, there must have been plenty of recordings or even just pieces of recordings that were taped before a real song emerged. Unless your band already has a sizeable, devoted following, selling off demos one by one might not lead to much success, but perhaps offering a dozen or so (an album of demos, perhaps) could work.
3. First dibs on things
This is a popular one, and it really works for those who would probably be buying something anyway. Concert tickets are the obvious best choice for this option, and it isn't really too difficult for an artist to arrange. Getting access to something first makes people feel special, so while a concert ticket is a concert ticket no matter what (pretty much), it's really the VIP feeling that you're selling.
4. Hanging out at shows
If you're just starting out in your career, this isn't something you should sell so much as it's a good habit for you to get into. What kind of band doesn't want to say hi to those who are buying albums and coming out to shows? Meeting fans who turned up for a concert is really important, especially when you're just beginning to develop a fanbase. So, if you're going to sell some sort of after-show experience, don't have it be a typical meet and greet. Instead, why not buy a fan a beer or invite them out to dinner with the band? It doesn't need to take all night, but do spend some quality time with them.
5. Visits to the studio
This is a really cool idea, and it won't really cost you anything. If you're planning on going into the studio with your band anytime soon, why not auction off a few visits? Have megafans stop by and see what it's like to hang out in a recording space, hear music before anybody else, and get to meet the band. It's totally reasonable for you to demand certain things – no recording anything, or that people are quiet and don't distract you for long during the expensive studio time – but other than that, just let this be the neat experience it will inherently be.
6. Exclusive swag
Selling merchandise is an important revenue stream for many artists, so this is also a no-brainer. While it's vital to have T-shirts, albums, and the like at your table before, during, and after every concert, why not create limited edition items that either cost more or are only available during a certain period of time or at one specific location? If your band is in need of some cash stat, try offering something at upcoming shows or online for a short time frame to encourage people to buy when these products are available. If the items you're selling are special in some way other than just in their availability – in quality, design, etc. – charging a premium is even more justified.
[3 Promotional Tactics for Selling More Band Merch Online]
7. A new, exclusive song
This might be a bit of a stretch for some people, but if it's done right, it can really pay off. Offering fans a previously unheard song is a big deal, and those who really love your music and are always wanting more are sure to reach deep into their pockets for new tunes. These songs can be ones your band recorded for an album but never made it onto the final tracklisting, or they can be ones you come up with just for the purposes of making some extra money. Want to really up the final price? Consider personalized tracks, such as love songs with somebody's name in them or a re-recorded version of a favorite with some words switched around to make a couple happy.
Learn more about selling merch at your shows:
Hugh McIntyre is a freelance pop music journalist in NYC by way of Boston. He has written for Billboard, The Hollywood Reporter, and MTV, as well as various magazines and blogs around the world. He is also the founder and editor-in-chief of the blog Pop! Bang! Boom! which is dedicated to the genre of pop in all of its glory.