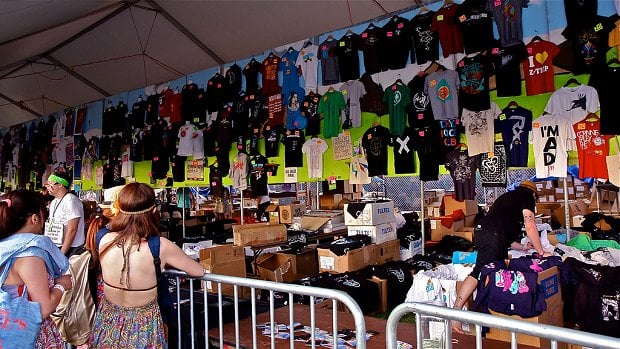 Photo by ivankay
A lot of people in the music industry call merchandise one of the best revenue streams musicians have left. Sometimes, however, getting people to buy your branded T-shirts or other knick-knacks can be difficult, especially when you're just starting out.
Merch can become a great revenue stream for you and your band – if you have some strategies in mind when pitching and selling your merch. Here, we'll cover four you can start implementing right now or at your next show.
1. Let people know you're selling merch
Okay, this one isn't exactly "creative," but you'd be surprised how many musicians fail to do it, whether it simply slips their minds, or they aren't comfortable playing salesmen.
We've all been to a concert where the excitement of the music and being with friends means we just don't think about merch. Something as simple as mentioning that you have a merch table or even directly asking fans to check out what you've got for sale will increase the number of people who stop by.
If you want to really go above and beyond, take some time to walk through the audience (not during any other band's performance, of course) and get a conversation going with fans. Carry some merch with you and make transactions right from your smartphone with a card reader like Square.
2. Make it fun
Sometimes the prospect of T-shirts isn't enough to draw fans to the merch table. Once you actually get people there, however, the chance that they will buy greatly increases. One of the best ways to get people to walk over to the merch table is to make it an event. Don't entirely leave your merch to some random assistant or venue employee – before and after the show, hang out there yourself!
Of course, you could just hang and talk to fans and that will certainly be effective, but, if you want to go one step further, take some time to think about how you can really turn it into a fun event. If your audience is primarily teenage girls, set up a photo booth with fun props where fans can take pictures with you and the band. If you play hip-hop or EDM, host a spur-of-the-moment dance contest over by the merch stand. Something fun will draw people – and purchases.
3. Don't leave selling merch to just the live show
Yes, the live show is a great opportunity to sell some merch, but that doesn't mean it's the only opportunity. Your website, social media, and email newsletters are also great ways to drive people to purchase your products. Give your contact list or followers special discounts to try to drive sales, and if you get a new T-shirt design in, let people know!
That's not to say you need to constantly push your merch at your virtual friends. Overdoing it will get annoying and probably lose you some fans, but, every now and then, don't be afraid to link to your online store. It doesn't have to be an obvious pitch. If you have a blog, whenever you or someone else wears your merch in a photo or video, link to it! You could even include a link to your online store in the description box of any YouTube videos you release.
4. Get your fans involved
People are more likely to buy something they feel they have contributed to, so getting fans involved in the design process is a great way to drive sales. Ask fans to submit artwork for a T-shirt design contest, and throw in something else to make the offer irresistible – maybe two backstage passes or a private house concert.
If you don't want to put a big chunk of your revenue in the hands of your fans' artistic talent, you could instead ask fans to vote for their favorite design. Create two or three different mockups, or even just have the same design in different colors, and take a poll. Not only will fans feel invested in the outcome, you'll also ensure you're creating the shirt your fans will actually want to buy and wear.
Of course, in addition to merch, there are more revenue streams for musicians. In the New Artist Model online music business courses, you'll learn how to turn your music into a successful business – a business where you're the CEO! You'll create an actionable and personalized plan that will help you achieve a career in music, and you'll be able to do it all with the resources you have available right now.
If you'd like to learn even more great strategies from the New Artist Model online music business courses, download these two free ebooks. You'll learn how to think of your music career like a business and get some great marketing, publishing, and recording strategies!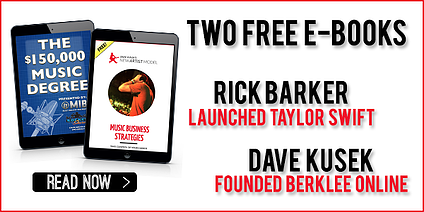 Dave Kusek is the founder of the New Artist Model (newartistmodel.com), an online music business school for independent musicians, performers, recording artists, producers, managers, and songwriters. He has worked with musicians his entire career, providing tools, mentoring, and knowledge necessary to be successful in the music industry.