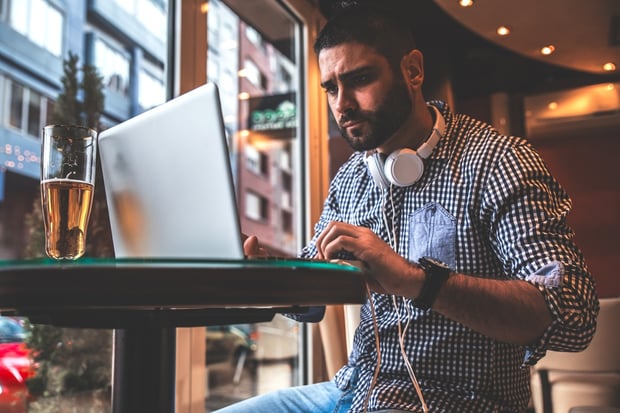 Image via Shutterstock
Getting people to subscribe to your band's email newsletter is tough, so if you manage to hook someone, you really need to do everything you can to keep that person. One of the best ways to lose a new fan is by sending out emails that are boring, either in terms of what you're saying or because of the look. Sure, it's the content that matters, but people pay attention to how things look, so you need to be aware of that as well!
Improving the look of your newsletter can make it a real winner, and that will eventually help you sell tickets, move merchandise, and form a closer bond with your fans. Here are some simple ideas that can help make your newsletter that much more visually appealing.
1. Your band's photo
This should be obvious, but I've received so many newsletters from bands and artists that don't have a single image in them. That's a shame, because this is one the best times to show off your new portrait, or a fantastic photo you're going to be using in your new album's campaign.
These newsletters are going out to people who have shown an interest in you, and they want to see your beautiful face, so don't deprive them! Plus, the more you allow people to look at you, the more of a connection they have with you, believe it or not.
[5 Ways to Get Professional Band Photos Done Cheap (Or Free!)]
2. Your band's logo
Your band should have a logo, and if you don't already, you're going to want to work on that to begin with. Logos are another way of branding yourself, and while you might not want to think of your music and your band in general as a "product," that's what all of this is (though there's some art in there as well).
Adding your logo is another touchpoint for people to see it, and at the same time, it brightens things up. The people receiving these emails should be able to identify who they're from just from opening the message and seeing that logo.
[How to Design an Instantly Recognizable Band Logo]
3. A photo from a recent show
While your logo and whatever image is your "main photo" at the moment are both great to include in your newsletter, they can get a little bit stagnant if you feature them time and time again. Try switching things up with photos from recent live shows.
You don't need to do this all the time, and if you're just starting out, you probably won't be able to, as there might not be shareable pictures from every event. When you do have some ready to go, try swapping them in, just to freshen up the emails.
4. A thoughtful and tested design
We've all received emails from bands, companies, or anybody else that simply don't mesh well with our phones, which is where many people are checking their messages these days. Smartphones come in all different shapes and sizes, and they have different components inside that make them all different.
Before you hit send on your next blast, make sure to test what you've done! This is amateur stuff, but it's a step that many people skip... much to their detriment. Try sending a test email to a few friends with different types of phones just to ensure everything looks good and is working well.
5. Color
Black and white might seem artsy, but when you're working primarily with text, it can get a little boring. You don't need to use every color under the sun, and it shouldn't look like a rainbow disaster (unless that's your aesthetic, or even your band name), but colors make everything a little more interesting – and it's so easy to do!
When you're building your template and changing things up, play around with colors in headlines, borders, and so on. Some places it will work, and others might not call for different shades, but you never know until you try.
6. A GIF
Everybody loves GIFs, so why ignore them in your emails? I've found they can be a great way to make any message more exciting, more interesting, and certainly more memorable. These moving photos can be of anything, as long as you can make it fit and make it work.
Creating GIFs is incredibly easy, especially with your smartphone, so feel free to share ones of the band doing anything. Or if you want to go another route, find ones online that are particularly funny or timely and send those along. They don't take up much space, and they're almost always enjoyable.
7. Any other photos
I know I've mentioned photos a few times, but there are so many different kinds you can include! Don't just stick with the obvious pictures of you and your band – think outside the box (but you don't really need to think too far outside this box). Screenshots from videos, pictures of merchandise, photos of hanging with fans, your tour van, a band member's mom helping send out merch... it doesn't really matter what it is, just share it!
Some images work really well for social media, but as you get used to the different platforms, you'll find that there are some that might not feel right. Some of these pictures could be great inclusions for your next email, so don't let them go to waste!
[20 Kinds of Band Photos You Can Share With Your Fans]
Hugh McIntyre is a freelance pop music journalist in NYC by way of Boston. He has written for Billboard, The Hollywood Reporter, and MTV, as well as various magazines and blogs around the world. He is also the founder and editor-in-chief of the blog Pop! Bang! Boom! which is dedicated to the genre of pop in all of its glory.