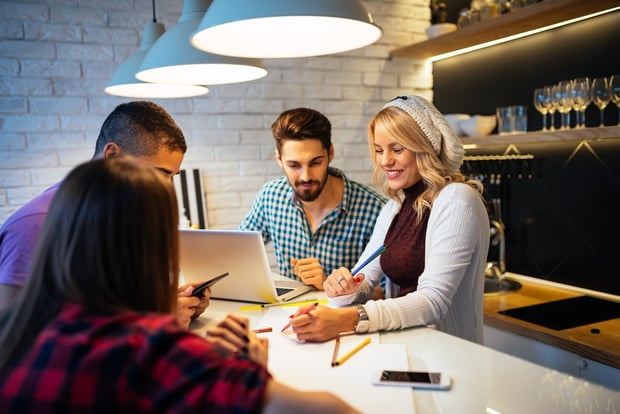 Image via Shutterstock
When you're just starting out, there's almost nothing more important than your local scene. Your city isn't just your home, it's your market. Your scene, which consists of both the geographic locale and those involved in your style and genre of music, are the ones who will champion your music, help build your career, and come to your shows. These people will be your business partners and your fans, and they could even be your friends.
There are a lot of people you need to meet to really know your scene, but who are they?
1. Radio promoters
Every market has a radio station, and even if you don't live in or near a major metropolitan area, those stations are still important. Getting your song played on the radio is difficult, and the returns may not be what they used to be, but radio play is still worth going after.
Getting to know people at your local stations may or may not end up in your music getting some spins, but there's more that could come of those new relationships. Perhaps the station wants to create some online content, or maybe they host concerts featuring local bands. Many stations are interested in that sort of thing, and if they know you're around and willing, they could help you out.
2. College radio staff members
Breaking into radio is difficult, and if you're going to start anywhere, college stations are the best option. Your typical college radio station is run by ambitious young music lovers, and a lot of the time, they're just happy to be involved with bands and artists. It's exciting, and you should be a part of that.
3. Talent buyers
These are the people at local bars, clubs, and music venues that pick the bands that are going to play. These are very important to you as somebody trying to build a fanbase, as playing live is one of the best ways to do that. Talent buyers get inundated with requests, so keep that in mind when you reach out to them.
Most people who are working in this type of position are invested in their local scene, and they want to help, but you've got to make it worth their while. Don't waste their time, and do everything you can to kill it with every show they're given. If you do it right and you're good to them, talent buyers will respect you and like you, and they'll want to keep hiring you.
[Click here to find live gig opportunities in your area]
4. Event promoters
While it might be similar, these aren't the same people that I mentioned just above. Event promoters are ones who run parties and special events that involve music, but they don't have an actual position at venues. These people typically have deals with clubs or rent out spaces to throw everything from raves to rock concerts, and they're always looking for hot new talent.
These people are cool, connected, and you should seek them out. Look at which companies are hosting the most attended new parties in your city and find out who is running them and who works for them. All of those people are good to know in some capacity.
5. Festival organizers
Music festivals are popping up everywhere, and these days it seems like every small city now has at least one or two of these events every year. Local bands always help round out a lineup that may be headlined by a bigger name, and those in charge of securing talent are always interested in bands and artists that can really bring out the people.
Again, look at which festivals are in your area, and then find out which companies run them. You might see the same name again and again, and that's a good thing. Find those who are involved with the planning of these local fests and let them know that you want to be in the music festival game as well.
[Click here to apply to festivals on Sonicbids]
6. Bloggers
Everybody is always trying to get publicity, but not everyone is willing to start from the bottom. You might not know it, but there are probably a lot of people blogging about music in your area, even if those blogs aren't well-read... yet. Even if somebody isn't focused on just those musicians in a certain geographic area, many people have a soft spot for bands from their hometown.
Scour the internet for people with blogs about music who live nearby, and introduce yourself. Even if you're not exactly what they're looking for at the moment, it's good to let them know that you're a local. Those bloggers may one day be popular writers for big magazines.
7. Freelance writers
Some of these people are bloggers as well, and others are full-time writers for bigger publications. It's a common misconception that everybody who writes for well-known and extremely popular websites and magazines lives in major cities. Sure, lots of writers are based in New York, Los Angeles, and the like, but there are a ton of freelancers out there in even the smallest of towns. Those are people who might be willing to come to your show or listen to your music, as they might not be swamped like major critics in huge markets.
8. Other bands
This is obvious, but incredibly important. Get to know the other bands in your scene, especially those that are somewhat similar to you. If your new friend, the booking person at local club X, is looking for recommendations for someone who can open for you, don't you want to be able to provide some suggestions? If a festival needs a last-minute filler act and you can save the day, they'll remember that. Knowing the other acts in your town isn't just good for "business," it's a great way to make friends and discover great new music. Win-win, right?
Next up: Why Being Part of Your Local Music Scene Matters So Much More Than You Think
Hugh McIntyre is a freelance pop music journalist in NYC by way of Boston. He has written for Billboard, The Hollywood Reporter, and MTV, as well as various magazines and blogs around the world. He is also the founder and editor-in-chief of the blog Pop! Bang! Boom! which is dedicated to the genre of pop in all of its glory.