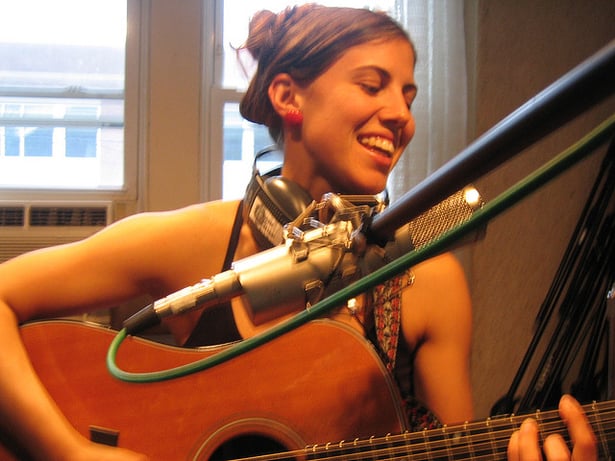 Photo by Chris Darling
Too often, artists get the impression that they have to make their start outside of their local community to be able to make a name for themselves in the music industry. It's true that growth and long-term success will require you to get your music out to regions beyond your hometown, but that doesn't mean the starting place for your music career growth has to be outside of your local community.
Local radio is an often underestimated but great way to build a strong community around your music; you invest in their community for reciprocal benefits. The key to working with local radio is to think differently about your fan engagement and how you want to stand out as an artist.
The importance of creating an emotional connection to your music
As a musician, you're in the business of connecting with minds and hearts. That's what music is, after all: a connector of stories and ideas through sound by way of the minds and hearts of music fans. When this connection happens, it's magical. When it doesn't, art falls by the wayside, and the hearts and minds move onto something else.
This heart-mind connection is the framework that successful musicians have for the audience-building process. Yes, making music is fun. Yes, it's enjoyable to create and perform. Yes, it's wonderful to have your music listened to and experienced. But that music experience should lead to connections with people's minds and hearts. That's the first aim to have when trying to build your audience.
The intended result from the listening experience of your music is fandom. Bringing fans into your fold creates new opportunities to convert them into superfans, who are the premium people to build your music career around because their support will take you forward into uncharted territory. This is the process of building a community around your work.
[3 Surefire Ways to Turn Fans Into Superfans]
You're already familiar with the power of the internet and social media to share and market your sound to new sets of ears. These platforms provide the opportunity to connect with people on an emotional level with your music. The same principle of connecting with hearts and minds that applies to the web also applies to radio.
Where does local radio fit in?
Radio remains one of the best ways to make that connection happen in real time because of the targeted attention of the listener. (For clarification, in this and all of my articles, I'm referring to public, community, and indie radio rather than commercial/Top 40 radio. See this article for an explanation.)
Public and community radio stations appeal to a specific group of people, mostly within an educated demographic, who are listening intently to the station because of how niche the music programs' genres, styles, and movements are. Your music's fit in the categorization of local radio's programming puts your songs directly in front of an audience that's listening with their minds and hearts. They're also more likely to be the people who attend your local gigs, which is why getting in front of them early in your music career is so important.
Since public, community, indie, and web radio operate mainly through the nonprofit sphere – and in many cases are specifically established to reach rural and non-metropolitan audiences – there's a strong chance that a public radio station or low-power (LP) station exists in your area, regardless of where you live. Many of these stations are operated with small staffs and with a smaller budget than the larger commercial stations. This means that building a connection with the nonprofit station and investing in community-building endeavors is valuable to both the radio station and you.
[A Musician's Guide to Community Radio: Stations That Will Actually Play Your Music]
Make it a win for both you and the radio station
Reach out to your local station with the intention of working together to build community. This means you need to have some previous experience listening to the station. Find a particular radio show that you enjoy or a portion of their program schedule where the music really connects with your heart and mind. Have a listening experience that you can connect with and talk about. When you contact the station, make that experience a part of your message.
One of the best ways to build community is by volunteering to help a nonprofit organization or some other group achieve their purpose. Most public and community stations are invested in the nonprofit realm because nonprofits collaborate together to achieve their missions, as well as achieve their fundraising goals.
As you invest in the community and work alongside radio station personnel, you'll build relationships and trust with them that can extend much further than just getting one of your songs played. It can create opportunities for you to do much bigger things with the station, including sit-in interviews and live sessions, concerts, and guest spots on the station and/or its programming.
Take practical steps in community building
Local public and community radio are in the business of community building; it's a part of their operation and necessary for their success. Nonprofit local radio is dependent on the financial support of local individual contributors and businesses who pay for underwriting spots on their station (similar to advertising, but with no call to action). A great way to get the attention of local radio is to participate during their fundraising, even if you're not offering any money.
Contact the radio station, and ask how you can participate as a volunteer to get plugged into the station directly, and get a face-to-face introduction to the staff and the station manager or music director. This introduction creates a different kind of connection between you and the radio station, because now you can put a name and a face to your interactions with them, and vice versa. No longer are you an artist who's making random song submissions. Now you're the great volunteer who helps out around the station to build their community connection.
It's very important that you approach building this connection with the right attitude and with a sincere heart. Your desire needs to be in the right place, meaning that you sincerely need to want to benefit the radio station through your volunteer efforts, and not use this purely as a means to promote yourself. Community building is a reciprocal endeavor where you give of yourself so that others can give back. Both parties win in a reciprocal connection.
The most important factor is to keep relationship building at the forefront of all of your interactions. Make sure you address radio station personnel by name in all of your email communications and other messaging. This step alone builds greater potential for response and interaction.
Engage with the station on social media
Post updates on your social media pages that tag your local radio station (where you're being featured or where you want to be featured) to help create a stronger online presence and connection between you and the station. Interactions via comments are a part of this process, and you can be introduced to people outside of your direct fanbase by engaging in comments on local radio's social channels. Pick subjects that you're personally passionate about, and let your voice be heard. Local radio wants to hear from their listeners, and having that engagement online is something that's very valued. Doing so puts your name in front of people who are primed to build stronger community connections.
By showing radio stations that you're as committed to your shared community as they are, you build a stronger connection and better credibility than individuals who are only out for personal gain. You show yourself to be an uncommon artist, and these are the talented individuals who find success more often than anyone else.
D Grant Smith is the host and creator of the syndicated and award-winning The Appetizer Radio Show, featuring unsigned and indie music weekly. With over 16 years experience in radio and indie music, Smith also coaches and mentors musicians through focused audience growth. More information at dgrantsmith.com and appetizerradio.com.