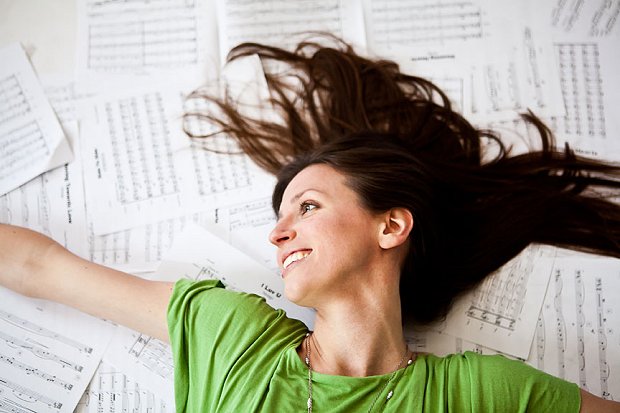 Cheryl B. Engelhardt. (Image via blog.discmakers.com)
A version of this article originally appeared on Living on Gigging.
I'm often asked, "What do you do, exactly?" There are two groups of people who generally ask this: people who know me – or think they know me, who stop for a second and realize they cannot quite grasp how I spend my time – and musicians. This article, my friends, is for all of you.
Before I begin, let me preface this with the following: my life is a roller coaster. Most of the time, I'm working or, at the very least, working on getting work. Then there are times where I just want to give up, lie on the couch, watch Netflix, and declare that it's time to get a real job – with an exasperated, "I can't take this music thing anymore!" This happens monthly. It's my occupational period. It always passes. No one ever knows about it. And it's normal.
Yesterday, though, I had one of those little-bit-of-everything and ah-yes-this-is-why-I-do-this days. And these are the days I aim to replicate.
Today is Wednesday.
6:30 a.m.
Wake up and feed foster puppy basset hound Oliver. (Please note this is very early for me. I had a 10:00 a.m. deadline, and my mixing ears were shot the night before. "Normal Cheryl" wakes up around 8:00 a.m.)
7:00 a.m.
Make espresso (I normally make a small pot of decaf coffee if I'm drinking it any time after 9:00 a.m.), eat something, make sure puppy poops.
7:15 am.
Sit down at my computer to listen to the mix I hadn't finished the night before – an a cappella arrangement for a big national commercial due at 10:00 a.m. Tune some vocals, add some reverb, etc.
9:00 a.m.
The mix isn't where I want it, so I send it to the music house producers and call it good. Let puppy out.
9:15 a.m.
Reply to emails that have been trickling in over the last 12 hours. Reply to a few inquiries about sound branding. The best email is that a jingle I wrote for a Swiss spa company got approved, and when they were in the mix, they needed stems. No problem. Send stems and the final invoice to Geneva. This definitely sets the international tone of the day... read on.
10:00 a.m.
Gunnar and Lily arrive. They are my seven-year-old twin piano students. They're home-schooled. Their dad reads with one in my living room while I work with the other. They crack me up. They are two of 11 students I teach piano or voice to on my teaching days: Mondays, Tuesdays, and Wednesdays. My teaching hours are normally between 3:00 p.m. and 6:00 p.m., but I make two exceptions, both on Wednesdays. I only work with great people/kids who practice. And I'm kind of expensive.
11:00 a.m.
I try to rush the kids out, even though they want to play with the puppy who pees on them. I have to get to my next lesson. I never drive to lessons except once a week on Wednesdays.
11:15 a.m.
Drive to the local retirement center six minutes away from my house/studio, where I have a voice lesson with Paul, a tall, strong, 88-year-old retired history teacher who hired me to help him learn his choir's music. He doesn't read music, and their new director won't teach them by ear anymore. After one-and-a-half years together, our lessons have morphed into preparing for Paul's first solo concert of songs from the 1920s. He made the program and everything.
12:15 p.m.
Drive back home and put on a bit of makeup for my video chat interview with Patrick Ermlich of Outlet Music and Effective Immediately PR. This will be the first of many interviews for my new podcast. Haven't chosen a title yet, but it will be in line with my In The Key Of Success business. Maybe "Key Conversations." Anywho, I've invited one music industry expert a week to sit on an hour video call with me while the participants of my MX4 program ask prepared questions. I moderate.
1:00 p.m.
Patrick's hour-long interview. He was boss.
2:00 p.m.
Get a FaceTime call from my mountain-guide husband in Chamonix, France. We chat about our days, I show the phone to the puppy, who tries to give it kisses. I hang up with him and disinfect my phone.
2:15 p.m.
Email comes in from a music house in Germany with a request for an original track. I read the brief and have a call with the producer. Light, feminine, sparse. Right up my composing alley. I download the video to score and create a new Logic session when…
2:45 p.m.
Email comes in from a music supervisor at a licensing house in South Africa that I've submitted tracks to before. He requests a few songs of mine for a YouYube channel that provides a decent license fee. These are always quick searches that have quick deadlines, so I pull a few songs from my last record and send them in a .zip file.
[4 Rules for Presenting Your Songs to Music Supervisors]
3:15 p.m.
One of my MX4 students is working on some financial issues, so we have a conversation about circumstances, being awesome in the face of them, and taking action.
3:35 p.m.
I hop on a Twitter chat (#adweekchat) to see if there are any conversations I could learn something from or contribute to. Today's was about alcohol in marketing. Other than drinking wine while I compose, I didn't have much to add, so I hopped off.
3:45 p.m.
Check Facebook and see that a friend with whom I've worked in the local theater company is looking for part-time work in between theater jobs. While I walk puppy, I give her a call. She's the most organized and powerful chica I know, and I'm all about flexible hours, short-term projects, and having some company in the studio. I tell her what I'm up to (outside of musical directing crazy shows or running around a stage in a maid's outfit [Peter Pan]), and she sounds interested in an hourly assistant gig for a month or two.
4:15 p.m.
I get an awesome email from the folks at Bandzoogle and ASCAP asking me to be on their Website Demolition Derby panel at the ASCAP EXPO in Los Angeles. I freak out. I've been trying to get on a panel there for four years. I post the good news all over the internet, take cheesy Instagram photos about it, and send the ASCAP EXPO website announcing the new panelists to my mom.
4:30 p.m.
I write some music for the Germany music house. They asked for one option, but I try to always send three. Music is so subjective, and in the commercial freelancer world, it's a numbers game.
5:30 p.m.
Voice student arrives and we work on pitch and pronunciation and discuss the two songs that she'll be singing in the spring recital I recently decided to put on. (The retirement home has a nice performance room and offered it to me for free, thanks to Paul. Built-in audience and a chance for students to work towards a goal and shine. Sounds good to me.)
6:15 p.m.
Feed the puppy and make sure he poops. Then make some dinner for me – heated some grilled salmon and quinoa with pesto. I take it into my studio and eat on the couch which watching the latest episode of, yes, Pretty Little Liars. (Don't judge. I got hooked on ABC Family's Tuesday night lineup when I found out I had a song in one of their promo ads... two years ago.)
7:15 p.m.
Revisions for the a cappella commercial (the one from this morning) come in. "Make it less busy" – I get this a lot – "and more sparse, and more raw. It's too good. We love the lead vocal." Cool. Just re-do the backgrounds with less Imogen Heap-like effects. But I'm not quite ready to dive in. So I shop online for a cool protective case for my new MacBook Pro that's on its way.
8:00 p.m.
Accountability call with one of my MX4 participants. Each week, they're tasked with taking actions that will produce new results, and while that sounds awesome, it's sometimes hard, so they each get an accountability partner, including me! On the call, we talk about her true purpose, crazy next actions, and she checks in on my PledgeMusic campaign. (It's underway, and the script for my video will be written by Sunday.)
[9 Proven Direct-to-Fan Strategies From the PledgeMusic Team]
9:15 p.m.
Yeah, I really should start on those vocals. Recording using my iPad as Logic Remote has made doing my own vocals super easy. My vocal recording "booth" (a DIY sound-treated corner of my 400-square-foot studio room) is about 20 feet from my system.
11:18 p.m.
Finish the new version and email it off to the music producer. At this point, I'm so sleepy I could pass out on my couch. But I let the pooch out to pee once more, take a hot bath with Epsom salts (my neck does not like sitting all day), and get into bed. One rerun of Friends on my iPad.
12:00 a.m.
Eyes shut. But not without acknowledging to the universe powers-that-be how grateful I am for all the opportunities that showed up today and the fun and inspiring work I get to do, day in and day out.
Cheryl B. Engelhardt founded CBE Music, a music creation and sonic branding firm, and has produced her own piano pop records, toured around the globe, has had dozens of TV placements and scored multiple films and commercials. Passionate about supporting musicians, Cheryl hosts popular workshops, video trainings, and other valuable resources on her website, In The Key Of Success. Get her free PDF for insider tips on how to make it in the music biz.