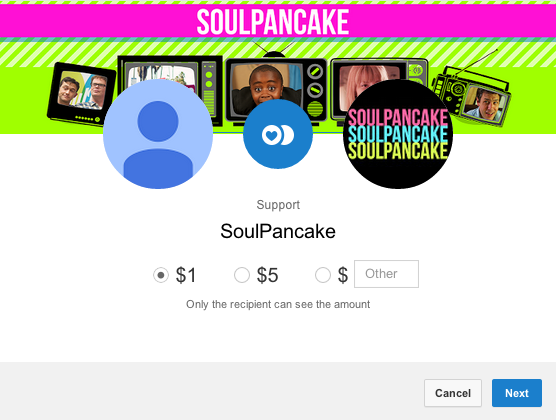 What the new Fan Funding option looks like on Soul Pancake's YouTube channel (image via The Daily Rind)
This article originally appeared on The Daily Rind.
YouTube has always been about putting the power in the hands of its users. Now they're taking it a step further and letting users take the reigns on creator support with Fan Funding. This new feature allows fans to send cash to channels they love, directly through YouTube.com. The program is already in a pilot phase with a few fan favorite channels like Soul Pancake and The Young Turks, with more channels to be rolled out in the next few months.
Perhaps the most exciting aspect of Fan Funding is how creators will respond. With many channels boasting multi-million subscriber stats, it's no secret that YouTube has an avid fan base. Creators have the potential to create more and better content if they have access to financial backing. Crowdfunding sites like Kickstarter and Indiegogo have already successfully funded multiple video projects, the most successful of which, the film Veronica Mars, funded $5.7 million of its $2 million goal in 30 days. YouTube Fan Funding brings this potential directly where fans are already watching.
Monetization on YouTube has taken a number of forms in the past. From the most common ad-supported system to pay-to-watch channels and VOD rentals, YouTube is not afraid to experiment with its platform. This most recent iteration will leave creators to use their funding however they like. Each contribution will be capped at $500, with YouTube taking 5% plus $0.21 per transaction.
But will fans actually pay? YouTube has yet to report on any numbers, but you can expect channels to get creative with incentivizing funding. Some will require funding out of necessity for production – there might be more incentive for fans to chip in some cash if the next episode of their favorite show is on the line. Others may generate supporter-exclusive content to reward fans who chip in with videos just for them. Fan Funding opens up new levels of potential with fans by allowing them to directly impact the success of their favorite channels.
So keep an eye out for this option, coming soon to a channel near you!
Do you think YouTube Fan Funding will be the next big thing? Join the conversation by leaving a comment below!