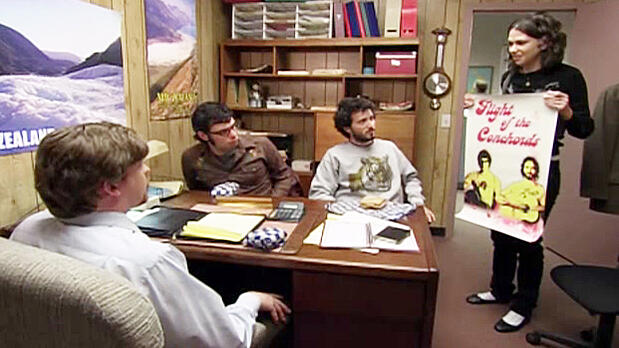 When choosing a picture to send, the right kind of image is important. (Image via thatswhatiwatch.wordpress.com)
Whether it's a new single, a just-released video, an album you're about to drop, or a tour you're going to embark on, you're pretty much always looking to get in touch with journalists as a musician. Knowing this, you have to be masterful at putting together a press release, but exactly what do you need in that press release to get writers' and bloggers' attention?
I've put together a list of seven essentials for your band's press release, and I've rounded up some of my fellow music industry professionals to contribute their thoughts on the topic as well. Before you click send on that email to the music world, make sure it includes all of the following.
1. Location
I know some bands think they're being super creative by saying they're from the moon or outer space, but unless you're the Ultimate Warrior, you can't get away with saying you're from Parts Unknown.
There are a plethora of local publications, both online and in print, that will only be interested in an artist if they're from a specific area. Some nationally focused websites also have city-specific features. Personally, one of my columns is on NYC's indie music scene, so an artist's location is the first thing I look for in a press release. Are they from NYC? Awesome – they qualify for my column. It's as simple is that.
Manny Faces (Birthplace Magazine) adds that if an artist neglects to mention where they're from, they run a huge risk: "In our case, we only want artists from a certain region, so if we have to take time out to dig up where you're from, we might end up just passing altogether."
2. Genre
One of the most sigh-inducing things a journalist can read in a press release is, "Our sound is impossible to describe." Impossible? Really? How about you give it a try. It's only, you know, one of your most important defining features.
We all get it – nobody wants to be boxed in, but at least give a vague description of your sound, or else we probably won't be all that inspired to listen to your work. You may think being mysterious is a way to stand out in a sea of press releases, but it's actually the quickest way to get deleted.
Steve "Flash" Juon (RapReviews) notes that an artist defining their genre can also help them greatly in pitching their work: "Know your audience! Don't send a rap writer chirpy pop tunes. You're wasting your time and the writer's time, too."
3. Website and social media links
Your press release is not your bio, nor should it include your full bio (unless it's as an attachment). Because of this, you should include all your relevant website and social media links, so if a writer wants to know more about you, he or she can easily get that information in one click.
Writers can be inundated with upwards of a hundred press releases per day. They don't have a lot of time to go searching the internet for you, so the easier you make it to find information about you, the better.
Nicole Hanratty (Life of a Rockstar) advises: "Keep it simple; provide the links only. No need to tell me how many followers you have on each outlet. If I like your music, then I really don't care."
4. Quotes from previous reviews/features
A few quotes at the end of a press release lends an air of legitimacy to a band. No matter how obscure the sites or publications, it shows an effort is being made to be heard.
Yes, some journalists still live for the scoop and want to be first, but in music, the only way you're going to be first is if you're at the show. If we're receiving a press release about a band, we know we aren't the first person to hear about them, so let us know what people are saying about you.
Paul Gargano (Concrete Marketing Services, Metal Edge Magazine, Street Smart Management) explains the power of press quotes: "The purpose of a press release has shifted in recent years – what used to be a source of news and information for journalists has now become a source of new media content. Whatever you issue will, in most cases for a band reading this column, be reprinted word-for-word on blogs with minimal editing (if any). Pull quotes are vital in that they help shape a potential fan or critic's opinion before they actually hear the music – much like we taste food with our eyes before our mouth, we can shape the perception of what people hear before they listen. Just remember, the goal is to guide people, not bash them over the head with absurd claims."
5. Hi-res photo
If you want people to write about you, you have to give them all the tools they need, and that includes a hi-res photo. I can't tell you the number of times I've written a column that's included multiple artists and decided which artist gets featured in the headline based solely on who has a picture we can use with the article. FYI, being in the headline means your band has an article that will show up in Google searches. So having a picture can equal a headline, and a headline equals prominent placement on a search engine.
So no matter how well-written your press release is, if you're missing a picture, it misses the mark.
Ran-DA-Man (Definitely Amazing) adds that when it comes to a photo, go big or go home: "Anything that is low-resolution or pixelated will make you look unprofessional, and you'll lose credibility."
6. Put the most relevant information first
Journalists are taught to put who, what, when, where, why, and how into the first paragraph of a news story. The same rule applies to press releases. A flowery intro filled with extensive hyperbole only makes the information you want us to write about harder to find. (Also, we've read that hyperbole 40 million times, and it reads like the essay of a high school kid who desperately wants to reach the page count for an assignment.)
Here's the ugly truth of the matter: most writers aren't going to read past the first paragraph or two of your press release. That is, unless you've managed to grab their attention. You have to hook the writer at the start, or you'll lose the opportunity.
Bear Frazer (Arena) stresses artists need to get to the point: "If you're sending out a press release, make sure there is a reason, and make sure that reason is within the first two lines. I am bombarded with hundreds of emails on the daily, so the last thing I need is a press release that has no specific reason or motive behind it."
7. Keep it brief
This is a press release, not your life story. If you're writing your sixth paragraph, realize you're already four paragraphs further into it than most writers are going to read. Give us the information, give us the other items listed here, and hit us with whatever you're promoting, be it a new single, album, video, or tour. If a writer wants more details, he or she will hit you up.
Tiffany Burriss aka Tiffology (CrayonBeats) adds that a succinct press release and good music is the perfect combination to inspire further investigation: "I'm a writer and a music fan, so keep it brief, especially in the initial email. If I like what the artist is doing, I will gladly do my own research."
Adam Bernard is a music industry veteran who has been working in media since 2000. If you live in the NYC area, you've probably seen him at a show. He prefers his venues intimate, his whiskey on the rocks, and his baseball played without the DH. Follow him at @adamsworldblog.