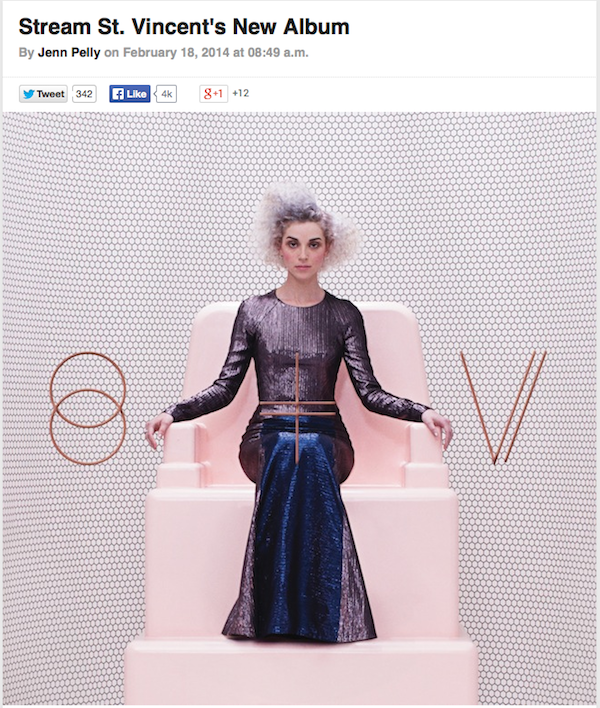 Secure an online outlet to premiere a full-album stream of your record (via Pitchfork)
One of the first things I learned when I began my career as a publicist was what the typical timeline for an album campaign is – in other words, the specific order of events from the moment an album is ready to be announced until its release.
Not all publicists adhere to a campaign of identical length. Some prefer to work more compressed, fast-paced timelines, whereas others like to space things out to gradually build anticipation and momentum. Whether you're self-releasing a record, working with a freelance publicist, or working with an in-house label publicist, it's important to have a grasp on the approximate timeline of events and know when new assets (songs, videos, album streams) should be shared with the world. Here's a breakdown of the essential steps in this process, based on my own experience (though these may vary if you're releasing a digital album instead of an LP, CD or cassette, or if you're merely releasing an EP or 7" single).
3-4 months from release day
Once you have your mastered music, agreed-upon tracklist, press photos, bio, album artwork, and a planned release date, you are ready to send out advance copies of your record. It's important to send your music out early to key "long-lead" publications and websites because they often plan their editorial coverage far in advance of when their new issues hit newsstands or content goes online. Most editors prefer to receive digital files instead of burned CDs, and there are many affordable or free options now for uploading password-protected or private media (I would recommend SoundCloud or Box). It's important that you make your album easy to stream or download (never attach your album as MP3s or .zips to emails), and it's also key that it's password-protected or private to prevent leaks.
Shortly after sending out these advance copies, your publicist will service blogs and websites with your leadoff MP3 single – the song you'd like to use to announce the record and make a strong first impression. Make a numbered list of the websites you'd most like to premiere the song (with your publicist's consultation and input), and your publicist will pitch them individually, moving down the list one-by-one if your first choices pass on posting the track. It's shady to pitch multiple outlets at once, and besides, what would happen if more than one wanted to be first to post the song? You don't want to make any enemies.
This is also a great time to get to work on booking a tour for after your record release if you haven't started already.
1.5-2 months from release day
Hopefully your publicist has already secured some interviews and coverage to start going online around now, with print features and reviews being locked down for around the release of your record.
Now is the time to share another asset from your album. I've found it's best to debut another MP3 single around this point in the timeline, though you could also premiere a second MP3 and a music video during this period if you have one ready, with one more video that will be ready in time for release day. You or your publicist will follow the same process used to pitch the first MP3 until you find a home for it.
2 weeks from release day
So close! During this time period, your publicist should secure an online outlet to premiere a full-album stream of your record, to go up one week prior to release day. On release day it'll be taken offline, leaving only the previously-debuted MP3 singles available to the public. It might seem counterintuitive to "spoil" your entire record for listeners so close to release, but it actually helps drive presales and spike interest around the impending release.
Release day
Congratulations – you made it! An effective way to celebrate the occasion is the world premiere of your first (or second) music video and the announcement (or a reminder about) your upcoming tour.
Doling out your assets based on the approximate timeline above is a savvy way to build anticipation in advance of your record release, saving the best for when it counts most (for example, music videos are often more widely shared and viewed than track downloads or streams, with a higher potential to go "viral"). The exact timing of these steps can vary, but the most important will always be the first: the advance servicing. Writers, editors and important bloggers get sent a formidable amount of music on a daily basis, so the sooner you can add yours to their listening pile, the better.
Jason Baxter is the in-house publicist for Seattle's Hardly Art Records, and performs in the electronic duo USF. In a past life he was a music journalist and writes comic books in what little spare time he has.