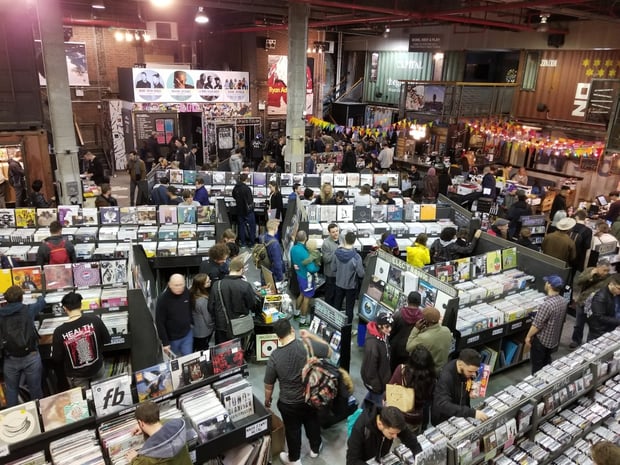 Photo by Geraldo Ramos / Shutterstock
In the first article of this series, I discussed how to engage people who haven't heard of you and turn them into a fan. In this article, we're going to take the engaged fan to the next level so they're purchasing what you're selling.
Let's stick with the fan we discussed in part one: Animal Collective-loving June. June's been digging that great Spotify workout playlist you created, the free download of the song you gave her, and just used the 50-percent-off coupon to buy your T-shirt. These are all marketing initiatives that may not translate to a profit for your band but are intended to make a longtime fan who will purchase your music and merchandise in the future.
Next, you want to look at how you can continue to create excitement for the fan as she continues to purchase your music, merchandise, or concert tickets.
Excite
Once the fan has made that small purchase, you want to continue to create excitement. This could be something as simple as including a handwritten thank-you with the T-shirt June purchased. It could also be adding stickers to the package, a new discount code or coupon for a future purchase, or creating some inventive packaging consistent with your band's brand. You could also send a follow-up email asking if she received everything.
If you have a fan who posted a picture of your product on social media — whether it be a T-shirt or vinyl — make sure to reply or repost, thanking her specifically for the support.
Direct fans to your core offer
Your core offer is the main product you plan to sell. This could be vinyl of your new album, a hoodie, or perhaps tickets to a record-release show. Whatever it is, everything you've done so far should lead the fan to this point of purchase.
In the case of June, our core offer is a brand-new hoodie. Since we know June's been working out to the Spotify playlist we created, we could send out a marketing email to remind her of the playlist and encourage the purchase of the hoodie for those early morning workouts. And to increase the chances of her purchasing the hoodie, we could offer a limited-time sale or discount when she purchases within a certain time frame.
If you really want to take it up a notch, you could make the assumption that June is training to run a popular race and would love to have that hoodie when she's standing outside in the crisp early morning air.
Just like the excitement stage, you should take the time to thank June for purchasing the hoodie by sending a follow-up thank-you email or including another thank-you card.
Accelerate
There are some other ways you can enhance the purchase or take a fan to the next level where they serve as an advocate for your band. An easy way to do this is to accelerate what you're selling.
In this fast-paced society, people rarely take the time to think things through and plan in advance. We want it now. You could play into that desire by including free overnight shipping when a certain amount is purchased from your website. (Hint: At this stage, you should make sure whatever discount you give is still profitable for the sale).
Automate
Next, you could look at creating fan loyalty through automation. This could be done by creating a membership platform where fans pay a monthly fee to receive exclusive content and experiences with your band. Patreon is a great platform to help facilitate the process.
Create access
You can create access in a variety of ways. Perhaps you play a house show for your subscribers. Or you could create a Facebook group where you engage with fans directly and give them music that isn't yet released. The key is making sure you are giving them access to something that sets them apart from the people who haven't yet supported the band.
These are all ways you can take existing fans through the purchase process. Notice I said "existing" fans. You shouldn't be targeting fans who haven't yet supported you because it will come off like you're only interested in taking their money without little interest in how your music and merchandise can benefit them. And that will only keep you asking yourself, "Why aren't fans buying my music?
Janelle Rogers began her 20-year music industry career working for SXSW Music and Media Conference. She then went on to work for BMG Distribution for 10 years in the alternative music department where she championed bands like Kings of Leon, Ray LaMontagne, The Strokes, Belle & Sebastian, and The White Stripes. In 2002 she launched Green Light Go Music PR as a haven of honesty, integrity, and passion for underrepresented artists and labels. She has since been named Mentor of the Year by the University of Michigan, Dearborn, appeared as a panelist at NXNE, and been an official SXSW mentor.