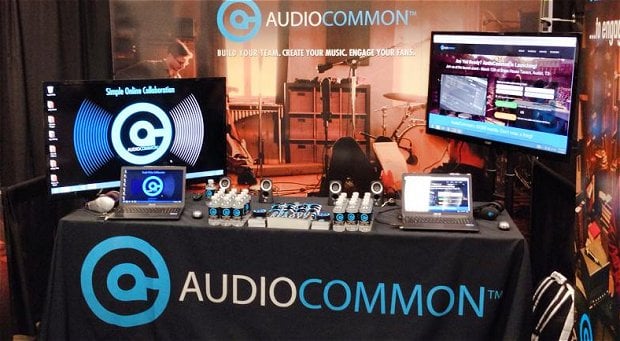 AudioCommon at SXSW 2014. (Photo via Facebook)
The way we consume music has evolved drastically over time and continues to change almost daily. Current music streaming and collaboration services, however, aren't always skewed in favor of the artist. So where is the future of music creation and collaboration headed, and will it give musicians a better shake? One fresh-faced company, AudioCommon, strives to change the current creation and sharing model. Artists can upload their content to its secure website and collaborate with fellow musicians. It also offers a new way to connect and share with fans by giving them an inside look at the musical process. We spoke to co-founder and CEO Philip Cohen about the genesis of AudioCommon and his views on the future of music.
What was the inspiration behind AudioCommon?
After coming home from Afghanistan with the military, I went back into the studio to create my latest album. After recording my music, I was caught in what felt like a never-ending communication loop with my mixing engineer that wasted a bunch of my time and money. Since I went so far overbudget, I had to put the project on hold and, at one point, I didn't know if I'd be able to pick it back up. There are millions of artists who experience similar, key inefficiencies that stifle the creative process. We developed AudioCommon to fix some of them and put the power of the industry into the artists' hands.
Why do indie artists need AudioCommon, and how can they use it?
AudioCommon is a platform that allows artists and the larger music industry to build and grow geographically separated teams, communicate securely, collaborate during the earliest stages of the creative process, and engage the public by sharing new forms of interactive music content.
Artists need AudioCommon because it's a unique solution to overcoming key obstacles with regard to music creation and promotion. Since AudioCommon is fully cloud-based, artists can invite their teammates (bandmates, management, producer, engineer, etc.) to a secure project created via the system. When someone from the team uploads audio, the entire team gets a notification. These teammates can upload and download contributions (building off other additions by stacking multitrack stems), and start team discussion threads specific to the music.
We live in a mobile world where people are always on the go, and because of this, the music creation process suffers. We're fixing this issue. Additionally, when ready, artists can share the multitrack stems they've been using throughout the internal creation process (and other important inside-access info) to both engage the public and garner an important new revenue stream.
What's the pricing structure?
The great news is that you can use AudioCommon for free. We do, however, have a number of paid tiers that unlock increased platform functionality for a small monthly fee.
What's your favorite thing about sharing with fans through AudioCommon?
My favorite thing is giving fans unique insight into the music creation process.
When the public gets a better understanding of all the work that goes into the making of a song, the value of music (and the value of the artist) is heightened in the fan's eyes.
We've witnessed new
emotional connections
forming between artists and their fans via AudioCommon, which is very exciting.
What's next for AudioCommon?
We're launching an important iPhone app in the imminent future. This app will change the game when it comes to
fan engagement
and artist monetization. We're happy to share the AudioCommon movement with all Sonicbids artists.
Where do you see the music industry heading 10 years from now, and how does AudioCommon fit into that landscape?
In the not-so-distant future, the current streaming paradigm will change in favor of artists. Though convenient for music consumers, the current model is not sustainable. In short, you need to feed the music creators, or there will be no music content! The medium through which people consume music may be similar to what it looks like today, but the public will have enriched options with regard to music choice. Not just choice that pertains to a specific artist and a specific song, but a choice to interact with music in a new way, and the choice to change a piece of music, even in the slightest way, to create something unique. A new dimension of music creation will be born, and AudioCommon is excited to be on the forefront of this movement. I dream of a world where artists can create music free of hindrance, where barriers fall away.