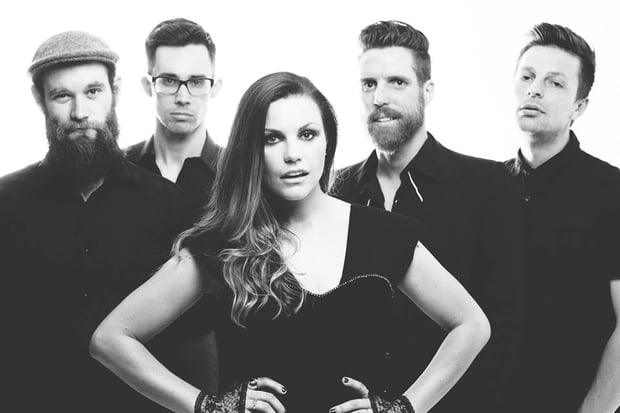 Photo by Daniel Lames Grant
Australia's not only known for its unique natural wonders and beautiful nature, but also for its great contribution to music. While the Billboard charts usually feature artists from England or the United States at the top, there are tons of great music communities Down Under.
Soul-pop band BOOM! BAP! POW! has seen a ton of success in their hometown of Perth, one of Australia's most vibrant music cities. Whether they're licensing their music with major brands, reaching thousands on social media, or rocking their local scene, they're doing it right. We caught up with Paul Hines of the band to find out what might surprise people about the Australian music community and how they've found international recognition as an independent band.
Before we dive into your accomplishments, tell us about the origin of your band name. It's certainly fun to say!
Cheers! It was actually our old bass player that came up with the name. We wanted something that packed a bit of punch and had a bit of a retro reference.
Diet Coke and Microsoft commissioned one of your singles for some pretty big campaigns. How did you land this feature?
I think we were just lucky to be heard by the right people at the right time. When you put a tune out there in the magical land of the internet, it might end up anywhere these days.
Pairing music with big brands always means big exposure. How have you turned new listeners exposed to your music through those placements into diehard fans?
We certainly have many more international fans reaching out to us on social media these days. We still feel like our scene is very local, as we've played 90 percent of our gigs in our home state. It's easy to forget that, thanks to these ads, our tune is being heard on the other side of the globe, and it's always nice to get a friendly message that reminds us of this. We always try to nurture these connections and make sure that our music is readily available in all corners of the globe.
[3 Surefire Ways to Turn Fans Into Superfans]
One interesting place you've seen a ton of success is the app Shazam, touting over 34,000 Shazams. What are your thoughts on the app? Do you use it yourself?
Yeah, I think it's an amazing piece of technology. I love being able to find out the name of a new tune instantly when it grabs your ear. It used to be you'd hear a song when you were out and think, "I've got to find out about that artist," then you'd forget about it by the time you got a chance. Now it's all at your fingertips.
What other apps do you think are imperative for indie musicians?
Davey, our drummer, is the youngest and therefore the best at social media. He runs our Twitter account, and we all have a crack at keeping things current in Facebook-land. Simple recording apps on your phone are so useful in the songwriting/jamming process. Ideas that would previously have been lost are recorded straight away at high quality.
Talk to us about your local music scene. Australia has been put on the map with some big artists like Sia and Flume, but what really goes on in smaller music communities like Perth?
The coolest thing about playing in Perth is that everyone supports each other's music, regardless of genres/scenes, etc. We have mates in bands that represent anything from metal to soul or hip-hop bands. They are all happy to play with each other and support each other's music.
Also, the Perth scene is so cozy that one musician may end up playing in several bands across several genres. Tonight, I'm off to see our bass player play in a rad blues band, and I just noticed that he's billed in another band at a pub down the road like 15 minutes after that gig.
[How to Be a Good Citizen in Your Local Scene]
How does the Australian music community compare to other major music hubs, such as England or the United States? What might surprise people about the differences?
Australia is such a large country distance-wise, but musical connections make it seem smaller. If someone over on the East Coast likes your stuff, they can be very accommodating with lending gear, support slots, etc., and it's always reciprocated on this end. We have yet to dip our toes into touring internationally but hope to one day soon. Hopefully, we'll find a music community that is just as welcoming!
In your opinion, what are the most exciting aspects of Australia's music community that the rest of the world might not know about yet?
Some of our brother/sister bands from Monster Management are starting to do amazing things globally. Check out Methyl Ethyl and Tired Lion. Perth legend Abbe May has also just released some new music with a hot new band, and everyone here is really excited about it.