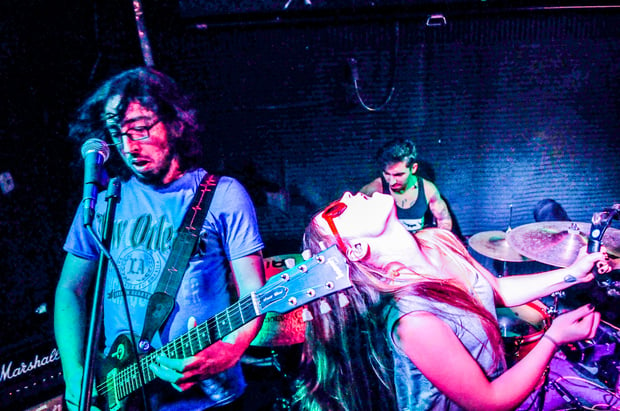 Image courtesy of the artist
Do you have great songs, great talent, and a dream of performing with a band? Perhaps you know a few musicians in your city, but they just don't blend with your vision. After singer Liz Bills had somewhat of an epiphany one night (which she describes in more detail below), she put up an online ad seeking bandmates the very next day, which ultimately led to the formation of Massachusetts-based rock outfit Analog Heart.
After a few wacky auditions (which you'll also get to read more about in the Q&A below), she started a strong, promising band that's gone on to accomplish some big things. We caught up with Bills to learn about what it was like finding potential band members online, and how she managed to choose the right musicians in the end.
[You Can Now Use Sonicbids to Find Band Openings and Musicians – Here's How]
Your bio mentions that Analog Heart was formed because of a vision you had. What happened exactly that inspired you to form a band?
It was more of an epiphany or a realization. In reality, it was me laying in bed one night with a cigarette laid out before me. I decided that night to quit smoking (after six years of a pack a day) and to form my own band. Smoking was destroying my singing voice. After that night, I never smoked a cigarette again. I knew if I didn't get serious and make moves on my own, music would never happen for me. So that evening was my breaking point; that evening I turned everything around. I knew I would have to find a band and lead a band on my own. That terrified me, but it scared me more to not do it.
We're impressed that you formed a killer rock band by putting up an online ad. What kind of responses did you get?
I remember getting a ton of responses. I found my first drummer, Anthony, the drummer we had right before Austin, on the very first audition! I remember going to Anthony's house and hoping he wouldn't turn out to be this crazy guy out to kill me. Anthony turned out to be a really friendly and talented guy.
I found our current guitarist, Jesse, shortly after. It was a lot easier than I thought it would be. After Anthony had to leave the band, we found Austin so easily. His mom actually saw the Craigslist ad and pushed Austin to shoot us over an email. (He was only 17 at the time.) Because of his young age we actually blew him off and told him no thank you at first. He sent back another email asking us to give him a chance, and we liked how ballsy that was. He came into the audition knowing the songs cold and killing it on the drums. We hired him on the spot.
When you were auditioning musicians, what qualities did you look for?
I always compare looking for bandmates to dating. It feels like the same thing to me. You look for someone who you can get along with, someone that is stable and able to commit to you and your project, someone who isn't bat crazy (seems like a lot of musicians are, myself included at certain times in my life haha). You look for a bandmate that is talented and passionate. Then you have to "date," aka audition, a bunch of these musicians to find out if you are truly compatible and if you really like each other.
So the ones I pick to come back and play with us have to really be digging the music and me as a person and vice versa. They have to be able to keep up with our level of musicianship. They have to be serious, focused, and committed. There has to be that spark! It just has to feel right for the both of us.
[How to Audition a New Band Member]
How were you able to form a strong, trustworthy bond with a new lineup? Was it difficult getting to really know and trust each other after completing the auditions?
I don't remember it being difficult to form a strong, trustworthy bond with Jesse and Austin. I remember it feeling natural and we grew together like a natural relationship should. Though we met through Craigslist, it was just like any other new relationship. We had to get to know each other and it felt right and good on our journey together.
We're curious: what were some of the weirdest things you saw in the auditions to start your band?
We had a player leave an audition without saying goodbye, left his music equipment in the practice space, unfriended us all on Facebook, and never talked to us again. We ended up selling his equipment a few years later. We had another player call us names and freak out during rehearsal. We've had a player basically fall asleep onstage while playing and, unfortunately, we had to let him go after that. The band life is never boring!
What advice would you give to other independent musicians look to start or join a band and are thinking of doing some advertising online to meet new musicians?
I would tell them to not be afraid, to be prepared for wacky auditions, to enjoy the ride, to be patient and open-minded, to never give up, and to never settle. Know what you want in a band member and keep looking for that musician until you find them. They are out there! It's just like dating. Keep going on those bad and awkward dates until you find that person that is special, until you find the right musician for you and your project.