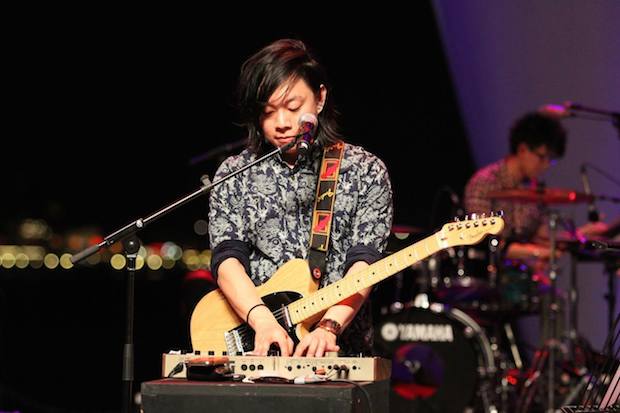 Photo by Farand Ngoh
Navigating a career as an international artist has been a natural shift for Singapore-based alternative folk/rock band DEON. After years of touring Singapore, DEON began to make a mark in other countries like Canada and the UK by playing Canadian Music Week 2013 and International Pop Overthrow UK 2014, both of which they booked through Sonicbids. Below, vocalist Deon Toh shares his advice for other indie bands looking to branch out to international markets.

What are the biggest differences between the Singapore music market and countries like Canada and the UK?
Singapore's market is tiny compared to Canada and the UK, but I would say our band faced the same problems. We are like a microcosm of these countries. Bands are constantly looking for exposure, some musicians are unfairly paid, the music scene indulges in a huge variety of music, and competition is high due to the sheer number of (improving) bands. Unlike bigger countries where bands can constantly source for new audiences in different states and towns, Singapore is an island city, and musicians have to streamline their strategies to constantly reach out to the same audiences. Thankfully with advances in technology, musicians have been afforded simpler options to reach out to different parts of the world.
How did your marketing strategy change when you decided you wanted to branch out into other countries?
English is the main language of communication in Singapore, so it wasn't necessary to change my music to reach out to a global audience. As a singer-songwriter act, I've always subscribed to the belief of placing music first before positioning my marketing strategy. The biggest change came in making sure that I had a good performance portfolio, accompanied by a well-prepared press kit, and consolidated social media accounts. I had to make sure that the identity portrayed was concrete and consistent. All your information on the internet becomes one big portfolio, so you have to exist on a respectable number of platforms, so that fans can find you.
For other indie artists interested in having an international presence, what advice do you have for them for expanding into a new market?
Perhaps just gentle reminders to polish up your musical arrangements and styling to fit international audiences; practice, practice, practice; engage in the local culture of different countries to make new friends and to find out more about what performing in their country is like; and to turn up prepared. Doing one tour is usually not enough to grow a new fanbase in a foreign country, but coming back to perform more might just establish your connection with people in new markets. At CMW 2013, we made friends with some locals during the festival. When we returned in 2014, we grew closer to them and received more support from them. It's all about being sincere in your efforts to establish new friendships and listenership when entering a new market.
Through Sonicbids, you were invited to perform at Canadian Music Week and International Pop Overthrow UK. How did your experience of touring Canada and the UK differ from previous tours you've done throughout Singapore?
As aforementioned, Singapore is an island city. My band and I can play a show and all return to our respective houses after. Each venue to and from our residences take less than 30 minutes of travel time. Most venues provide a simple backline so bands don't have to lug their gear all around the island. This makes gigging/touring in Singapore really simple, and bands can focus on preparing their music.
In Canada and the UK, we've had to plan our tours in detail, lug around all our gear, and secure transport and accommodations. As an independent act, there's a whole different list of things to do that would make the performance a success. Audiences in Singapore are great; they do turn up and show their support when it counts – but audiences in Canada and the UK don't just turn up to hear your music, they thoroughly listen while you play. This makes them a tough audience to perform to. They will let you know how they feel about your music. If you're not their cup of tea, you'll see them leaving in droves. But if you perform well, you'll hear about it too. We've had many great nights performing on tour and spent almost the same amount of time performing as talking to audiences after. The Canadian and British audiences are more interactive and vocal as well. For one, it's a fact that we've been asked to perform encores three to four times more overseas than back home. We love every moment on tour.
What has been the most rewarding aspect of being a Sonicbids artist so far?
The convenience afforded to an artist to apply for gigs that wouldn't usually be available. I've had to opportunity to perform in different countries and stages through Sonicbids. Performing in international festivals has also made it easier to apply for festivals back home as my performance portfolio expanded. Additionally, the platform also makes sure you evaluate yourself as an artist, ensuring that you have all your necessary marketing tools to pitch to organizers. When done right, you'll be able to promote yourself on a pedestal. Overall, the platform has polished me to be a better prepared artist.
You're currently working on your second album. What can you tell us about that? How does it differ from your first record, Antiphobic?
Antiphobic was written, arranged, and produced in early 2012 before my team finally released it in 2013. Between then and now, I've flourished as a musician, and my musical influences have started to lean towards indie rock and electronica. These changes in taste are apparent in the upcoming album, titled Oceans. Although the backbone of my music is geared towards pop hooks, you'll be hearing touches of Ásgeir and Sigur Rós mixed into my writing and arrangement style. Inspiration-wise, Antiphobic was triggered by stories I wanted to narrate; it was an outlet to tackle subjects I couldn't confront. Comparatively, Oceans was inspired by my travels with my backing band. We had the privilege to travel to places like Iceland, Toronto, London, and Liverpool in 2014. Within the span of six months, I found enough inspiration to concoct another album. The songs share themes of travel and the four seasons – all used as a platform to express deeper issues that I've carried with me.
Kathleen Parrish is an award-nominated Seattle-based singer and songwriter. Her music, touched with hints of R&B, rock, and jazz, is both versatile and unique. Aside from her music, Kathleen is a freelance journalist. For more info, please visit www.kathleenparrish.com.