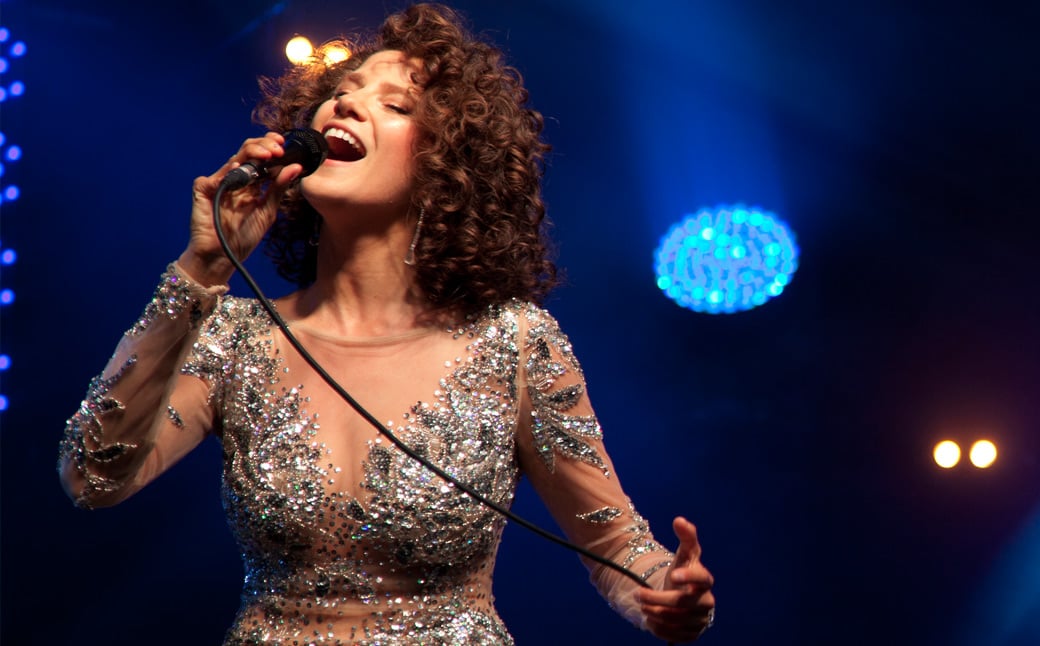 Image via cyrilleaimee.com
Olympic medalist Picabo Street once said, "To uncover your true potential, you must first find your own limits, and then you have to have the courage to blow past them." Cyrille Aimée is improvising her way to her limitless potential as a "rising star in the galaxy of jazz singers," as The New York Times puts it.
Receiving such acclaim from the likes of the Times and the Wall Street Journal is nothing new. Cyrille has been celebrated by many for her musical gifts for many years now. In 2013, musical theater icon Stephen Sondheim personally chose Cyrille to sing alongside Bernadette Peters in a special tribute to his music at New York's City Center.
Despite releasing multiple critically acclaimed albums over the last 10-plus years, winning multiple music competitions, being a featured speaker at TEDx and Conference of World Affairs events, and teaching her own master classes, Cyrille has managed to stay humble as a servant to the art and an eternal student of life.
She released her latest effort, Move On: A Sondheim Adventure, on February 22 on Mack Avenue Records, and the critics are loving it. Matt Silver of the classical & jazz radio station WRTI 90.1FM says of Cyrille's new release, "Musically, Move On is the equivalent of a superior cocktail hour or world-class tapas bar; Aimée takes the Sondheim canon and gives us a chef's tasting menu's worth of small jazz plates that satisfy but don't stuff."
We sat down with Cyrille the other week to discuss her approach to music after being influenced by a caravan of gypsies while growing up in a small town in France, how she handles rejection and defines success, and what advice she'd pass on to other musicians who might be getting in their own way.
I'm very curious how you got started in music. When did music really first enter your life in terms of, "This is more than a hobby"?
Cyrille: I think when I first sang in front of people and realized how it made people happy and people smile, that's when I decided that's what I wanted to do forever.
I grew up in a little village on the outskirts of Paris, and it's the village where Django Reinhardt used to live. Every year, there's Django Reinhardt festival in his honor, and gypsies from all across Europe, including his family, come in their caravans and play guitar 24/7 around the campfire i
When I was a little girl and became friends with the gypsies, I fell in love with this kind of music: the music of the moment and very improvised.
Would you consider yourself a jazz musician?
Cyrille: As artists, we don't like categorizing stuff. You know, our role is to break the boundaries and try to find what is us, and we're all different so we can't possibly all be fitted into the same category.
But for me, jazz is not as a category or style of music, it's a way to play any type of music, so I guess I would say I'm a jazz musician just because it entails a lot of improvisation. You're kind of in the moment and not really knowing what's going to happen, and that's what I like.
One of the things I wanted to talk about was your amazing TEDx talk where you mentioned how shielding yourself from your audience and being more of an introvert is, in a way, egotistical. What did you mean by that? So many musicians do define themselves as introverts, so how did you overcome that, and how did that that view help you?
Cyrille: When you're performing, you have to be out of your head. The most important thing is everything around you except yourself, and when you're nervous or introverted and shy, and not giving your all, basically, it's because you think this is about you, and it's not. The audience is there to be touched and to feel something, and you can't let your ego get in the way of that.
I also liked what you said in your TEDx talk about making eye contact with other musicians onstage, feeding off of their energy, and giving them energy as well so that they can do their best job.
Cyrille: In the beginning, I was super nervous. I was fine when I was singing, but as soon as the song was over, I didn't know what to say. But if you force yourself, little by little, to really have eye contact, connect, and open yourself up, you get the benefits of that so fast that you just want to do it because you receive the same energy back to you and so it's addictive.
It's just a a whole connection with the audience and with the band members, with everything that's going on in that moment.
Your first time at Apollo Amateur Night, you got booed, but later won the Apollo crowd over. Going back to that first time, at the Apollo, what kept you going?
Cyrille: I never thought, "This isn't going the way I'd hoped." The struggle has always been there and will always be the struggle of being in your head and then remembering that you just have to be in the moment and have fun, and that's what the audience comes to see. They come [to see] that I'm being human, someone being imperfect, someone's weakness, someone's vulnerability. I'm not an enlightened person who now knows everything.
Everything I'm telling you is a struggle that I constantly deal with when I'm onstage, and it's just about finding little ways to remind [yourself] every time. The more you do it, the less you're in your head and the more you're able to stay in that moment, but it's always a constant struggle.
What happened to be at the Apollo is a good reminder and humbling. I do these competitions just to learn and compete with myself. I don't really care about the results. To always challenge myself whether it's in competitions or putting out a new record that has nothing to do with the previous record, changing band members and looking for a different kind of style of music to sing, a new repertoire… all these things to just constantly grow. Even if my career is in a good place, I still have so much to learn, and I'm still trying to push myself.
[7 Times You'll Want to Give Up on Your Career (And How to Get Past Them)]
I think a lot of artists get hung up on trying to reach a certain level of success, and what I like about what you just said, you don't feel enlightened, you just know that this is something you have to remind yourself about and continue to work on.
What can you tell artists out there who are are looking at a certain level of "success" that they are always trying to attain?
Cyrille: For me, successes is happiness. If you feel love for yourself and if you're happy doing your craft, then you're successful.
Sometimes, you tend to forget why you were making music in the first place — because it's fun, not because you need to pay the rent or because you want to be famous. I think even if you're super successful but you forget this, to me, that's not success. Success is getting up every morning and having fun playing your instrument no matter what, if it pays or if it doesn't pay, if you are a star or not.
I always tell my students, you can see on my biography that I won this competition or that competition, but you can't read about the competitions I didn't win, right? And those are the ones that I learned the most from.
The thing is, is when you see people whose careers are doing good and people who are "up there," it's kind of automatic to think, "Aw man, this person is so talented and their whole path, things were smiling at them, and it was easy because they're good at." No, no, no — people who make it are people who fall down like everyone but [who] get back up. And it's just about getting back up because everyone falls down.
Is there anything that kind of surprised you as you got more into the business of music?
Cyrille: The music business is difficult, and we're all in the same difficult boat, you know. It changes a lot, but some things don't adapt to that change. For example, selling records and all that.
So, I feel like sometimes it's kind of a mess, which is why I just like to be on a stage and have my audience, because that will always be powerful.
And I think it's good for our readers to know that somebody who's accomplished so much and somebody who does have a team, that feeling of, "There's so much to be done" doesn't really go away.
Cyrille: Sometimes it's even worse because instead of just doing it yourself, you have to deal with a team that you have to tell what to do and then repeat it to them.
[4 Team Members Every Band Needs (And the Right Order to Bring Them On)]
Sometimes, new artists think, "Well once I get signed you know this will be done."
Cyrille: No, no, no. Don't ever think that.
Cyrille Aimée continues to wow critics and fans alike with her refreshing approach to not only music but life in general. Approaching her performances as a service to her audience, rather than a showcase of her own talents, she is able to make each show a communal experience.
In a world where many of us are worried about the perfect selfie light or writing that next hit song, Cyrille's gift for improv reminds us to live more in the moment and have fun. As she said, it's the reason we started down this path in the first place, isn't it?
Suzanne Paulinski is a mindset coach and founder of The Rock/Star Advocate. She helps music industry professionals gain confidence and clarity in their goals with a healthy work/life balance. Her book,The Rock/Star Life Planner is now available on Amazon.