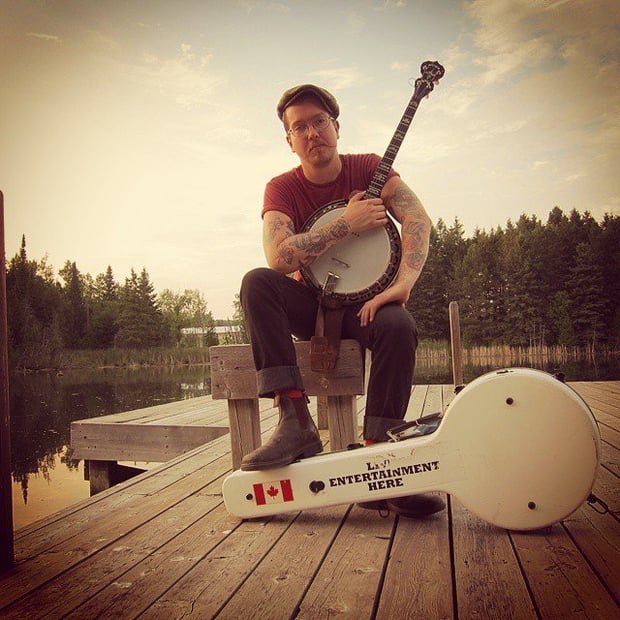 Darren Eedens (image via Facebook)
Musicians are always told to move to major cities like New York and Los Angeles to have a shot at making it big, but after folk singer-songwriter Darren Eedens performed at the popular Focus Wales Music Festival & Conference three years in a row with positive reception, he decided to try something unique: he left Toronto's eclectic, buzzing music scene to move across the ocean to a small city in Wales.
Technically, Toronto has a bigger population than the whole country of Wales, but that actually worked in Eedens' favor, as his music now makes a bigger splash in the scene. He's gone on to tour all over Europe, making a name for himself in bluegrass, Americana, and folk. And while there are certainly limitations of living in a smaller city, Eedens has had no trouble finding inspiration in his new environment – not to mention that hopping on a plane for a gig has never been easier or more affordable!
So, if you're wondering what goes into a big international move, or how living in a small city can actually be amazing for your music career, you'll want to hear Eedens' story.
Moving from Canada to Wales for your music career is no small decision to make! What was the inspiration and reasoning behind it?
I had decided a few years ago to take a stab at touring in Europe. Having only really been touring for a couple years and only in Eastern Canada, it was a bit of a big jump. With that tour, I really caught the bug for being on the road, and I was very well received in a number of countries such as Belgium, Germany, and throughout the UK. I started flying over for tours once or twice a year and began building a name for myself and played more and more with each trip.
Fast forward after a couple years of doing that and my partner wanting to study abroad, and we decided the UK would be great. The options were either Scotland or Wales, and I sort of fell in love with Wales on past trips, and made a lot of friends and fans that I would see on every tour. We heard that Cardiff had a great music and culture scene and was generally a great place to live. So we packed up our suitcases, grabbed a couple banjos, and before I knew it, here we were, and it has been amazing for European touring.
Was your music gaining any traction while you were living in Toronto? How does the scene there compare to Cardiff, Wales?
Toronto has an amazing music scene; whatever you can possibly be into, you will find it. There are so many talented people and great bands/musicians coming out of the city. Now I live in an entire country with a smaller population than the city I used to call home. I think I needed to get out of the hustle of such a major city. Cardiff is a capital, but doesn't feel like it. If I'm in need of inspiration or quiet, I can walk or bike, and before I know it, I am either by the seaside or walking through hills where the only thing around me is a few sheep. It has really helped me grow as a musician; I have written more and created more here than ever.
I had already gotten my name around in Wales before moving here, so it made the transition great. I was able to get here and have gigs lined up all over the country. Because it is a small city, it didn't take long for people to recognize me. I stand out as more unique here; not a lot of people are playing Americana, roots, bluegrass, and country music. Add in the Canadian accent and the fact I play banjo, and it has led to a good amount of work for people that want to put on a show a little out of the ordinary here.
It's a very music oriented city and country, and much like Toronto, there are many many festivals all throughout the year.
Compared to living in North America, what's your experience been with touring, getting press, and collaborating in Wales?
Being here has helped my touring an incredible amount. I have played in more countries over the past year than I had in my entire career beforehand. The travel is affordable, and everything is so close – it's amazing. I am used to gigs in Canada where, when touring through the prairies, you drive for days on end. Now, I can hop a plane and play a festival in Denmark, and be back having dinner in my own flat the next day.
Since being here, I have played in different countries every single month. We have settled in, and it has truly worked out to be the best for both my partner and me. I have started to get more press, and my name gets out there more and more. I do have a publicist now, but really it almost all comes from old-fashioned grinding it out and gigging every night. If it goes well in a particular city, I make sure to come back, which can happen a whole lot easier now.
I haven't done as much collaborating as I would like, with being on the road so much. However, slowly but surely with all the people I have been meeting, collaborations do happen, and I get asked to perform at more events and start putting on events with others.
Is there anything you miss about the music scene in Toronto?
I do miss how much of "my" style of music there is back home. You just get a whole lot more Americana and roots music. I mean, in Toronto, you can go see a honky-tonk big band, cross the street to a whiskey-soaked country band, then get up the next morning and go for Bluegrass Brunch (real thing: the Dakota on weekend mornings – it's amazing). It is nice standing out here as something different, and like I say, it's been great for touring. But it's a lot harder to go catch a gig of that nature here.
Tell us about your experience at the Focus Wales Festival. What type of impression did it leave on you?
I have played Focus Wales for the past three years, and I have to say it was my first experience in Wales and a major reason I wound up in this country. I live in the South, but I have made so many lasting friendships and bonds up north in Wrexham. The whole community comes together for this event, and every person there is out supporting live music and art for days on end. By the time I came back for the most recent one, it felt more like a family reunion than a festival, except I've never been to a family reunion with such great music.
What benefits or opportunities came out of playing Focus Wales for you?
From playing the festival, I have played in a number of cities around Wrexham to great audiences who had seen me play at Focus – they are that supportive. I will also have my first-ever art show at a gallery there, a new venture for me that I never would have done if it wasn't for taking a chance and coming over to play a festival a few years ago. I get asked to perform at different pubs and events all the time, directly from people I have met and continue to see every year at Focus.
What's the number-one thing other artists should keep in mind before making an international move to advance their music career?
Money. As much as people like to say it's not about money, the fact is, moving across an ocean is no cheap task. Not to mention the Canadian dollar is doing so poorly right now.
Before moving, I had months of gigs planned with guarantees, travel, and accomodations sorted before I even got on a plane. This was simply because I knew I was coming here with no other source of income, so I couldn't just show up and play some music on a street corner. I needed real cash flow to survive. The benefit of this being, not only did it keep my rent paid, but it got me exposure and a lot of contacts in different places. The only real shame was that I think I spent a total of three weeks in my new apartment out of the first four months I lived in Wales – but gotta make a living somehow!
Want to experience Focus Wales for yourself? They're currently looking to book 11 Sonicbids artists for the 2016 festival! Apply by December 1, 2015.
Next up: