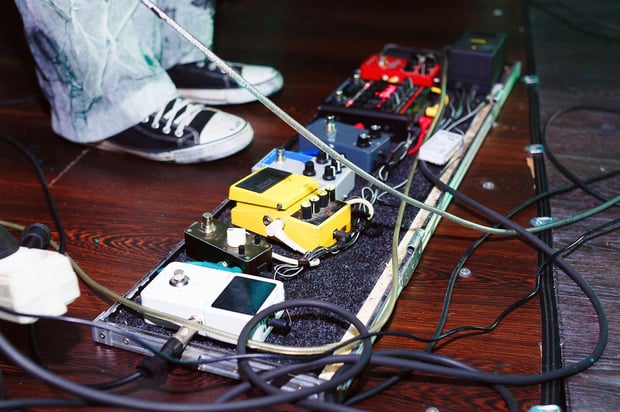 Image via Shutterstock; all other images via flypaper.soundfly.com
This article originally appeared on Soundfly.
Guitarists like to spill ink all the time about distortion boxes, classic overdrives, boutique delay pedals, and bucket-brigade modulation effects. It's understandable why: These attention-grabbing stompboxes lead to dramatic and satisfying changes in sound. Like a great vintage amp or a top-notch guitar, it's these larger-than-life pedals that help a player define his or her own sonic character.
Sometimes, however, it's the most often-overlooked pedals that can make all the difference. Learn about them, and get them on your pedalboard – you'll be surprised at the wonders a simple and relatively unsexy pedal can do for your sound.
1. Compressors
Compression is a much-touted but often misunderstood effect. It's easily abused, but when deployed wisely, it can enhance your signal immeasurably. Compression works by managing volume, bringing loud peaks down to more closely match quieter amplitudes. This processing will usually alter the balance between the early attack of a signal (called the transient) and the later sustain phase. You'll often hear this as a modification in tone, but at root, it's just volume changes.
Compressors really shine at the front end of your signal chain, possibly even as the very first pedal. This allows them to grab your signal straight off your guitar or bass and reign in any wayward peaks, imparting smoothness and consistency to your performance. A strummed rhythm will feel more present and articulated. Both single-note leads or low-end bass lines will benefit from the pronounced sustain a good compressor imparts. And any other pedals following a well-set comp will generally benefit from the consistent dynamics and improved tone.
Here are some great products to begin your search.
MXR M-102 Dyna Comp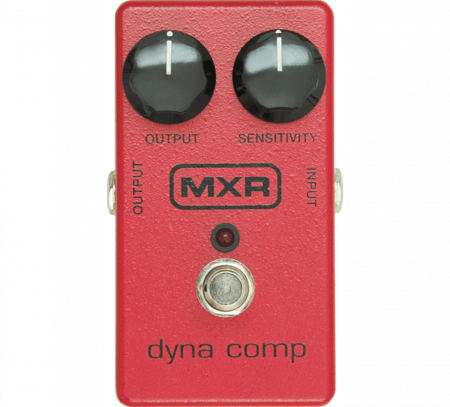 It's cheap, cheerful, and dependable. Based on the circuitry of the classic but pricey Ross Compressor, this compact two-knobber is tremendous value for your money. If you want to experiment, this is where to start.
Origin Effects Cali76 Compact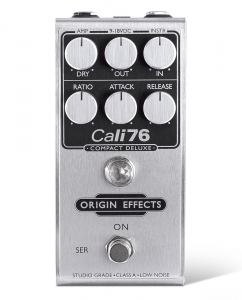 This one is based on a Urei's 1176, one of the greatest studio compressors of all time (it's been inducted into the TECnology Hall of Fame), coveted for rich analog saturation. The Cali76 is replete with options, allowing for detailed control of the gain-reduction action, as well as the option to blend the dry signal back in for parallel processing. Be aware that its perks and great sound come with a heftier price tag.
Diamond BCP-1 Bass Compressor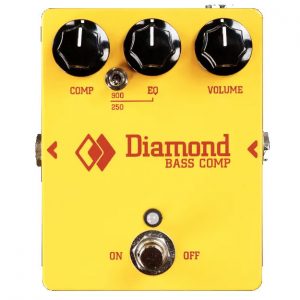 One for the bassists. It's a bit bigger than normal, but you're gonna love the amount of headroom you can get out of this thing, especially when it's run at a higher voltage. It's very forgiving when cranked hard, clamping down on your signal in such a way that gives it larger-than-life, shiny, harmonic saturation. For bassists, having a well-rounded sound that sits comfortably inside a live-band mix is all the more important.
[Rockin' out in the rhythm section of your band? Learn to write and execute tighter grooves with Soundfly's new course series Get Into the Groove.]
2. Effects Loops
While it's not that exciting to think hard about signal routing, it can be a real weapon in crafting polished and unique tones, and it can improve your ability to alter your sound quicker onstage. The reality is not every single pedal on your board will sound best 100 percent wet and across all EQ frequencies. In the studio, you can do all kinds of great stuff with dry/wet blends, effects sends, and the like. But this is tougher. With an effects loop pedal at your feet, you can bring some of that studio magic to the stage.
Boss LS-2 Line Selector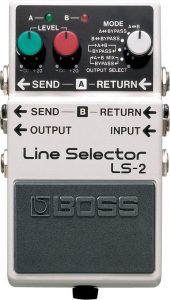 Start blending without breaking the bank. Like all Boss pedals, this guy gets the job done, plus a little more, and is built to take a whole lot of punishment. A good place to start for a constantly touring musician.
Xotic Stereo X-Blender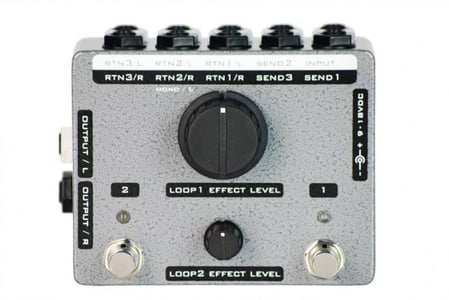 Put a signal in, and the Xotic X-Blender can blend it to taste with any other pedals that run in the parallel chain. It has many great features, but I particularly like the ability to EQ the parallel signal onboard the unit. For example, a bassist might love experimenting with crazy sounds but want to keep low frequencies clean and fat. A pedal like this makes that a breeze and is just one of many possible applications. It's worth a serious look.
Lehle D.Loop SGoS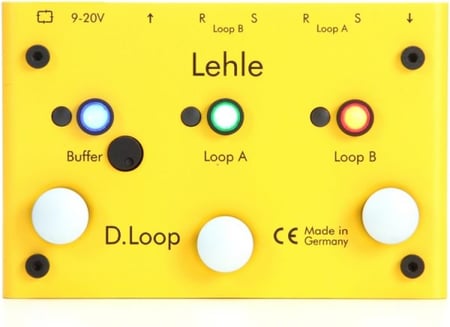 The "SGoS" stands for "Second Generation of Switching," and this box boasts not one, but two separate effects loops for ambitious board owners. The obvious application here would be something like switching between clean and dirty sounds each based on their own pedals. But with possibilities this endless, the sky and your brain are the limits.
3. Equalizer Pedals
We all know that well-shaped equalizer curves are one of the keys to the tone castle. Why not give yourself that extra level of control rather than limiting yourself entirely to the often-imprecise knobs on your amp's front plate? A solid EQ can be used as an "always-on" pedal, giving a pleasing push to signal or eliminate troublesome frequencies.
Alternatively, it can be used only for select moments, with the ability to moonlight as a more versatile, clean boost for solos or other sections that need volume and sparkle.
EarthQuaker Devices Tone Job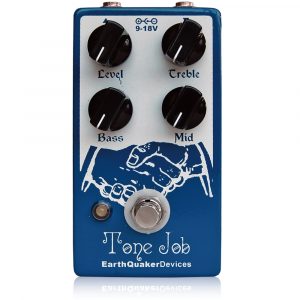 If you like to keep your EQ straightforward, this box from one of today's leading boutique pedal vendors could be for you. Each knob contains a massive 20 dB range to add or subtract, meaning that this simple-looking pedal packs a considerable punch.
Source Audio Programmable EQ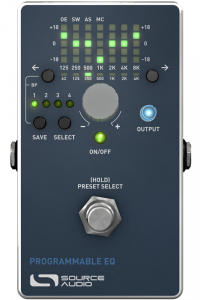 This compact and modern box contains a truly remarkable amount of functionality based around the ability to store and recall four different presets. If you want a bevy of options at your feet, this is the equalizer for you.
Empress ParaEQ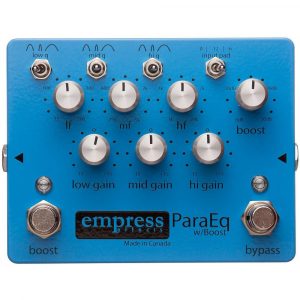 This full-featured stomp provides a tremendous amount of versatility and an all-analog, true-bypass signal chain that will please tone purists. As well as packing a separate boost function, each EQ setting on here has a selectable "Q," allowing for wide, gestural changes to tone or specific surgical notches that nix those troublesome frequencies.
Sound sculpting can be done in any phase of an artist's music-making journey, from the pedalboard to the mixing board, but if you're looking for some tips and tactics for capturing and warping sounds in a DAW like Ableton Live, be sure to check out Soundfly's free course series Any Sound Will Do.
Next up: The Guitarist's Guide to Building a Formidable Pedalboard
Alex Wilson is a multi-instrumentalist, composer and producer from Sydney, Australia. He founded the post-rock band sleepmakeswaves, with which he has toured Asia, America, Europe and Australia. In his spare time he writes music for short films, produces bands and subsists on altogether too much coffee. Alex is the instructor of the upcoming Soundfly course, Ableton Live Clicks and Backing Tracks.