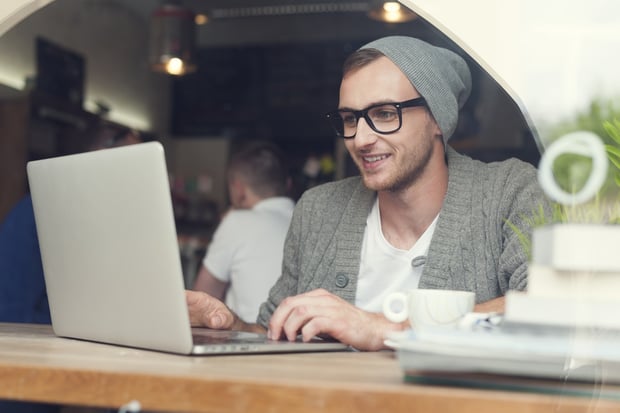 Image via Shutterstock
Doing YouTube "right" takes a lot of work... and a lot of content. One trick to having more videos – which usually equals more plays, meaning more money from the Google-owned giant – is to find ways to turn your back catalog into YouTube gold. There's so much potential in every song whether it's a single or not – you just need to unlock it!
If you're looking to get more out of your back catalog, here are a few tips that could all come in handy.
1. Create simple videos for every song
While YouTube certainly lends itself to excellently shot music videos, that doesn't mean everything you upload needs to have a massive budget. In fact, if you have music that's ready to share with the world, it shouldn't just be on iTunes and the typical streaming services, it should also be featured on the largest video platform in the world as well.
You should be uploading every piece of music you have, and all you need to do is create a "video" using the album cover, a photo of the band, or whatever else you feel works. In fact, if you find something that works (such as the album cover), it's a good idea to use that template for every track that doesn't have a proper treatment. This requires minimal effort, and the payoff is definitely worth it.
2. Make lyric videos
If you're good with video animation, or if you're willing to shell out a few bucks to someone who is, lyric videos are a lot of fun, and they can help bring in views for songs that might otherwise be ignored. Adding a little extra to a video (as opposed to just an album cover or a band photo, as I mentioned above) could catch people's attention, and the more views, the better.
Lyric videos are great when you're gearing up to launch a big single and the final video treatment isn't done, or for those songs that your fans seem to like but might not need a full budget. If you go this route and you do it right, you could end up identifying what may go on to become a seriously successful hit.
[Why You Should Release a Lyric Video for Your Next Single]
3. Share live clips
Your biggest fans are sure to buy your latest album or at least stream the entire collection over and over on their platform of choice. You can only give them so many professionally recorded songs, as studio time is expensive, and you need to spend some time promoting what you have.
While you're touring the world playing the same songs over and over, see if there's an opportunity to record one of these performances. Such video (or even audio if that's all you can get your hands on) isn't always the most popular content, but it never hurts to share these kinds of clips on YouTube.
Now, you probably don't want to post some terribly shot, camera-phone file, but if you have the means to secure something that's even somewhat good, live videos can be a great way to get more views out of the same music, and it may convince some people to buy a ticket to see you the next time you're in town if you can make it seem like your live show is a lot of fun.
4. Upload acoustic versions, remixes, and instrumental tracks
Just as live videos can give a new perspective on music your fans already know, so too can new takes on previously released tunes. If you're in need of some new content, or perhaps your play count could be higher, think about re-recording some of the songs that people are already familiar with, just make sure you get creative!
Try remixing a song, releasing an extended version with a solo or extra verse, give away the instrumentals, upload the a cappella version, or go acoustic. There are a lot of different ways to turn a song you've already released into something new, which means you now have an entirely new video on your hands.
5. Release full albums
Many artists are still trying to sell their albums, and while I definitely wouldn't advise against that, it doesn't necessarily mean that uploading full collections to YouTube is off the table. If you've distributed your new album to streaming platforms, keep in mind that there is very little difference between something like Spotify and YouTube.
You can either upload an entire, hour-long clip, or create a playlist with every track in album order. If you're trying to preserve as many album sales as possible, you can always hold off on posting until some time has passed.
Next up: 5 Types of Videos That Will Make Your YouTube Channel Way Better (Besides Music Videos)
Hugh McIntyre is a freelance pop music journalist in NYC by way of Boston. He has written for Billboard, The Hollywood Reporter, and MTV, as well as various magazines and blogs around the world. He is also the founder and editor-in-chief of the blog Pop! Bang! Boom! which is dedicated to the genre of pop in all of its glory.