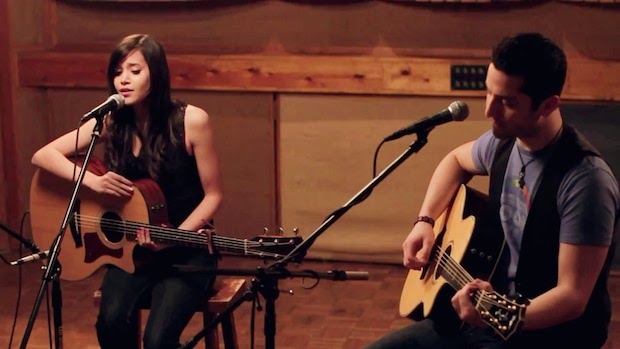 Image via YouTube
As a musician, you know how important it is to regularly upload content to your YouTube channel, but sometimes it can be tough to come up with engaging content. There's typically a good stretch of time in between new albums or singles, and music videos – the go-to option for musicians looking for something to post – can be expensive to make.
YouTube is great in that it isn't just a home for big-budget clips, but rather one where many different kinds of content live. The more content you post, the more there is for your fans to watch (and the greater chance you have of new fans discovering you). If you're trying to fill the gap in between proper releases, you actually have a lot of options.
1. Acoustic versions of your songs
This works for pretty much everyone, unless you're an artist who only records acoustic music in the first place. Re-recording a song acoustically allows you to put an entirely new spin on almost any track, and fans might find it especially interesting if the original is pretty far from "acoustic." Are you an electronic artist, or perhaps one who loves turning the knob all the way up on your amp? That's great, but I'm willing to bet you have some really great songs that could stand the test of switching styles.
An acoustic video can be as simple as setting up your iPhone and recording something in your bedroom (that's how many people got their start, after all), or you could up the production value if you have the budget and the equipment. Why not record an acoustic take while in the studio and film it, or perhaps in some cool location? These are easy and cheap videos to record, and they can drum up new interest in songs you've already released.
2. Live recordings
This one might be a little tougher if you want to do it "right," or you can go the DIY route and just do your best. If you're keeping things cheap, ask your friends or the people who work with you (those who would be backstage or who you can get back there) to film you performing, and place people in the audience and in specific locations where they could get some good shots. Between the few people you've got taking video (on their phones, or with some real video equipment, which can usually be rented as opposed to purchased), you should be able to piece together a good video. If you're going to spend the time, money, and effort making this one happen, you might want to film an entire show and make use of all that content later on.
3. Remixes
This one is an interesting prospect, and one that so many bands don't bother trying out. Remixes can take many forms, and there's no reason you shouldn't embrace all of them. If you don't have much of a budget for this sort of thing, ask local artists or those who are just getting their start if they'd be willing to remix a new single of yours for a small sum of money. If you are willing to spend some money, there are plenty of electronic artists who supplement their income with this kind of work.
A remix from a semi-well-known act can run you a few hundred dollars, but think of it as an investment. Once the remix has been made, you can not only sell it alongside the original, but it can also bring in additional dollars on streaming platforms like YouTube (all you need to do is add a single cover and post it).
4. Lyric videos
If the stars can do it, why shouldn't you? A lyric video may require you or a good friend to know something about creating and editing clips with some program, but other than that, they can actually be easier than a regular music video. Try not to spend too much time or money on these, but also be creative! If you make them clever and interesting, people will want to watch it more than once, and they'll do the same with any future clips. If you release something boring, why would they come back? A lyric video is a great way to introduce a new song, as it allows your fans to hear the track, and it satiates them while you work on the proper video treatment.
[Why You Should Release a Lyric Video for Your Next Single]
5. Behind-the-scenes clips
This is really easy, and you should probably already be doing this one. At any point, day or night, just pull out your phone and begin recording. Recording a new song? Tape it. Warming up before a show? Tape it. Picking the order of your new album? Tape it! Behind-the-scenes clips give insight for your fans into what you're doing and how you do it. While it may seem somewhat mundane for you, it's exciting to many.
In today's music world, you need to always be announcing or releasing something, so keep these in mind as you keep recording.
Next up:
Hugh McIntyre is a freelance pop music journalist in NYC by way of Boston. He has written for Billboard, The Hollywood Reporter, and MTV, as well as various magazines and blogs around the world. He is also the founder and editor-in-chief of the blog Pop! Bang! Boom! which is dedicated to the genre of pop in all of its glory.