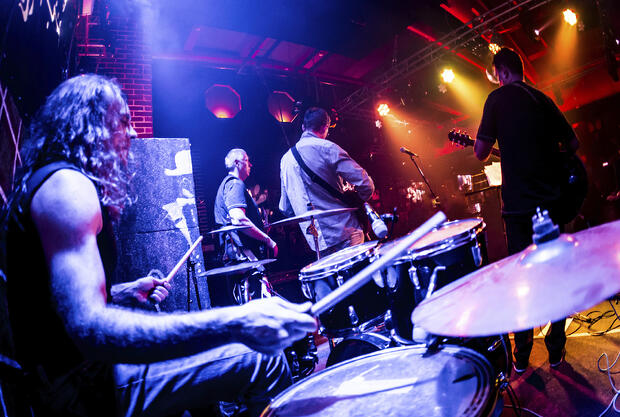 You've probably heard this many times, but most opportunities in the music industry come from personal connections that you cultivate. Unfortunately many times, the critical connections that could really propel your career into the spotlight are difficult to get, especially as an indie musician just starting out. You need to work your way up to those connections, starting locally and within your circle, and moving forward from there.
But as a musician, you have an easy ticket to these connections: other musicians! It's a lot easier to approach other artists, get a conversation going about music, and form a long-term connection. The cool thing is that they may know agents, sponsors, label people, publishers or promoters that they could introduce you to, and those connections could lead to more gigs and more opportunities.
No matter how many times the word networking is driven into our heads, we sometimes get overwhelmed with internal tasks like posting to social media or playing a great gig that we forget to take the time to introduce ourselves. It doesn't have to be a big ordeal. You don't need a big speech or a prepared pitch. Just get into the habit of introducing yourself to one or two people at every show you play. Talk to the person in charge of the soundboard – maybe they loved your show and would want to produce or record your next album. Introduce yourself to the other bands playing that night. Maybe there will be an opportunity for collaboration in the future!
Try out this strategy: Let's say you want to be able to play in a new city. Make a connection, either in person or via social media, with a band or musician with an established fanbase in that city. Try to target someone with a similar style to you who plays similar size venues. Propose a headline-trade. You'll open for them in their home city and they'll open for you in your home city. This puts both of you in front of a new audience and introduces both of you to local club owners you would never have been able to contact before. It's a win-win!
Once that club owner or promoter sees you play, witnesses your live show energy, and knows what you're like in person, he or she may be more inclined to bring you back – maybe even as a headliner! Be sure to always introduce yourself to the club owner or promoter. That face-to-face conversation will establish a stronger connection in their mind and set you up for more gigs in the future.
No matter how advanced technology gets, the music industry will always be a people business. Networking can lead to a whole lot more opportunities outside of just gigging. In the New Artist Model online courses, we explore many great collaboration strategies that can grow your fanbase. When you take one of the classes, you'll be able to network and learn from other students from all over the world as part of the class.


The New Artist Model is an online music business school for independent musicians, performers, recording artists, producers, managers and songwriters. Our classes teach essential music business and marketing skills that will take you from creativity to commerce while maximizing your chances for success. Get 5 free lessons from the New Artist Model online courses when you sign up for our mailing list.