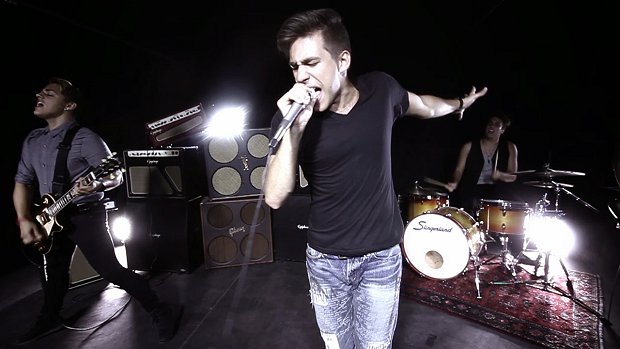 Photo courtesy of the artist
Becoming successful in the music industry takes a lifetime of devotion, but becoming successful and using that influence to sow into the lives of others is another story. Nationally touring pop/rock band Reverse Order is writing that very story with their rapidly rising music careers. Two years ago, they started their own nonprofit called Reverse The Trend, a music-based anti-bullying program, and have performed for over 250 schools in the last nine months with over 150 shows booked for the upcoming year. In addition to schools, they're no strangers to the life of recording and touring. Reverse the Order were semi-finalists on America's Got Talent season seven and have been featured on Warped Tour and Bamboozle. Band member John Russo checks in to give us some insight on the band's rise to success and the way Reverse The Trend is powerfully impacting the next generation.
Being on America's Got Talent must have been monumental in putting you on the radar, but we all know that there is no such thing as overnight success. What was your musical journey like prior to the show, and how different has it looked afterwards?
Before being on America's Got Talent, Reverse Order was consistently touring, writing, and releasing music. We worked night and day doing as much as we could for our career in the music industry. Since being on America's Got Talent, not much of that has changed. We still work just as hard – probably harder – write our own music, and tour constantly. America's Got Talent just opened a few more doors and opportunities to do things on a whole new level and is one of the major stepping stones in the founding of our nonprofit anti-bullying program, Reverse The Trend.
Social justice is a big part of your identity as a band, and it's extremely admirable. Can you tell us more about Reverse The Trend and the inspiration behind it?
Reverse The Trend is an anti-bullying program that we bring to schools and teen centers nationwide. We perform for the students, then speak to them about overcoming bullying and following their dreams. The seeds for Reverse The Trend were planted shortly after America's Got Talent when we were doing some performances in high schools. Students would come up to us and talk to us about different things that were going on in their lives, and we were able to identify with them through our own experiences with bullying. Realizing how big of an issue bullying was, we created the program, and started bringing it to schools nationwide.
Starting this anti-bullying program must have taken a ton of work on the back end. What did the practical steps look like in the process of turning it from a vision into a reality?
When we first created the program, it was a small idea. We had been performing concerts in schools during the day while on tour, and started noticing many people struggling with similar issues that we all struggled with in our personal lives. We decided to create Reverse The Trend as a way to give back and help those in need, and we started performing the program locally. Word of our program picked up very fast and we had teamed with another organization to bring us to over 240 schools in the past year alone. We just returned from nine months on the road, and since then we have been building on this momentum to do bigger and better things for the coming school season.
Can you describe what a typical high school or college program entails?
The program entails us performing a small concert for the students, speaking to them about overcoming bullying from our personal experiences, motivating the students to follow their dreams, and ending on more music to keep things fun and exciting.
And in the same vein, what tangible effects have you seen the power of music have on the students you perform for?
Schools we've performed at have seen a decrease in bullying of up to 85 percent. Very often, we receive messages from students saying we've saved their lives, we've stopped them from self-harming, and we've helped them move past a certain situation in their lives. It's a really incredible feeling seeing that the work we are doing is actually making a real impact.
I would imagine performing for students takes a lot of energy, especially when you've played over 250 shows in the last nine months. How do you keep up the energy on the road and not burn out?
Lots of early mornings mean lots of coffee! It's a lot of energy performing three shows a day so obviously we get tired, but we keep from burning out because it's something we love to do. If we didn't love it, we wouldn't be doing it.
As your program and success continues to build momentum, what are the next steps for you as a band? And what is the ultimate vision you would like to see come to pass?
Right now, we're spending the summer redeveloping both the band and the program. We're working on new material, a new live show, and a new performance layout for Reverse The Trend. Our ultimate vision is to write hit records, tour the world with Reverse Order, and help people as often as we can in any way. We currently have an Indiegogo campaign to raise funds for our anti-bullying program. All donations are tax deductible.
How has Sonicbids helped you make leaps in your musical journey?
Sonicbids has helped us find and submit to gigs we would have never known about. When you're first starting out and don't have a booking agent, Sonicbids gives you an opportunity to submit to gigs large and small. We've been chosen for many great festivals, radio shows, and venues through Sonicbids. It's also a great place to find other artists if you're putting a gig together.
What are the biggest pieces of advice you can pass down to up-and-coming bands?
Get out there and perform anywhere you can and always do your best show possible. Everyone gets bummed out playing a show to nobody, but the owner of that venue can open doors for you. If he likes your show with nobody there, he'll want to put you on a bigger and better show!
Work with the other bands. It's a huge help when bands can share equipment. If you're performing with other professional bands, share amps and drum sets. It helps the show run smoothly, the sound guy will be happier and be able to plug in a better mix, and you'll get more stage time with the quicker change-overs.
Never perform and leave! Support the other artists as they have supported you. You'll also build a larger network this way. For all you know, the band you performed with last night is getting signed tomorrow and going on a world tour. They probably need an opener, and who better than a band they're friends with?
Be honest about your draw. Setting up a show is hard. Don't lie to a promoter and say you can bring 30 people and then bring two. The promoter will most likely never work with you again. This also hurts the other bands on the show who were expecting those new fans to perform to. If you're honest, the promoter will respect that, and if they like you, they'll oftentimes still put you on the show.
Do everything you can to promote your shows. Don't just post if on your Facebook page. Ninety-nine percent of people will not see that post. Message people, be creative, and give them an incentive to come. Maybe you're giving away some merch or a copy of your new CD, or you have something special you're going to announce. If you can't sell them, make an investment in your band, purchase the tickets, and give them away as prizes for a contest. Get people to the show, make sure they have a great time, introduce them to the other bands, take fun photos with them, and then maybe the next time you're playing, they'll be the first to purchase a ticket. Plus, the other bands and venue will ask you to perform again. It's a win-win!
A big congratulations to Reverse Order (as well as fellow Sonicbids acts KAIYA, Cardinal Harbor, Wild Adriatic, and Cedar Teeth) for winning the PRS Guitars endorsement deal through a partnership with Sonicbids! Great job, guys!